A Rare Gem For the Discerning Book Collector, Limited to Only 83 Autographed Copies.
Recent price reduction.
Cemetery Dance Publications and PS Publishing 2012. "A Book Of Horrors" Signed Limited Edition. Leather-bound deluxe hardcover edition. Edited by Stephen Jones. This edition is now LONG OUT OF PRINT. Limited to 100 copies of which only 83 were for sale to the public. This is copy #10. A special collector's edition that was 10 years in the making, housed in a leather bound tray-case. The authors, the editor, and the illustrator were each given a copy to keep.Very Fine in a Very Fine tray-case. The book along with the tray-case is in mint condition without any flaws. New and unread book with tight binding and clean crisp pages.
One-of-a-kind Signed Remarques
- This edition is particularly unique because it features two stunning remarques. One full page remarque on the title page, and another double page remarque across the dedication pages that is signed and inscribed "To Timothy, Horrific best wishes". It is dated by the artist in December of 2013. The remarques were created by the artist of A Book of Horrors, Les Edwards.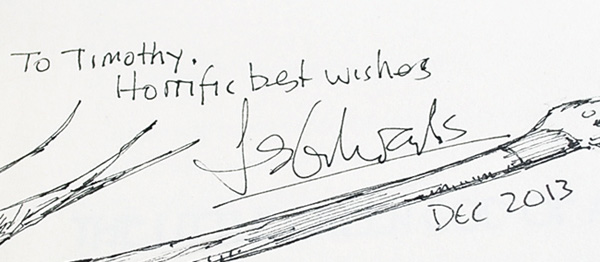 The remarque adds a special value to your book because it is a one-of-a-kind original. This detailed finished drawing ties in with the subject matter of the edition and is personally and individually drawn for you.
Remarquing is only done on a select few books of each edition, thus making them highly collectible. Besides enhancing the appearance and collectibility of your edition, it gives you the unique opportunity to own an original piece of work by the artist.
This special edition is signed on the two limitation pages by Stephen King, Ramsey Campbell, Peter Crowther, Dennis Etchison, Elizabeth Hand, Brian Hodge, Caitlín R. Kieran, John Ajvide Lindqvist, Richard Christian Matheson, Reggie Oliver, Robert Shearman, Angela Slatter, Michael Marshall Smith, and Lisa Tuttle!
Leather-bound Deluxe Hardcover Edition in a handmade custom tray-case, limited to 100 copies signed by all of the contributors.

Only 83 copies will be available for sale to the general public.

Original issue price: $995

Typeset by Michael Smith, PS Publishing

Table of Contents:
"Introduction: Whatever Happened To Horror?" by Stephen Jones
"The Little Green God of Agony" by Stephen King
"Charcloth, Firesteel and Flint" by Caitlín R. Kiernan
"Ghosts With Teeth" by Peter Crowther
"The Coffin-Maker's Daughter" by Angela Slatter
"Roots and All" by Brian Hodge
"Tell Me I'll See You Again" by Dennis Etchison
"The Music Of Bengt Karlsson, Murderer" by John Ajvide Lindqvist
"Getting It Wrong" by Ramsey Campbell
"Alice Through The Plastic Sheet" by Robert Shearman
"The Man In The Ditch" by Lisa Tuttle
"A Child's Problem" by Reggie Oliver
"Sad, Dark Thing" by Michael Marshall Smith
"Near Zennor" by Elizabeth Hand
"Last Words" by Richard Christian Matheson
ABOUT THE BOOK

A collection of original horror and dark fantasy from the world's best writers, including Stephen King and John Ajvide Lindqvist.
Many of us grew up on The Pan Book of Horror Stories and its later incarnations, Dark Voices and Dark Terrors (The Gollancz Book of Horror), which won the World Fantasy Award, the Horror Critics' Guild Award and the British Fantasy Award, but for a decade or more there has been no non-themed anthology of original horror fiction published in the mainstream. Now that horror has returned to the bookshelves, it is time for a regular anthology of brand-new fiction by the best and brightest in the field, both the Big Names and the most talented newcomers.
Review
"The abundance of talent will provide ample delights and frights for anyone in search of true classic horror" ―Publisher's Weekly (starred review)
About the Author
STEPHEN JONES is the multiple-award-winning editor and author of more than one hundred books in the horror and fantasy genres. A former television director/producer, movie publicist, and consultant (including the first three Hellraiser movies), he has edited the reprint anthology Best New Horror for more than twenty years. He lives in Wembley, Middlesex, and travels widely.
VERY FINE GUARANTEED

Hardcover & Tray-case
: Very Fine without any flaws. A wonderful bring clean copy without any other marks, writings , or stamps. Clean & straight boards. No attached bookplates or indication of any removed. A well-cared for book, protected from any potential damage. Unread with square and tight spine.
Dust-jacket: Very Fine without any flaws. It is free of tears, chips, creases, etc. As new condition as normally shipped by the publisher.
Publisher:

Cemetery Dance Publications 2012

Edition:

Cemetery Dance Publications 2012

Binding:

Leather Bound Hardcover with dust-jacket

Illustrator:

Signed Limited Edition of 83

Dimensions:

11" x 8" x 2"

Signature Authenticity:

Lifetime Guarantee of Signature Authenticity. Personally hand signed by all contributors directly onto the two limitations within the book. The autographs are not facsimiles, stamps, or auto-pens.