From the beloved film star and best-selling author of Then Again: a heartfelt memoir about her relationship with her younger brother, and a poignant exploration of the divergent paths siblings' lives can take.
Personally signed by Diane Keaton directly into the book
---

---
Knopf (February 4, 2020). "Brother & Sister: A Memoir" by Diane Keaton. Special Collector's Edition. Personally signed by Diane Keaton directly into the book. Slipcased Signed First Edition with COA, Certificate of Authenticity. 176 pages. Archival sleeve protection. As New without any discernible flaws. Sealed.

Diane Keaton is one of the most popular actresses of the 1970s and 1980s, as she has received various accolades, including an Academy Award, a BAFTA Award, two Golden Globe Awards, and the AFI Life Achievement Award.
Full book features and description:
Personally signed by Diane Keaton.
Limited Slipcased Signed First Edition of less than twenty five produced.
The slipcase will be produced from high quality material (sophisticated rich appearance and feel) with the author's name and book title printed on the front and spine surfaces.
Signed First Edition, First Printing (Knopf Publishers) hardcover book with the full number line as required on the copyright page.
Very Fine/Very Fine without any discernible flaws.
Archival Sleeve Protection. The dust-jacket will be protected in a brand new Brodart archival acid-free Mylar sleeve.
COA – Certificate of Authenticity.
Available on a "first come, first served" basis.
Free luxury gift wrapping available at check-out.
The entire package will be SEALED in shrink-wrapping.
30 day return policy with free 2-way shipping (within the US) .
The same quality and attention to detail you have come to expect from veryfinebooks.com
Professional packing & shipping.
Ship date: February 14th, 2020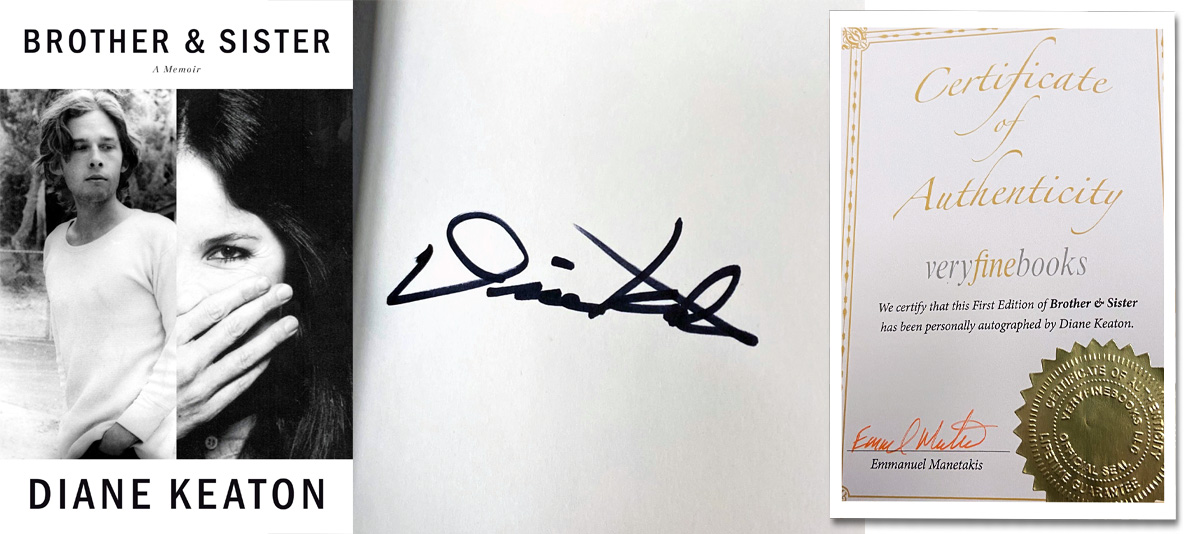 About Brother & Sister

When they were children in the suburbs of Los Angeles in the 1950s, Diane Keaton and her younger brother, Randy, were best friends and companions: they shared stories at night in their bunk beds; they swam, laughed, dressed up for Halloween. Their mother captured their American-dream childhoods in her diaries, and on camera. But as they grew up, Randy became troubled, then reclusive. By the time he reached adulthood, he was divorced, an alcoholic, a man who couldn't hold on to full-time work—his life a world away from his sister's, and from the rest of their family.
Now Diane is delving into the nuances of their shared, and separate, pasts to confront the difficult question of why and how Randy ended up living his life on "the other side of normal." In beautiful and fearless prose that's intertwined with photographs, journal entries, letters, and poetry—many of them Randy's own writing and art—this insightful memoir contemplates the inner workings of a family, the ties that hold it together, and the special bond between siblings even when they are pulled far apart. Here is a story about love and responsibility: about how, when we choose to reach out to the people we feel closest to—in moments of difficulty and loss—surprising things can happen. A story with universal echoes, Brother & Sister will speak across generations to families whose lives have been touched by the fragility and "otherness" of loved ones—and to brothers and sisters everywhere.
Reviews
"A resonant family memoir—a slim but weighty book. Keaton focuses on her complex relationship with her younger brother, whose escalating instability—vividly described—affected Keaton, her parents, and her two sisters. The author, who became the 'family documentarian' after her mother's death, utilizes family letters and journals to enhance the narrative . . . Keaton talks about the complexities of loving a brother she never quite knew; of watching him become consumed by alcohol and then 'falling into the process of dying'; and of wishing she had done more to help him . . . A haunting meditation on mortality, sibling love, mental illness, and regret."
—Publishers Weekly
"Poignant . . an addition to Keaton's two previous works of memoir [in which] she strives to understand her troubled younger brother, Randy Hall. She recalls the pair at 5 and 3, sharing a bedroom; in the second part of the book she depicts the siblings sitting quietly, as Keaton holds her ailing brother's hand. In between these moments of intimacy, Keaton admits to long periods of estrangement from Randy, who 'took failure and wore it the way Hester Prynne wore her scarlet letter,' spending an isolated life writing, collaging, drinking, and existing by grace of the support—financial and otherwise—of his parents and sisters . . . Keaton thoughtfully wrestles with her conscience while attempting to assemble a clearer picture of her brother's nature. She sheds her whimsical persona to explore difficult burdens, which those with an unstable sibling will recognize." —Kirkus
About The Author
Diane Keaton is an American actress, director, producer, photographer, real estate developer, author, and singer. One of the most popular actresses of the 1970s and 1980s, she has received various accolades, including an Academy Award, a BAFTA Award, two Golden Globe Awards, and the AFI Life Achievement Award.

Keaton began her career on stage and made her screen debut in 1970. Her first major film role was as Kay Adams-Corleone in The Godfather (1972), a role she reprised in The Godfather Part II (1974) and The Godfather Part III (1990). But the films that helped shape her early career were those with director and co-star Woody Allen, beginning with Play It Again, Sam in 1972. Her next two films with Allen, Sleeper (1973) and Love and Death (1975), established her as a comic actor. Her fourth, the romantic comedy Annie Hall (1977), won her the Academy Award for Best Actress.
To avoid being typecast as her Annie Hall persona, Keaton became an accomplished dramatic performer, starring in Looking for Mr. Goodbar (1977) and Interiors (1978), and received three more Academy Award nominations for playing feminist activist Louise Bryant in Reds (1981), a woman with leukemia in Marvin's Room (1996), and a dramatist in Something's Gotta Give (2003).
Keaton's other popular films include Manhattan (1979), Shoot the Moon (1982), Mrs. Soffel (1984), Baby Boom (1987), Father of the Bride (1991), Manhattan Murder Mystery (1993), Father of the Bride Part II (1995), The First Wives Club (1996), The Other Sister (1999), The Family Stone (2005), Morning Glory (2010), Finding Dory (2016), Book Club (2018), and Poms (2019).
VERY FINE GUARANTEED. Sealed.
Very Fine without any flaws. A wonderful bring clean copy without any other marks, writings , or stamps. Clean & straight boards. No attached bookplates or indication of any removed. A well-cared for book, protected from any potential damage. Unread with square and tight spine.
Publisher:

Knopf (February 4, 2020)

Edition:

Slipcased Signed First Edition w/COA

Binding:

Hardcover with dust-jacket

Illustrator:

See product description

Dimensions:

9" x 6" x 1.5"