Personally signed by Stephen King, Peter Straub and the illustrators Don Maitz and Rick Berry.
A beautiful collection of very fine books to display in your Stephen King library. An extraordinary accomplishment by the legendary writer.
Donald M. Grant Publishers. Hampton Falls, NH. Stephen King "Desperation" and Stephen King & Peter Straub "Black House". A signed limited edition matching set of two volumes from this epic series. Both volumes are number 51. Each volume is splendidly illustrated, and Very Fine/Very Fine without any flaws. The Signed limited first editions were issued simultaneously with the first trade editions. Photos of actual books you will receive.
Donald M. Grant Publishers, Hampton Fall, NH. 1996. Stephen King "Desperation". Signed Limited Edition. A beautiful black leather edition produced in a red velvet-lined, leather tray-case. Limited First Edition. Signed by the author Stephen King and Don Maitz, the illustrator. In As New condition with tray case the same. First Edition. Full-Leather in tray case. Illustrations by Don Maitz.
Number 51 of only 2050 total signed and numbered copies.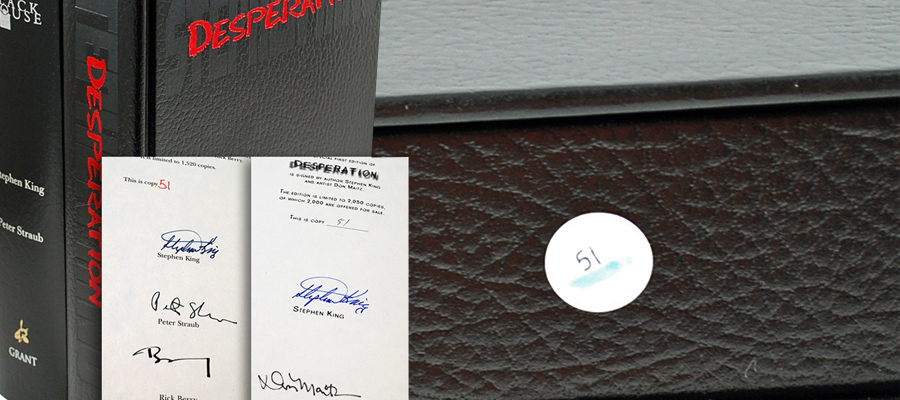 About Desperation
A notice to those who feel that Stephen King has lost his magic touch: Desperation is the genuine goods. The ensemble cast of ordinary Americans thrown together by chance, including a disgruntled alcoholic writer and a child who is wise beyond his years, may be a bit too familiar. But the nearly deserted Nevada mining town with an enormous haunted mine pit and an abandoned movie theatre where the survivors hang out makes for a striking battleground, and the grisly action rarely flags.
Best of all, though, are the characters of Tak, the ancient body-hopping evil who emerges from the mine, and of "God"--whom the New York Times describes as "the edgiest creation in Desperation. Remote, isolated, ironic, shrouded behind disguises, perhaps 'another legendary shadow,' this deity forms a sly foil, and an icy mirror, to Tak."
---
Donald M. Grant Publisher Inc, 2002. Stephen King & Peter Straub, "Black House", Signed Limited First Edition. This luxury edition is bound in full leather and comes housed in a black leather wrap-around tray-case with green velvet interior. Published in 2002 by Donald M Grant Publication, stated first edition on the copyright page. Lavishly illustrated through out by Rick Berry. The book is signed on the limitation page by Stephen King, Peter Straub & artist Rick Berry.
Number 51 of only 2050 total signed and numbered copies.
About Black House
Today's literature is plagued by sequelitis; plagued because many of the offspring are abominations. But here's a marvelous exception. Seventeen years after King and Straub's first collaboration, The Talisman, comes an immensely satisfying follow-up, a brilliant and challenging dark fantasy that fans of both authors are going to love. Page by page, the novel reads as equal parts King and Straub, with the Maine master's exuberance and penchant for excess restrained by Straub's generally more elegant (though no more potent) approach. But the book, far more than its predecessor, is set explicitly in the King universe, with particular ties to the Dark Tower series.
Its primary hero is The Talisman's Jack Sawyer, now retired from the LAPD and living with no memory of his otherwordly Talisman exploits, alone in French Landing, Wisconsin, a town surveyed by the authors in an unusual third-person plural narration that buoys the book throughout. Terror stalks French Landing in the form of the Fisherman, who's been snatching, killing and eating the town's children. We know that the Fisherman is a resident of the town's elderly care facility, but Jack doesn't; when yet another child, Ty Marshall, is taken, Jack enters the hunt for the killer and the boy. He's joined by an array of locals, notably a gang of philosopher bikers and blind Henry Leyden, a 50-something cool cat whom every reader will adore. Jack is going to need all their help, and more, because The Fisherman is controlled by a malignant entity from End-World, where the Crimson King aims to unravel the fabric of all the universes.
It's to blighted End-World, via the portal of the Black House - a creepy local house painted black - that Jack and others travel to rescue Ty, in the novel's frantic conclusion.The book abounds with literary allusions, many to the King-verse, and readers not familiar with King's work and particularly with The Talisman may feel disoriented, especially at first. But there's so much here to revel in, from expertly executed sequences of terror, awe or passion, the novel is a deep reservoir of genuine emotion to some of the most wonderful characters to spring from a page in years, to a story whose energy is so high and craft so accomplished that most readers will wish it ran twice its great length. What is probably the most anticipated novel of the year turns out to be its most memorable to date, a high point in both the King and Straub canons. This will be a monster bestseller, and deservedly so. 2 million first printing.
---
About the Publisher : Donald M. Grant Publisher, Inc.
Donald M. Grant Publisher, Inc. has been producing specialty books in the fantasy genre for over 45 years. Over that period the company has published substantially more than 100 quality titles, placing an emphasis on time-honored book design and an abundance of full color and black and white illustrations.
Indeed, the company's forte is the production of fine editions designed for the book collector and for the book lover. Particular concern is always shown in the use of quality bindings, paper, typography and reproduction of artworks. Many of the Grant imprint books are illustrated in full and striking color. Donald M. Grant, Publisher will continue to bring you fine quality books in the future. Many exciting projects are currently being discussed or are already underway.
Features
Black leather, in red velvet-lined, leather tray-case. Limited First Edition. Signed by Stephen King & Artist Don Maitz.
Black leather, in green velvet-lined, leather tray-case. Limited First Edition. Signed by Stephen King, Peter Straub and Artist Rick Berry.
Both volumes in As New condition with tray case the same. First Edition. Full-Leather tray cases.
About The Author
Stephen Edwin King (born September 21, 1947) is an American author of horror, supernatural fiction, suspense, science fiction and fantasy. His books have sold more than 350 million copies, many of which have been adapted into feature films, miniseries, television series, and comic books. King has published 58 novels, including seven under the pen name Richard Bachman, and six non-fiction books. He has written around 200 short stories, most of which have been published in book collections.
Both volumes are Very Fine/Very Fine condition without any flaws. A well-cared for collection, protected from any potential damage. This set stands out as having had exemplary care. The corners of the books are sharp and not bumped.
Publisher:

Donald M. Grant Publishers

Edition:

Signed Limited Edition #51

Binding:

Leather Bound/Traycase

Illustrator:

Don Maitz and Rick Berry

Dimensions:

N/A