"Sometimes dead is better"

A unique signed first edition, personally signed by Stephen King directly onto the title page of the book.

Stephen King "Pet Sematary". A true US First Edition, First Printing. Doubleday Copyright 1983. First published in 1983. A hardcover collectible book with original dust-jacket that has not been price-clipped.
Hand signed by Stephen King with a personal inscription as follows:
"For Wilkelm and Karen -
Best wishes,

Stephen King"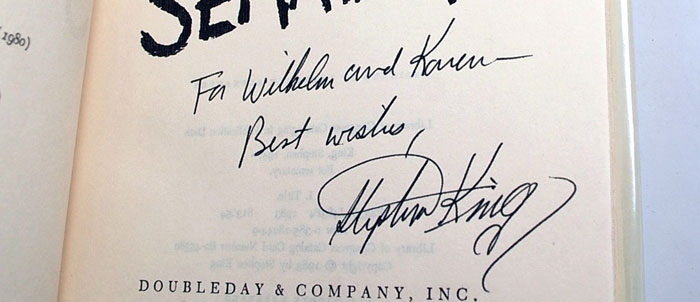 Pet Sematary has since been regarded as one of Stephen King's most frightening and controversial novels. Daring to cross the boundaries of conventional fiction, King has woven a tale so fundamentally startling that he himself was hesitant for it to see the light of day upon its completion.
A multi-layered examination into the nature of untimely death, shattering loss, and utter desperation, Pet Sematary tears asunder the very fabric connecting our seemingly normal world and the afterlife...leaving readers with an awful truth too haunting to forget.
First Edition - First Printing Issue Points:
FIRST EDITION" stated on Copyright Page
NOT a Book Club Edition
NOT Price-clipped, $15.95 Showing on DJ.
ISBN # 0-385-18244-9
"1982" Caretakers Error on back of DJ as required.
DJ Code 1183 "Y38" on gutter of last page.
Bound: Full bound in black cloth
Book Size: 6.25" x 9.5"
About Pet Sematary
Pet Sematary is a 1983 horror novel by Stephen King, nominated for a World Fantasy Award for Best Novel in 1984, and adapted into a 1989 film of the same name. In November 2013, PS Publishing released Pet Sematary in a limited 30th Anniversary Edition.
Don't miss the classic tale from King of Horror and #1 New York Times bestselling author Stephen King, described by Publishers Weekly as "the most frightening novel Stephen King has ever written."
When the Creeds move into a beautiful old house in rural Maine, it all seems too good to be true: physician father, beautiful wife, charming little daughter, adorable infant son—and now an idyllic home. As a family, they've got it all...right down to the friendly car.
But the nearby woods hide a blood-chilling truth—more terrifying than death itself—and hideously more powerful.
The Creeds are going to learn that sometimes dead is better.
Hardcover: Fine. A wonderful bright clean copy with square and tight spine and sharp corner that are not bumped. No markings, writings, or stamps anywhere. Free of attached bookplates or indication of any removed. The spine lettering is clear and not faded. The page edges are unmarked.

Dust-jacket: Near Fine+. Just about the best possible from this title. A bright dust jacket without any of the typical yellow toning. Tiny bit of edge wear to only one corner as shown. No closed rips or tears. Brand new archival Mylar sleeve cover is now on the dust-jacket. All photos of actual item.

Publisher:

N/A

Edition:

Doubleday (1983)

Binding:

dj/HC

Illustrator:

Signed First Edition

Dimensions:

9"x6" x 1.5"