Personally signed by Alastair Reynolds directly onto the limitation page.
Norwalk, CT. 2004. Signed Limited Edition. Genuine leather, with Certificate of Authenticity and Collector's Notes. Century Rain is a 2004 noir science fiction alternate history mystery novel by Welsh author Alastair Reynolds (ISBN 0-575-07436-1).
Number 259 of only 900.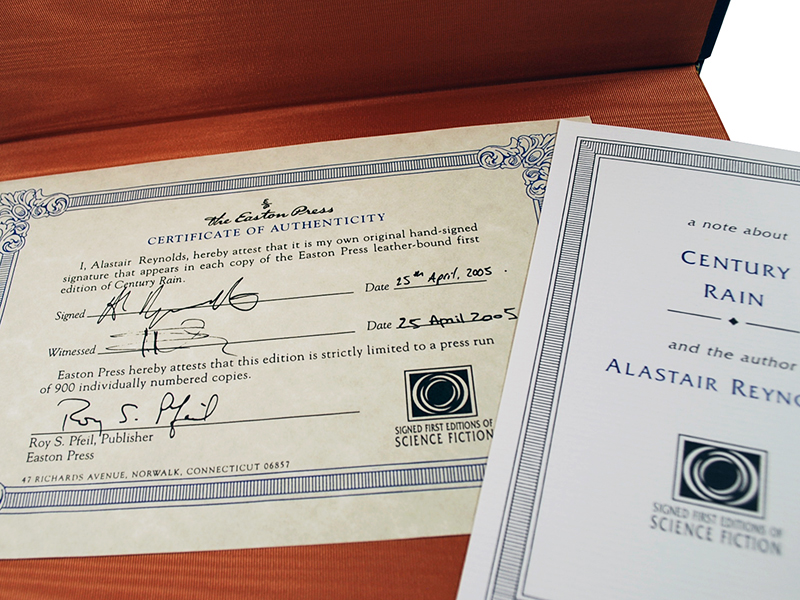 About
In his latest SF novel, Reynolds (Absolution Gap ) creates yet another quirky, noirish vision of humanity's future. Three centuries from now, a technologically induced catastrophe, the Nanocaust, makes Earth uninhabitable.
Two versions of humanity—the Threshers, who live in a ring of habitats encircling Earth, and the Slashers, who inhabit the outer planets—each blame the other for the disaster. Both groups share access to a system of artificial wormholes, one of which turns out to contain a perfect copy of Earth, sealed off from the rest of the galaxy, at its far end. The Threshers send archeologist Verity Auger to investigate. On this subtly different version of Earth, Wendell Floyd, a second-rate detective and jazz musician living in Paris in the year 1959, is looking into a very odd murder. Then Auger shows up claiming to be the victim's sister and pursued by lethal creatures who look like decaying children. While Reynolds beautifully details this alternate-universe Paris and handles the developing mystery with aplomb, his Thresher and Slasher cultures lack depth and his climax feels a bit jury-rigged. Still, fans of sophisticated hard SF should be pleased.
Features
Includes all the classic Easton Press qualities:

* Premium Leather
* Silk Moire Endleaves
* Distinctive Cover Design
* Hubbed Spine, Accented in Real 22KT Gold
* Satin Ribbon Page Marker
* Gilded Page Edges
* Long-lasting, High Quality Acid-neutral Paper
* Smyth-sewn Pages for Strength and Durability
* Beautiful Illustrations


About The Author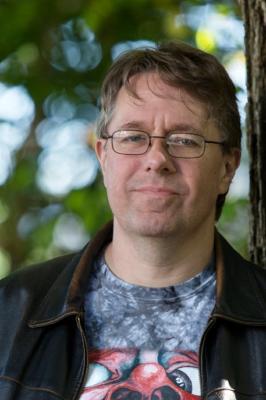 Alastair Preston Reynolds (born 13 March 1966) is a British science fiction author. He specialises in hard science fiction and space opera. He spent his early years in Cornwall, moved back to Wales before going to Newcastle University, where he read physics and astronomy. Afterwards, he earned a PhD from the University of St Andrews. In 1991, he moved to Noordwijk in the Netherlands where he met his wife Josette (who is from France). There, he worked for the European Space Research and Technology Centre (part of the European Space Agency) until 2004 when he left to pursue writing full-time. He returned to Wales in 2008 and lives near Cardiff.
VERY FINE GUARANTEED
. A wonderful bright clean copy free of any markings, writings, or stamps. Sharp corners that are not bumped. Tight and square spine. Unread book. No attached bookplates or indication of any removed.
Publisher:

Easton Press

Edition:

Signed First Edition

Binding:

Leather Bound (Full genuine leather)

Illustrator:

N/A

Dimensions:

10" x 7" x 1.75"

Signature Authenticity:

Lifetime Guarantee of Signature Authenticity. Personally signed by the author directly onto the special title page of the book. The autograph is not a facsimile, stamp, or auto-pen.