Easton Press, Norwalk, CT. 1977. The works of in two matching leather bound volumes. Each edition is in Very Fine condition without any flaws. Collector's editions.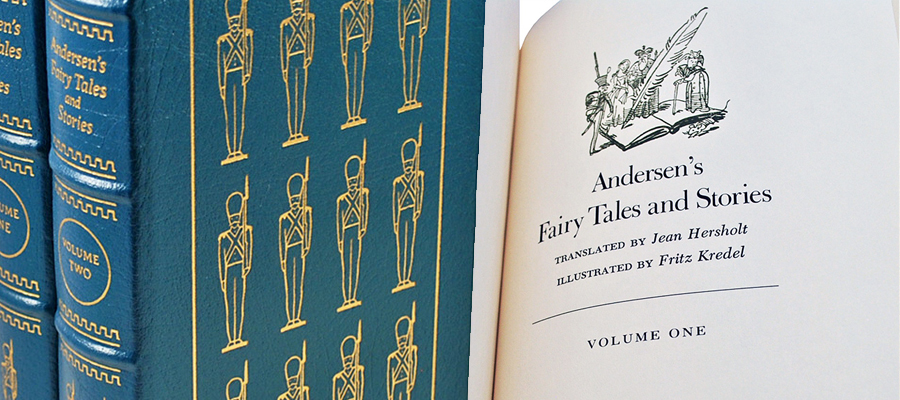 A Few Stories Included in this collection:
The Princess and the Pea
The Emperor's New Clothes
The Little Mermaid
Thumbelina
The Little Match Girl
The Ugly Duckling
The Dryad
The Ice Maiden
Features
Includes the classic Easton Press qualities:

* Premium Leather
* Silk Moire Endleaves
* Distinctive Cover Design
* Hubbed Spine, Accented in Real 22KT Gold
* Satin Ribbon Page Marker
* Gilded Page Edges
* Long-lasting, High Quality Acid-neutral Paper
* Smyth-sewn Pages for Strength and Durability
* Beautiful Illustrations



About The Author
Hans Christian Andersen 2 April 1805 – 4 August 1875) was a Danish author. Although a prolific writer of plays, travelogues, novels and poems, Andersen is best remembered for his fairy tales. Andersen's popularity is not limited to children: his stories express themes that transcend age and nationality.
Andersen's fairy tales, of which no fewer than 3381 works[1] have been translated into more than 125 languages, have become culturally embedded in the West's collective consciousness, readily accessible to children, but presenting lessons of virtue and resilience in the face of adversity for mature readers as well. Some of his most famous fairy tales include "The Emperor's New Clothes", "The Little Mermaid", "The Nightingale", "The Snow Queen", "The Ugly Duckling", "The Little Match Girl", "Thumbelina", and many others. His stories have inspired ballets, plays, and animated and live-action films. One of Copenhagen's widest and busiest boulevards is named "H.C. Andersens Boulevard".
VERY FINE GUARANTEED. Very Fine for all three volumes. Each volume is a wonderful bright clean copy free of any markings, writings, or stamps. Sharp corners that are not bumped. Tight and square spines. Unread books without any attached bookplates or indication of any removed. The gilded page edges are unmarked.
Book Grading Definitions
Publisher:

Easton Press

Edition:

Limited Edition Matched Set

Binding:

Full genuine leather

Illustrator:

Fritz Kredel

Dimensions:

9" x 6" x 1.5"