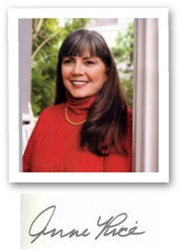 A Signed Limited Edition complete set of

The Vampire Chronicles

, luxuriously bound in black genuine leather with 22kt gold accents.
Anne Rice is an American author of gothic fiction, Christian literature, and erotica. She is perhaps best known for her popular and influential series of novels, The Vampire Chronicles, revolving around the central character of Lestat. Books from The Vampire Chronicles were the subject of two film adaptations, Interview with the Vampire in 1994, and Queen of the Damned in 2002.
Easton Press, Norwalk, CT. 2000. Anne Rice, The Vampire Chronicles, 5 Volume complete set. AS NEW. Genuine black leather, 22KT Gold accents, moire fabric end-sheets and a permanent satin ribbon page marker. One copy of only 3,000 limited editions issued. Includes Certificate of Authenticity (COA) as issued by the publisher.
"Interview with the Vampire"
is personally hand signed by Anne Rice
directly onto the special limitation page.
Titles included as follows:
1. Interview with the Vampire (Signed Limited Edition #2,094/3000)
2. The Vampire Lestat
3. The Queen of the Damned
4. The Tale of the Body Thief
5. Memnoch the Devil
All volumes contain all the classic Easton Press trimmings:


* Premium Leather
* Silk Moire Endleaves
* Distinctive Cover Design
* Hubbed Spine, Accented in Real 22KT Gold
* Satin Ribbon Page Marker
* Gilded Page Edges
* Long-lasting, High Quality Acid-neutral Paper
* Smyth-sewn Pages for Strength and Durability
* Beautiful Illustrations

Editorial Reviews
One of the contemporary world's most popular and influential writers, Anne Rice uses her extraordinary literary skills to transform genre fiction - horror stories, erotica, and historical romance - into modern classics that illuminate the big questions of mortality and suffering for our time. Born in 1941 in New Orleans, the future author was christened Howard Allen O'Brien after her father but renamed herself Anne on her first day of Catholic school. In 1961, she married her high school sweetheart Stan Rice and moved to San Francisco. After the tragic death of her daughter in 1973, Rice transformed a short story, "Interview With The Vampire", into her first novel, which was published in 1976. She has published more than twenty novels (including titles under the pen names A.N. Roquelaure and Anne Rampling), almost all of which have been bestsellers. Her credits include The Vampire Lestat, Exit to Eden, The Mummy and Violin.


In Anne Rice's classic debut novel, Interview With The Vampire, the 200 hundred year-old Louis Pointe du Lac tells how he became a vampire. After a devastating personal loss, Louis sought solace first in alcohol, then in the charismatic vampire Lestat's offer to join the "undead". But the "dark gift" of immortality does not free Louis from the grief and loneliness of living. While he has the power to satisfy his appetites, he cannot escape them, nor can he deny responsibility for his actions. A profound philosophical thriller, Interview With The Vampire transformed the Vampire of Bram Stoker's novel and Hollywood's movies into a myth for our age.


---
Very Fine for all five volumes. Sealed. The shrink-wrap of Interview With The Vampire is still present on the book, but was removed to verify the signature and the number of this edition.

A complete and matching heirloom set. Order Today!


Publisher:

N/A

Edition:

Easton Press

Binding:

Full genuine leather

Illustrator:

Signed & Numbered of only 3000

Dimensions:

10.5" x 9.0" x 1.25"

Signature Authenticity:

Lifetime Guarantee of Signature Authenticity. Personally signed by Anne Rice directly onto the limitation page. The autograph in the book is not a facsimile, stamp, or auto-pen.