Easton Press. Norwalk, CT 1979. Limited Collector's Edition. Bound in full genuine leather with elegant gold detailing. Colorful detail features throughout. Very Fine without any flaws, sealed in the original shrink-wrap.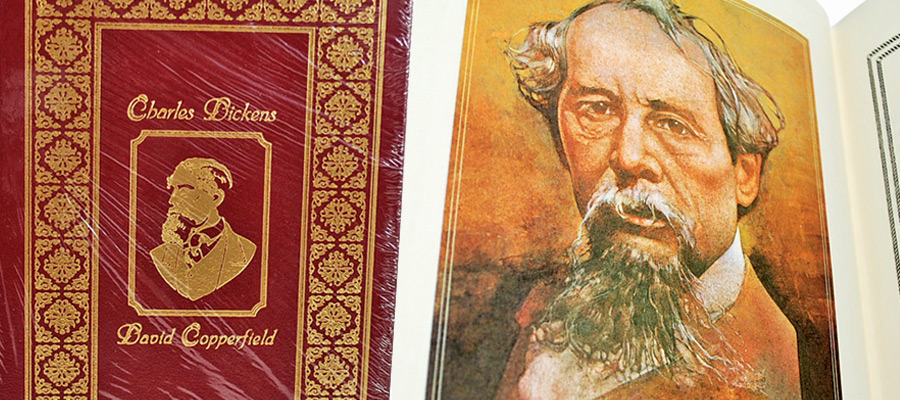 About the Book
David Copperfield is the eighth novel by Charles Dickens. The novel's full title is The Personal History, Adventures, Experience and Observation of David Copperfield the Younger of Blunderstone Rookery (Which He Never Meant to Publish on Any Account). It was first published as a serial in 1849–50, and as a book in 1850.
The novel features the character David Copperfield, and is written in the first person, as a description of his life until middle age, with his own adventures and the numerous friends and enemies he meets along his way. It is his journey from being an impoverished, neglected child to a successful author.
Many elements of the novel follow events in Dickens's own life, and it is often considered his veiled autobiography. It was Dickens' favorite among his own novels. In the preface to the 1867 edition, Dickens wrote, "like many fond parents, I have in my heart of hearts a favorite child. And his name is David Copperfield."
Like some of his other novels, it contains descriptions of child exploitation and abuse, some based both on his own childhood experiences, and other published reports.
Features
Includes all the classic Easton Press qualities:

* Premium Leather
* Silk Moire Endleaves
* Distinctive Cover Design
* Hubbed Spine, Accented in Real 22KT Gold
* Satin Ribbon Page Marker
* Gilded Page Edges
* Long-lasting, High Quality Acid-neutral Paper
* Smyth-sewn Pages for Strength and Durability
* Beautiful Illustrations
About The Author
Charles John Huffam Dickens (/ˈdɪkɪnz/; 7 February 1812 – 9 June 1870) was an English writer and social critic. He created some of the world's best-known fictional characters and is regarded by many as the greatest novelist of the Victorian era. His works enjoyed unprecedented popularity during his lifetime, and by the 20th century critics and scholars had recognized him as a literary genius. His novels and short stories are still widely read today.
As New. Sealed. Very Fine without any discernible flaws. A well-cared for volume, protected from any potential damage. Sharp corners that are not bumped.
Book Grading Definitions
Publisher:

Easton Press (1979)

Edition:

Limited Collector's Edition [Sealed]

Binding:

Full Genuine Leather

Illustrator:

N/A

Dimensions:

9.25" x 6.25" x 1.75"