Easton Press. Norwalk, CT 1967. Limited Collector's Edition. Bound in full genuine leather with elegant gold detailing. Colorful detail features throughout.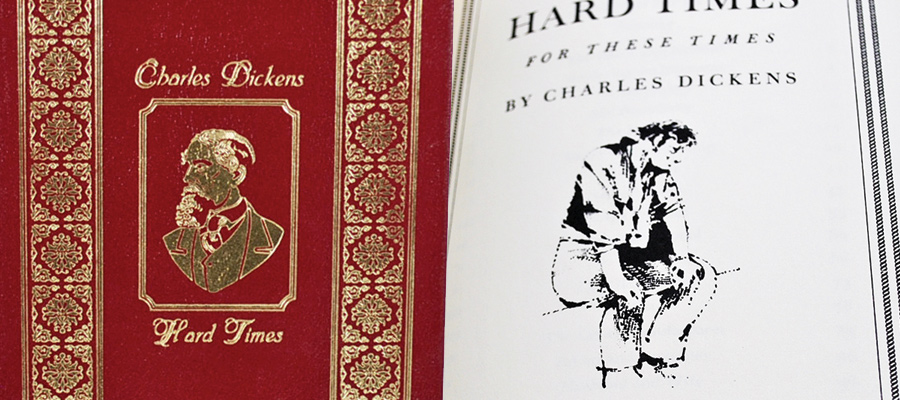 About the Book
Hard Times – For These Times (commonly known as Hard Times) is the tenth novel by Charles Dickens, first published in 1854. The book surveys English society and satirises the social and economic conditions of the era.
Hard Times is unusual in several ways. It is by far the shortest of Dickens' novels, barely a quarter of the length of those written immediately before and after it. Also, unlike all but one of his other novels, Hard Times has neither a preface nor illustrations. Moreover, it is his only novel not to have scenes set in London. Instead the story is set in the fictitious Victorian industrial Coketown, a generic Northern English mill-town, in some ways similar to Manchester, though smaller. Coketown may be partially based on 19th-century Preston.
One of Dickens's reasons for writing Hard Times was that sales of his weekly periodical, Household Words, were low, and it was hoped the novel's publication in instalments would boost circulation – as indeed proved to be the case. Since publication it has received a mixed response from critics. Critics such as George Bernard Shaw and Thomas Macaulay have mainly focused on Dickens's treatment of trade unions and his post–Industrial Revolution pessimism regarding the divide between capitalist mill owners and undervalued workers during the Victorian era. F. R. Leavis, a great admirer of the book, included it – but not Dickens' work as a whole – as part of his Great Tradition of English novels.
Features
Includes all the classic Easton Press qualities:

* Premium Leather
* Silk Moire Endleaves
* Distinctive Cover Design
* Hubbed Spine, Accented in Real 22KT Gold
* Satin Ribbon Page Marker
* Gilded Page Edges
* Long-lasting, High Quality Acid-neutral Paper
* Smyth-sewn Pages for Strength and Durability
* Beautiful Illustrations
About The Author
Charles John Huffam Dickens (/ˈdɪkɪnz/; 7 February 1812 – 9 June 1870) was an English writer and social critic. He created some of the world's best-known fictional characters and is regarded by many as the greatest novelist of the Victorian era.[1] His works enjoyed unprecedented popularity during his lifetime, and by the 20th century critics and scholars had recognized him as a literary genius. His novels and short stories are still widely read today.
VERY FINE GUARANTEED. A wonderful bright clean copy free of any markings, writings, or stamps. Sharp corners that are not bumped. Tight and square spine. Unread book. No attached bookplates or indication of any removed.
Publisher:

Easton Press (1967)

Edition:

Limited Collector's Edition

Binding:

Full Genuine Leather

Illustrator:

Charles Raymond

Dimensions:

9.25" x 6.25" x 1.25"