Personally Signed By Dan Rather
Easton Press, Norwalk CT. 2001 Dan Rather "The American Dream" Signed First Edition of only 1100 signed and numbered copies, this being number 731.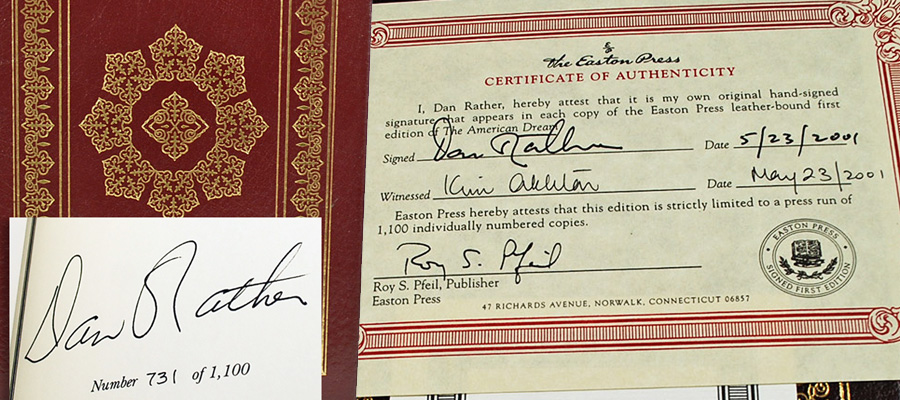 A powerful and inspirational look at how our nation's earliest ideals resonate in today's world, The American Dream shows us in very personal terms that America is still a place where hard work, dedication, and vision can transform dreams into reality. Bestselling author and award winning journalist who struggle for and achieve their desires and ambitions. Here he has gathered the stories of ordinary men and women across the country who are accomplishing the extraordinary, and demonstrates how the American dream guides us as individuals and as a society, binding us together even amid the fragmenting and self-isolating tendencies of modern American life.
Stirring and provocative, The American Dream illustrates that the basic American desire for "life, liberty, and the pursuit of happiness" is alive and well. It also confirms what our founding fathers always believed: that we are a country of visionaries, in ways big and small.
Features
Includes all the classic Easton Press qualities:

* Premium Leather
* Silk Moire Endleaves
* Distinctive Cover Design
* Hubbed Spine, Accented in Real 22KT Gold
* Satin Ribbon Page Marker
* Gilded Page Edges
* Long-lasting, High Quality Acid-neutral Paper
* Smyth-sewn Pages for Strength and Durability
* Beautiful Illustrations


About The Author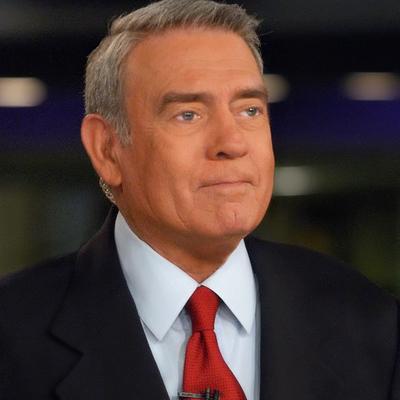 Dan Rather has received virtually every honor in broadcast journalism, including numerous Emmy Awards and the Peabody Award. He is anchor and managing editor of CBS Evening News, anchor of 48 Hours, and correspondent for 60 Minutes II. He is also the author of such bestsellers as Deadlines & Datelines, The Camera Never Blinks, and The Palace Guard. He lives in New York City with his wife, Jean.
VERY FINE GUARANTEED
. A wonderful bright clean copy free of any markings, writings, or stamps. Sharp corners that are not bumped. Tight and square spine. Unread book. No attached bookplates or indication of any removed.
Publisher:

Easton Press (2001)

Edition:

Signed First Edition w/COA

Binding:

Leather Bound (Full genuine leather)

Illustrator:

N/A

Dimensions:

9.5" x 6.5" x 1.25"