Personally hand signed by the author Elizabeth Gilbert.
COA from the publisher
Easton Press
guarantees the signature authenticity. A luxurious leather bound signed limited edition. A uniquely autographed gift for yourself or for a loved one. Limited to only 1,200 signed copies.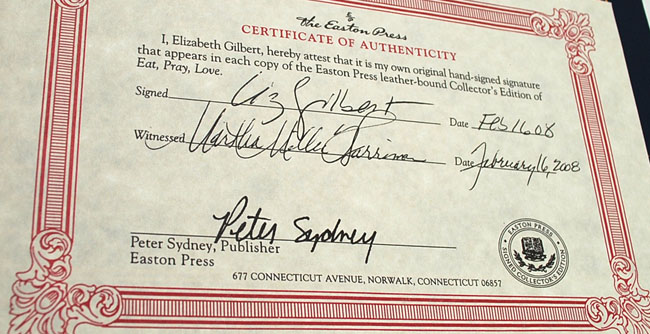 Now a major motion picture starring Julia Roberts, "Eat, Pray, Love" is Elizabeth Gilbert's critically acclaimed, best-selling chronicle of a year divided between three countries. This page-turning memoir of her extraordinary journey begins in Italy where she immerses herself in the palate-pleasing delights of pizza and wine and the satiating pleasure of good conversation.
Phase two of this fascinating travelogue is set in India where Gilbert engages in countless hours of meditation and communication with the divine at a sacred ashram. Finally, the mental and physical are intertwined on the island of Bali as Gilbert studies with a medicine man and becomes involved in a passionate love affair.
Includes the classic Easton Press qualities:
* Premium Leather
* Silk Moire Endleaves
* Distinctive Cover Design
* Hubbed Spine, Accented in Real 22KT Gold
* Satin Ribbon Page Marker
* Gilded Page Edges
* Long-lasting, High Quality Acid-neutral Paper
* Smyth-sewn Pages for Strength and Durability
* Beautiful Illustrations
About
Eat, Pray, Love: One Woman's Search for Everything Across Italy, India and Indonesia is a 2006 memoir by American author Elizabeth Gilbert. The memoir chronicles the author's trip around the world after her divorce, and what she discovered during her travels. As of February 2010, the book had remained on the New York Times Best Seller list for 158 weeks. According to Metacritic, it has received mostly favorable critical reviews.
The movie rights for the memoir were purchased by Columbia Pictures. The film version, which stars American actress Julia Roberts, was released in theaters on Friday, August 13, 2010. Gilbert followed-up this book with the sequel Committed: A Skeptic Makes Peace with Marriage, released through Viking in January 2010. It covered her life after Eat, Pray, Love ends, with a considerably darker and more cynical tone.
About the author
Elizabeth M. Gilbert (born July 18, 1969) is an American novelist, essayist, short story writer, biographer, and memoirist. She is most known for her 2006 memoirs, Eat, Pray, Love, which as of July 2010, has spent 180 weeks on the New York Times Best Seller list, and also made into a film by the same name in 2010.
Very Fine Guaranteed. A wonderful bright clean copy without any flaws. Free of markings, writings, or stamps. No attached bookplates or indication of any removed. Tight spine. Not even a single scratch to the gilded page edges. Unread book.
Publisher:

Easton Press

Edition:

Signed Limited Edition

Binding:

Full Genuine Leather

Illustrator:

Signed Limited Edition of 1,200

Dimensions:

9.0" x 6.0" x 1.5"