A Luxurious Leather Bound Masterpiece

Limited Edition - Collector's Edition. A beautiful volume that will make a unique gift for yourself or for a loved one.
Part of prestigious
The Collector's Library of Famous Editions
published by Easton Press. Beautifully illustrated and bound in full genuine forest green leather. A rare collector's edition, even more scarce in this very fine condition. 145 pages. Illustrated by Thomas Hart Benton. Introduced by Brooks Atkinson. Commissioned in 1953.
One of the most celebrated works of popular literature by a historical writer. A true classic for your home library or office. Includes extra unattached Ex-Libris bookplate for your own personalization. Includes original NOTES FROM THE ARCHIVES.
Includes the classic Easton Press qualities:
* Premium Leather
* Silk Moire Endleaves
* Distinctive Cover Design
* Hubbed Spine, Accented in Real 22KT Gold
* Satin Ribbon Page Marker
* Gilded Page Edges
* Long-lasting, High Quality Acid-neutral Paper
* Smyth-sewn Pages for Strength and Durability
* Beautiful Illustrations
PHOTOS OF ACTUAL VOLUME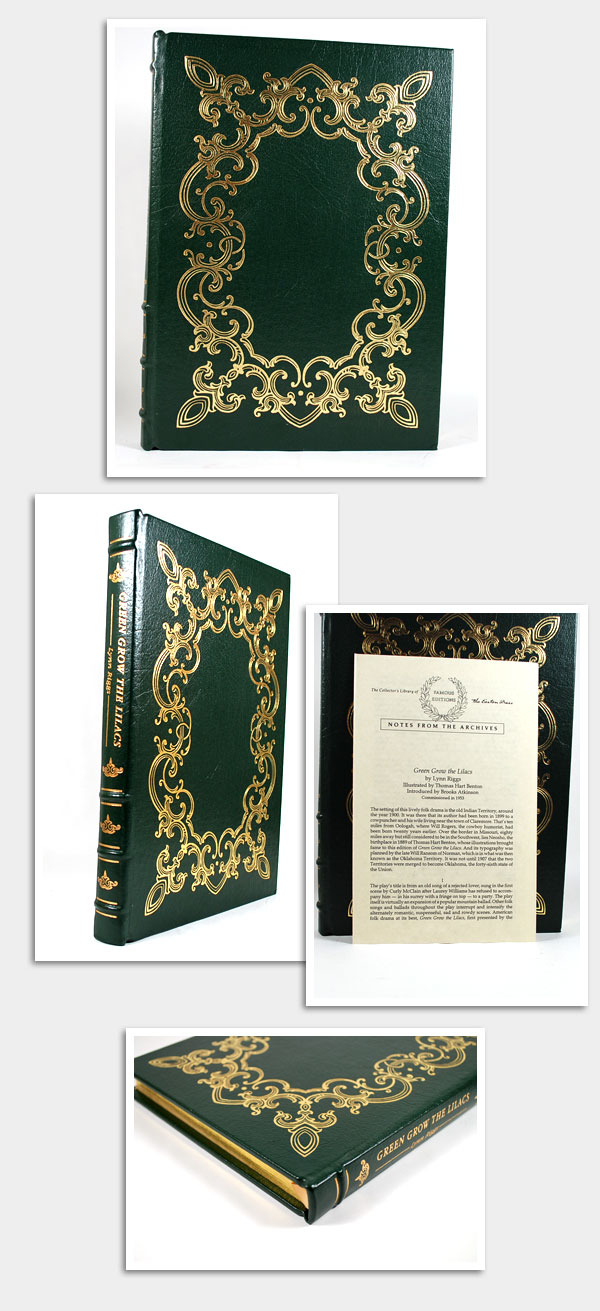 About
Green Grow the Lilacs is a 1931 play by Lynn Riggs named for the popular folk song of the same name. It was performed 64 times on Broadway, opening on January 26, 1931 and closing March 21, 1931. It also played January 19, 1931 through January 24, 1931 at the National Theatre in Washington D.C.
It was produced by the Theatre Guild and directed by Herbert J. Biberman. Rather startlingly, the debonair, ultra sophisticated actor Franchot Tone portrayed cowboy Curly. June Walker was seen as his sweetheart Laurey. Theatre Guild board member Helen Westley, who had appeared as Mrs. Muskat in the original Broadway production of Ferenc Molnar's Liliom, played Aunt Eller. Lee Strasberg, later to become a renowned teacher of method acting, played the part of the Persian peddler. The play also toured the Midwest , and was nominated for a Pulitzer Prize.
It appeared at the Dallas Little Theatre during the week of March 7, 1932, and again in Dallas at the Festival of Southwestern Plays, on May 10, 1935.. Although the 1943 Rodgers and Hammerstein musical play Oklahoma!, which is based on the Riggs play, used a new score rather than the old folk songs in Riggs' work, the plot of Green Grow The Lilacs is almost identical, except for the ending, which unlike that of the musical, is left rather undecided as to Curly's trial for accidentally killing farmhand Jeeter (renamed Jud Fry in the musical).
In addition, the cowboy Will Parker is only referred to in the original Riggs play; he does not actually appear in it. Therefore, the entire comic subplot involving the fifty dollars that Will must obtain in order to be able to marry Ado Annie is an invention of Hammerstein's.
VERY FINE GUARANTEED
A wonderful bright clean copy free of any markings, writings, or stamps. Sharp corners that have not been bumped. Tight binding. Most likely an unread book. No bookplates attached or indication of any removed. The gilded page edges are free of any marks, scratches, or blemishes.
Publisher:

Easton Press

Edition:

Easton Press

Binding:

Full Genuine Leather

Illustrator:

Limited Edition

Dimensions: