Personally hand signed by President Jimmy Carter, the Nobel Peace Prize Winner.
Easton Press full genuine leather
Illustrated by Amy Carter
Collector's Edition
Very Fine without any flaws
Includes COA and collector's notes.
In this acclaimed bestseller, President Carter returns to his early years in Plains, Georgia, the same locale that enchanted readers of An Hour Before Daylight, which The New Yorker called "an American classic." He remembers the Christmas days of his boyhood and later years, re-creating here the simplicity of community and celebration with family and friends. A wonderful signed limited heirloom edition to showcase in your presidential library.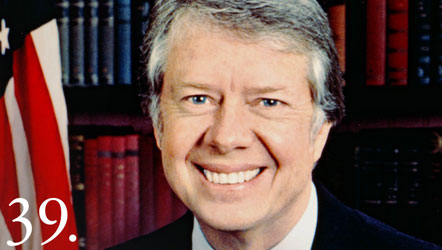 In 2002, President Carter received the Nobel Peace Prize for his work "to find peaceful solutions to international conflicts, to advance democracy and human rights, and to promote economic and social development" through The Carter Center. He was the third U.S. President, after Theodore Roosevelt and Woodrow Wilson, to be awarded the Prize. Carter shares with Martin Luther King, Jr., the distinction of being the only native Georgians to be so honored.
Jimmy Carter's Georgia hometown has been the one constant in his life, and he pays tribute to it with Christmas in Plains, a collection of holiday memories from his childhood through his Navy days, his time as Georgia governor and U.S. president, and his very active retirement. As a schoolboy, Carter looked forward to painting many-colored magnolia leaves to mix in with the holly on the mantle. His favorite way to collect mistletoe "usually at the top of oak or pecan trees and on the ends of slender limbs, was to shoot into the clump and let the bullets or buckshot cut off some sprigs."
And when his godmother went to Cleveland, Ohio, one December, he asked her to bring back a snowball. It was quite some time before he realized that the large white marble she gave him was not "a real petrified snowball." Carter's memories of holding onto faith during the Christmases of his presidency are often poignant, taking place in the context of the Iranian hostage crisis and the Soviet invasion of Afghanistan. And his postretirement experiences of Christmas are strangely, comfortingly familiar, characterized by jealousy of in-laws and generosity towards neighbors.
--Michael Joseph Gross
From Publishers Weekly
This slim yet deeply textured memoir detailing former president Carter's Christmases as a boy in rural Georgia, as a naval officer, a politician and president serves as an excellent companion to his earlier, bestselling memoir, An Hour Before Daylight, but can also be read on its own as a tribute to family and a reminder that economy of gifts doesn't have to mean economy of generosity. Told in clear, honest language, these engaging vignettes range from endearing stories from his boyhood using the tinfoil from his father's cigarette packs to make tinsel for the tree as well as revealing ones Carter's thoughts and feelings during the hostage crisis in the Middle East toward the end of his presidency.
These are the humble and heartfelt experiences that shaped and reflect his character: stories of his close black friends in the pre-civil rights era, of one memorable holiday involving a truckload of grapefruit, of another at Camp David, of trying to spend some quiet moments alone with his family in Plains even with the Secret Service in tow. The message illustrated throughout could not be more timely that gifts from the heart are the most important kind and should not be restricted to one's own family. (Nov.)Forecast: Comforting and inspiring, this should have very big sales among readers of Carter's previous book and bring him new readers as well.
Features
Includes all the classic Easton Press qualities:
* Premium Leather
* Silk Moire Endleaves
* Distinctive Cover Design
* Hubbed Spine, Accented in Real 22KT Gold
* Satin Ribbon Page Marker
* Gilded Page Edges
* Long-lasting, High Quality Acid-neutral Paper
* Smyth-sewn Pages for Strength and Durability
* Beautiful Illustrations
VERY FINE GUARANTEED
Very Fine without any flaws. The condition is of the highest quality. No bumped corners. Photos of actual volume.
Publisher:

Easton Press

Edition:

Easton Press

Binding:

Full genuine leather

Illustrator:

Signed Limited Edition

Dimensions:

9" x 6" x 1.5"