Easton Press, John Steinbeck "The Grapes of Wrath" Leather Bound Collector's Edition
The Great Books of the 20th Century
Lithographs by Thomas Hart Benton
Includes original collector's notes
Full genuine leather, Easton Press.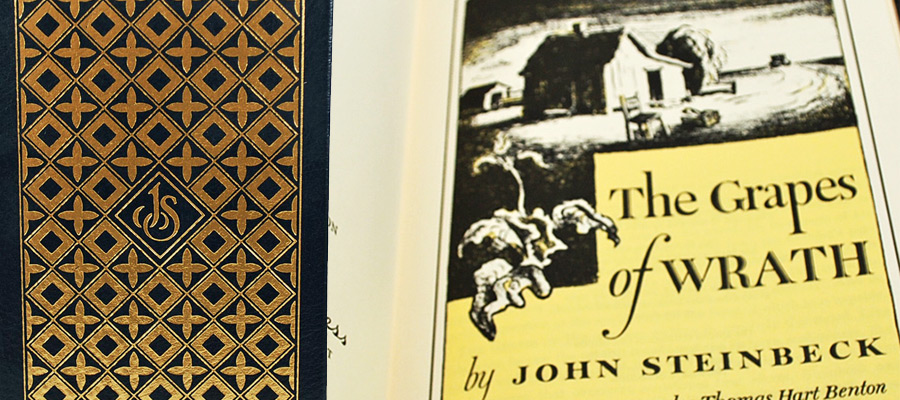 First published in 1939, Steinbeck's Pulitzer Prize-winning epic of the Great Depression chronicles the Dust Bowl migration of the 1930s and tells the story of one Oklahoma farm family, the Joads—driven from their homestead and forced to travel west to the promised land of California. Out of their trials and their repeated collisions against the hard realities of an America divided into Haves and Have-Nots evolves a drama that is intensely human yet majestic in its scale and moral vision, elemental yet plainspoken, tragic but ultimately stirring in its human dignity. A portrait of the conflict between the powerful and the powerless, of one man's fierce reaction to injustice, and of one woman's stoical strength, the novel captures the horrors of the Great Depression and probes into the very nature of equality and justice in America. At once a naturalistic epic, captivity narrative, road novel, and transcendental gospel, Steinbeck's powerful landmark novel is perhaps the most American of American Classics.
Features
Includes all the classic Easton Press qualities:

* Premium Leather
* Silk Moire Endleaves
* Distinctive Cover Design
* Hubbed Spine, Accented in Real 22KT Gold
* Satin Ribbon Page Marker
* Gilded Page Edges
* Long-lasting, High Quality Acid-neutral Paper
* Smyth-sewn Pages for Strength and Durability
* Beautiful Illustrations


About The Author
John Ernst Steinbeck Jr. (/ˈstaɪnbɛk/; February 27, 1902 – December 20, 1968) was an American author. He won the 1962 Nobel Prize in Literature "for his realistic and imaginative writings, combining as they do sympathetic humour and keen social perception." He has been called "a giant of American letters," and many of his works are considered classics of Western literature.
During his writing career, he authored 27 books, including 16 novels, six non-fiction books, and two collections of short stories. He is widely known for the comic novels Tortilla Flat (1935) and Cannery Row (1945), the multi-generation epic East of Eden (1952), and the novellas Of Mice and Men (1937) and The Red Pony (1937). The Pulitzer Prize-winning The Grapes of Wrath (1939) is considered Steinbeck's masterpiece and part of the American literary canon. In the first 75 years after it was published, it sold 14 million copies.

Most of Steinbeck's work is set in central California, particularly in the Salinas Valley and the California Coast Ranges region. His works frequently explored the themes of fate and injustice, especially as applied to downtrodden or everyman protagonists.
VERY FINE GUARANTEED
. A wonderful bright clean copy free of any markings, writings, or stamps. Sharp corners that are not bumped. Tight and square spine. Unread book. No attached bookplates or indication of any removed.
Publisher:

Easton Press

Edition:

Limited Edition

Binding:

Leather Bound (Full genuine leather)

Illustrator:

Thomas Hart Benton

Dimensions:

9.25 "x 6.25" x 1.5"