Personally signed by the late Kurt Vonnegut on a special title page.
Easton Press 2003, Kurt Vonnegut "Look at the Birdie: Unpublished Short Fiction". Signed First Edition. Full-Leather. No Jacket as Issued. Collector's Edition. Signed by the author Kurt Vonnegut on a special title page.
6" x 9", 268pp. A handsome dark blue leather Collector's Edition of Vonnegut's never before published work. Very Near Fine with a couple of light superficial marks across the bottom of the gilded page edges.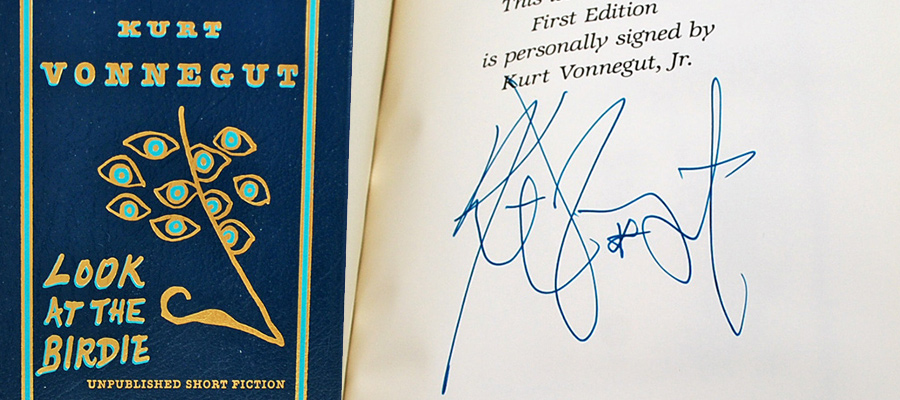 About "Look at the Birdie"
Look at the Birdie is a collection of fourteen previously unpublished short stories from one of the most original writers in all of American fiction. In this series of perfectly rendered vignettes, written just as he was starting to find his comic voice, Kurt Vonnegut paints a warm, wise, and funny portrait of life in post World War II America a world where squabbling couples, high school geniuses, misfit office workers, and small-town lotharios struggle to adapt to changing technology, moral ambiguity, and unprecedented affluence.
Here are tales both cautionary and hopeful, each brimming with Vonnegut's trademark humor and profound humanism. A family learns the downside of confiding their deepest secrets into a magical invention. A man finds himself in a Kafkaesque world of trouble after he runs afoul of the shady underworld boss who calls the shots in an upstate New York town. A quack psychiatrist turned murder counselor concocts a novel new outlet for his paranoid patients. While these stories reflect the anxieties of the postwar era that Vonnegut was so adept at capturing and provide insight into the development of his early style collectively, they have a timeless quality that makes them just as relevant today as when they were written. It's impossible to imagine any of these pieces flowing from the pen of another writer; each in its own way is unmistakably, quintessentially Kurt Vonnegut .
Featuring a Foreword by author and longtime Vonnegut confidant Sidney Offit and illustrated with Vonnegut's characteristically insouciant line drawings, Look at the Birdie is an unexpected gift for readers who thought his unique voice had been stilled forever and serves as a terrific introduction to his short fiction for anyone who has yet to experience his genius
Features
Includes all the classic Easton Press trimmings:

* Premium Leather
* Silk Moire Endleaves
* Distinctive Cover Design
* Hubbed Spine, Accented in Real 22KT Gold
* Satin Ribbon Page Marker
* Gilded Page Edges
* Long-lasting, High Quality Acid-neutral Paper
* Smyth-sewn Pages for Strength and Durability
* Beautiful Illustrations

About The Author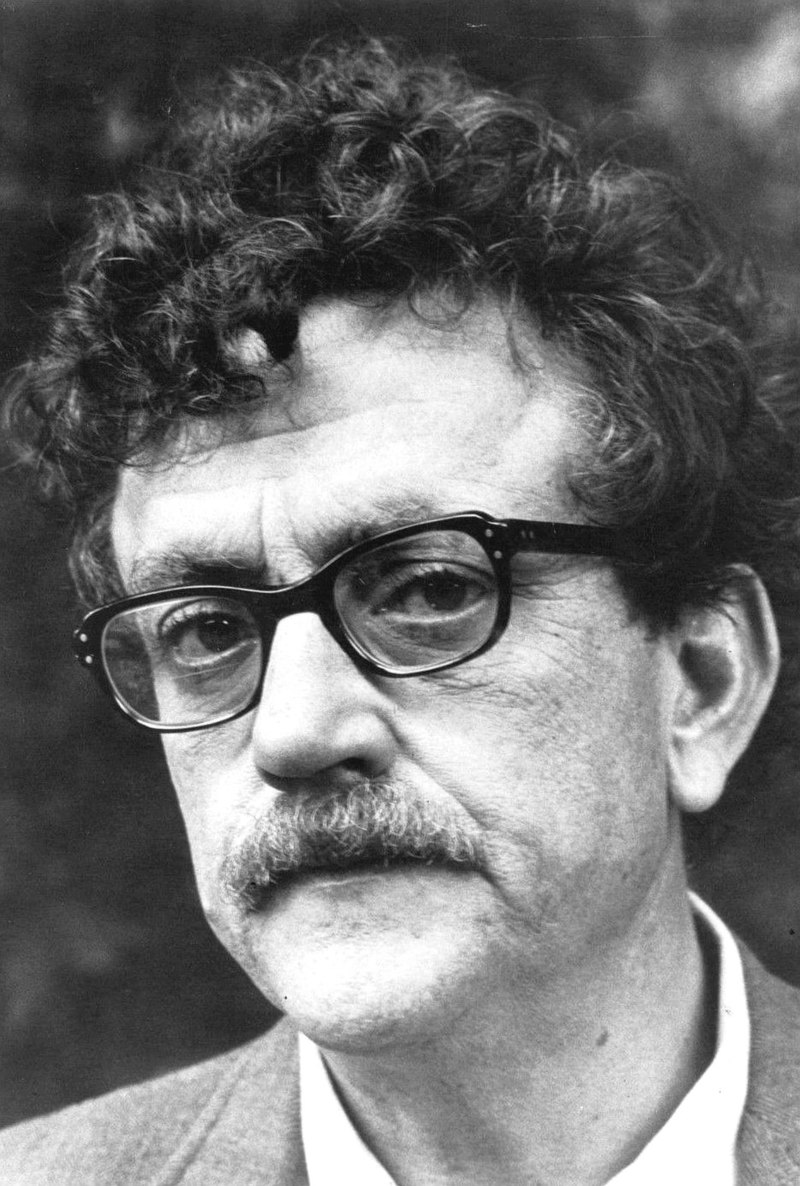 Kurt Vonnegut Jr. (November 11, 1922 – April 11, 2007) was an American writer. In a career spanning over 50 years, Vonnegut published 14 novels, three short story collections, five plays, and five works of non-fiction. He is most famous for his darkly satirical, best-selling novel Slaughterhouse-Five (1969). Born and raised in Indianapolis, Indiana, Vonnegut attended Cornell University but dropped out in January 1943 and enlisted in the United States Army. As part of his training, he studied mechanical engineering at Carnegie Institute of Technology (now Carnegie Mellon University) and the University of Tennessee. He was then deployed to Europe to fight in World War II and was captured by the Germans during the Battle of the Bulge. He was interned in Dresden and survived the Allied bombing of the city by taking refuge in a meat locker of the slaughterhouse where he was imprisoned. After the war, Vonnegut married Jane Marie Cox, with whom he had three children. He later adopted his sister's three sons, after she died of cancer and her husband was killed in a train accident.
Very Near Fine, with a couple of superficial marks across the bottom of the gilded page edges. Otherwise a wonderful bright clean copy without any marks, writings, stamps. No bookplates attached or indication of any removed. Sharp corners. Square and tight spine.
Publisher:

Easton Press (2003)

Edition:

Signed First Edition (Limited to 1,000)

Binding:

Full genuine leather

Illustrator:

N/A

Dimensions:

8.75" x 5.75" x 1.5"