Personally signed by Lois McMaster Bujold on the special limitation page.
Easton Press, Norwalk, CT. 1999. Lois McMaster Bujold "A Civil Campaign". Full Genuine Leather with Certificate of Authenticity . No Jacket as issued. This volume has been personally hand signed on a special limitation page by Lois McMaster Bujold. Signed Limited First Edition #545 of only 1,225 produced. As new without any flaws. This leather bound collector's edition is luxuriously bound in full genuine leather with 22kt gold accents and gilded page edges.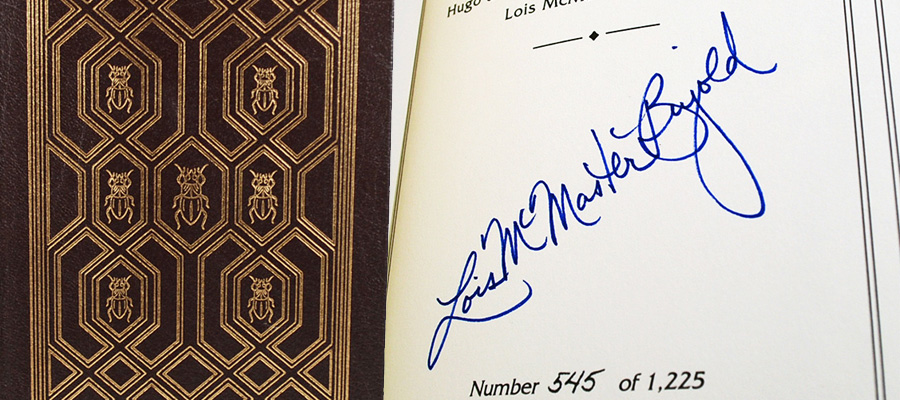 From the Back Cover
ONE CUNNING PLAN TOO MANY...?
It's spring in Vorbarr Sultana, and a young person's fancy lightly turns to thoughts of love ... money ... bio-genetics ... love ... lack of money ... incompatible planetary sexual mores ... love ... District succession scandals ... the Emperor's wedding ... and, of course, love ...
Lord Miles Vorkosigan, youngest Imperial Auditor to be appointed by the Emperor since the Time of Isolation, has a problem all his new power can't solve: unrequited love for the beautiful Vor widow Ekaterin Vorsoisson. Ekaterin is violently allergic to marriage as a result of her first exposure. But as Miles learned from his late career in galactic covert ops, if a frontal assault won't do, go to subterfuge. He has a cunning plan ...
Lord Mark Vorkosigan has a problem: his love for the sunny Kareen, daughter of Commodore Koudelka, has just become unrequited again. But if all his new money can't solve their dilemma, perhaps a judicious blending of science and entrepreneurial scheming might. He has a cunning plan ...
Features
Includes all the classic Easton Press qualities:

* Premium Leather
* Silk Moire Endleaves
* Distinctive Cover Design
* Hubbed Spine, Accented in Real 22KT Gold
* Satin Ribbon Page Marker
* Gilded Page Edges
* Long-lasting, High Quality Acid-neutral Paper
* Smyth-sewn Pages for Strength and Durability
* Beautiful Illustrations


About The Author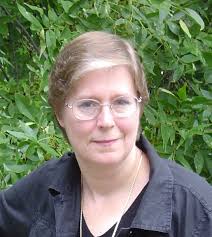 Lois McMaster Bujold (/buːˈʒoʊld/boo-ZHOHLD; born November 2, 1949) is an American speculative fiction writer. She is one of the most acclaimed writers in her field, having won the Hugo Award for best novel four times, matching Robert A. Heinlein's record, not counting his Retro Hugo. Her novella "The Mountains of Mourning" won both the Hugo Award and Nebula Award.
In the fantasy genre, The Curse of Chalion won the Mythopoeic Award for Adult Literature and was nominated for the 2002 World Fantasy Award for best novel, and both her fourth Hugo Award and second Nebula Award were for Paladin of Souls. In 2011 she was awarded the Skylark Award. In 2013 she was awarded the Forry Award.
In 2017 she won a Hugo Award for Best Series, for the Vorkosigan Saga. The bulk of Bujold's works comprises three separate book series: the Vorkosigan Saga, the Chalion Series, and the Sharing Knife series.
VERY FINE GUARANTEED. This volume is a wonderful bright clean copy free of any markings, writings, or stamps. Sharp corners that are not bumped. Tight and square spine. Unread book without any attached bookplates or indication of any removed.
Book Grading Definitions
Publisher:

Easton Press

Edition:

Signed Limited First Edition

Binding:

Full genuine leather

Illustrator:

Walter Velez

Dimensions:

6.5" x 9.5" x 1.5"

Signature Authenticity:

Lifetime Guarantee of Signature Authenticity. Personally signed by the author directly into the book. The autograph is not a facsimile, stamp, or auto-pen.