Personally signed by Michael Z. Williamson
Norwalk, CT. 2004. Signed First Edition. No dust-jacket as issued. Genuine leather, with Certificate of Authenticity and Collector's Notes. This is #247 of only 900 signed and numbered copies. Frontispiece by Uli Staiger.

About
First contact with an alien species, and, surprise, the human race is far from united. The Freeholders want trade. The U.N. wants to manage. The eco-warriors want "purity" at all costs. Humans, you gotta love 'em! Once again, a historic meeting between potential friends is about to turn into a free-fire zone! A stand-out entry in the "Freehold" saga by Michael Z. Williamson, co-author with New York Times best-seller John Ringo of "Posleen War" hit, Hero.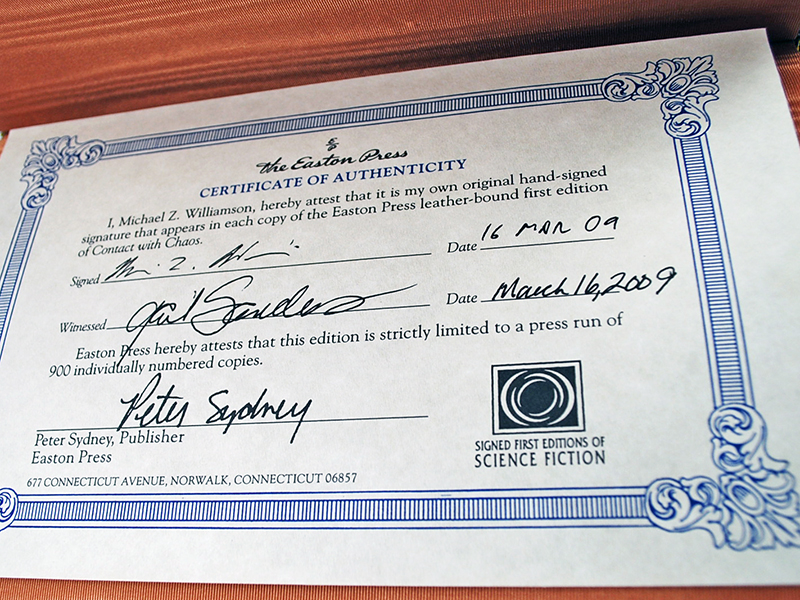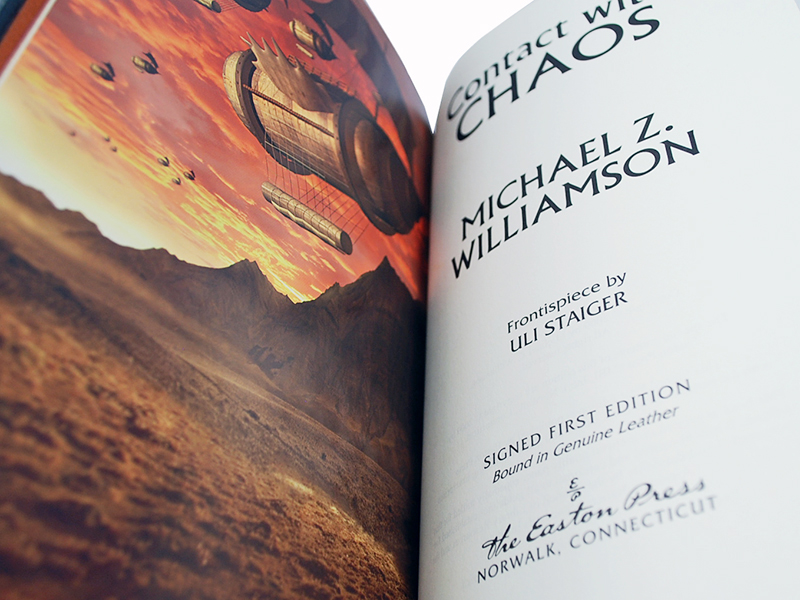 Features
This item includes the classic Easton Press qualities:

* Premium Leather
* Silk Moire Endleaves
* Distinctive Cover Design
* Hubbed Spine, Accented in Real 22KT Gold
* Satin Ribbon Page Marker
* Gilded Page Edges
* Long-lasting, High Quality Acid-neutral Paper
* Smyth-sewn Pages for Strength and Durability
* Beautiful Illustrations


About The Author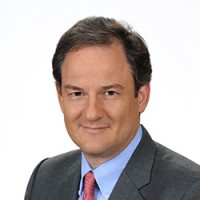 Michael Z. Williamson is a science fiction and military fiction author. Born in Birkenhead, England, he and his family emigrated to Canada, then the United States in 1978. Williamson frequently utilizes the pen names "Mad Mike", and "Crazy Einar". He is retired from the United States Air Force.
VERY FINE GUARANTEED
. A wonderful bright clean copy free of any markings, writings, or stamps. Sharp corners that are not bumped. Tight and square spine. Unread book. No attached bookplates or indication of any removed.
Publisher:

Easton Press

Edition:

Signed First Edition

Binding:

Leather Bound (Full genuine leather)

Illustrator:

Uli Staiger

Dimensions:

9.5 "x 6.25" x 1.25"

Signature Authenticity:

Lifetime Guarantee of Signature Authenticity. Personally signed by the author directly onto the special title page of the book. The autograph is not a facsimile, stamp, or auto-pen.