A Luxurious Leather Bound Masterpiece

Limited Edition - Collector's Edition. A great unique gift for yourself or for a loved one. Part of prestigious
The Collector's Library of Famous Editions
published by Easton Press. Beautifully illustrated and bound in full genuine blue leather. A rare collector's edition that is hard to find, especially in this very fine condition.
Revised by W.H.Klapp, introduced by Dudley Fitts, illustrated by Joe Mugnaini. Includes extra unattached Ex-Libris bookplate for your own personalization. Includes original NOTES FROM THE ARCHIVES.
Condition
Very Fine. A wonderful bright clean copy. Free of markings, writings, or stamps. No attached bookplates or indication of any removed. Tight spine. Not even a single scratch to the gilded page edges. Unread book.
Includes the classic Easton Press qualities:
* Premium Leather
* Silk Moire Endleaves
* Distinctive Cover Design
* Hubbed Spine, Accented in Real 22KT Gold
* Satin Ribbon Page Marker
* Gilded Page Edges
* Long-lasting, High Quality Acid-neutral Paper
* Smyth-sewn Pages for Strength and Durability
* Beautiful Illustrations
PHOTOS OF ACTUAL VOLUME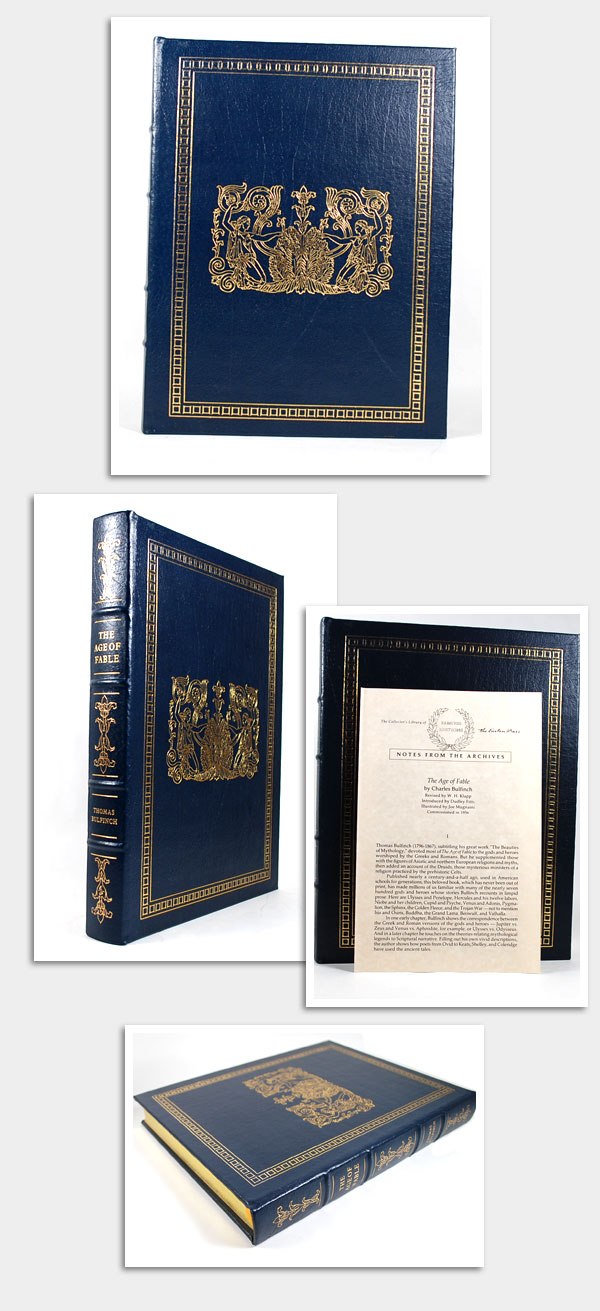 Thomas Bulfinch (July 15, 1796 - May 27, 1867) was an American writer, born in Newton, Massachusetts. Bulfinch belonged to a well educated Bostonian merchant family of modest means. His father was Charles Bulfinch, the architect of the Massachusetts State House in Boston and parts of the U.S. Capitol in Washington, D.C.. Bulfinch supported himself through his position at the Merchants' Bank of Boston.
Although Thomas Bulfinch reorganized Psalms to illustrate the history of the Hebrews, he is best known as the author of Bulfinch's Mythology, an 1881 compilation of his previous works:
1. The Age of Fable, or Stories of Gods and Heroes (1855)

2. The Age of Chivalry, or Legends of King Arthur (1858)

3. Legends of Charlemagne, or Romance of the Middle Ages (1863)
The compilation assembled posthumously by Edward Everett Hale, known simply as Bulfinch's Mythology includes various stories belonging to the mythological traditions known as the Matter of Rome, the Matter of Britain and the Matter of France, respectively.
"Our work is not for the learned, nor for the theologian, nor for the philosopher, but for the reader of English literature, of either sex, who wishes to comprehend the allusions so frequently made by public speakers, lecturers, essayists, and poets, and those which occur in polite conversation."
The volume was dedicated to Henry Wadsworth Longfellow and described on the title page as an "Attempt To Popularize Mythology, And Extend The Enjoyment Of Elegant Literature." In his preface Bulfinch outlined his purpose, which was "an attempt to solve this problem, by telling the stories of mythology in such a manner as to make them a source of amusement. We have endeavored to tell them correctly, according to the ancient authorities, so that when the reader finds them referred to he may not be at a loss to recognize the reference. Thus we hope to teach mythology not as a study, but as a relaxation from study; to give our work the charm of a story-book, yet by means of it to impart a knowledge of an important branch of education. The index at the end will adapt it to the purposes of a reference, and make it a Classical Dictionary for the parlor."
His obituary noted that the contents were "expurgated of all that would be offensive".
The versions Bulfinch gives for the classical myths are those in Ovid and Virgil. His Norse myths are abridged from a work by Paul-Henri Mallet, a professor at Geneva, translated by Bishop Thomas Percy as Northern Antiquities (London, 1770, often reprinted).
The Bulfinch version of myth, published for genteel Americans just as the first studies of mythography were appearing in Germany, presents the myths in their literary versions, without unnecessary violence, sex, psychology or ethnographic information. "Mr. Bulfinch was a gentleman of a pure Christian character," his obituary observed, "of delicate sensibilities and refined culture." The Bulfinch myths are an indispensable guide to the cultural values of the American 19th century, yet the Bulfinch version is still the version being taught in many American public schools. Marie Sally Cleary, The Bulfinch Solution: Teaching the Ancient Classics in American Schools (1990), sets the book in the context of "democratizing" classical culture for a wider American antebellum readership.
Bulfinch was the product of Boston Latin School, Phillips Exeter Academy, and Harvard College, where he graduated in 1814.
Though the Bulfinch retellings were largely superseded in American high schools by Edith Hamilton's works on mythology, a "sumptuously illustrated" edition was offered in the Christmas 1979 catalogue of the Metropolitan Museum of Art.
VERY FINE GUARANTEED
A wonderful bright clean copy free of any markings, writings, or stamps. Sharp corners that have not been bumped. Unread book with tight binding. No bookplates attached or indication of any removed. The gilded page edges are free of any marks, scratches, or blemishes.
Publisher:

Easton Press

Edition:

Easton Press

Binding:

Full Genuine Leather

Illustrator:

Limited Edition

Dimensions:

N/A