A Luxurious Leather Bound Masterpiece
This masterpiece of science fiction is the fascinating story of Griffin, a scientist who creates a serum to render himself invisible, and his descent into madness that follows.
Limited Edition - Collector's Edition. A great unique gift for yourself or for a loved one. Part of prestigious
The Collector's Library of Famous Editions
published by Easton Press. Beautifully illustrated and bound in full genuine leather. One of the most celebrated works of popular literature by a historical writer. This is the
rare 1967 Easton Press
true
First Edition
and not to be confused with the later printings published thereafter.
First sentence: "THE STRANGER came early in February, one wintry day, through a biting wind and a driving snow, the last snowfall of the year, over the down, walking as it seemed from Bramblehurst railway station, and carrying a little black portmanteau in his thickly gloved hand."
A beautiful leather bound edition with 22kt gold accents. An original collector's edition that even includes the NOTES FROM THE ARCHIVES as first issued. Illustrated by Charles Mozley. Introduced by Bernard Bergonzi. Over-sized measuring 8"x11". 164 pages. Very Fine. Sealed.
Includes the classic Easton Press qualities:
* Premium Leather
* Silk Moire Endleaves
* Distinctive Cover Design
* Hubbed Spine, Accented in Real 22KT Gold
* Satin Ribbon Page Marker
* Gilded Page Edges
* Long-lasting, High Quality Acid-neutral Paper
* Smyth-sewn Pages for Strength and Durability
* Beautiful Illustrations
PHOTOS OF ACTUAL VOLUME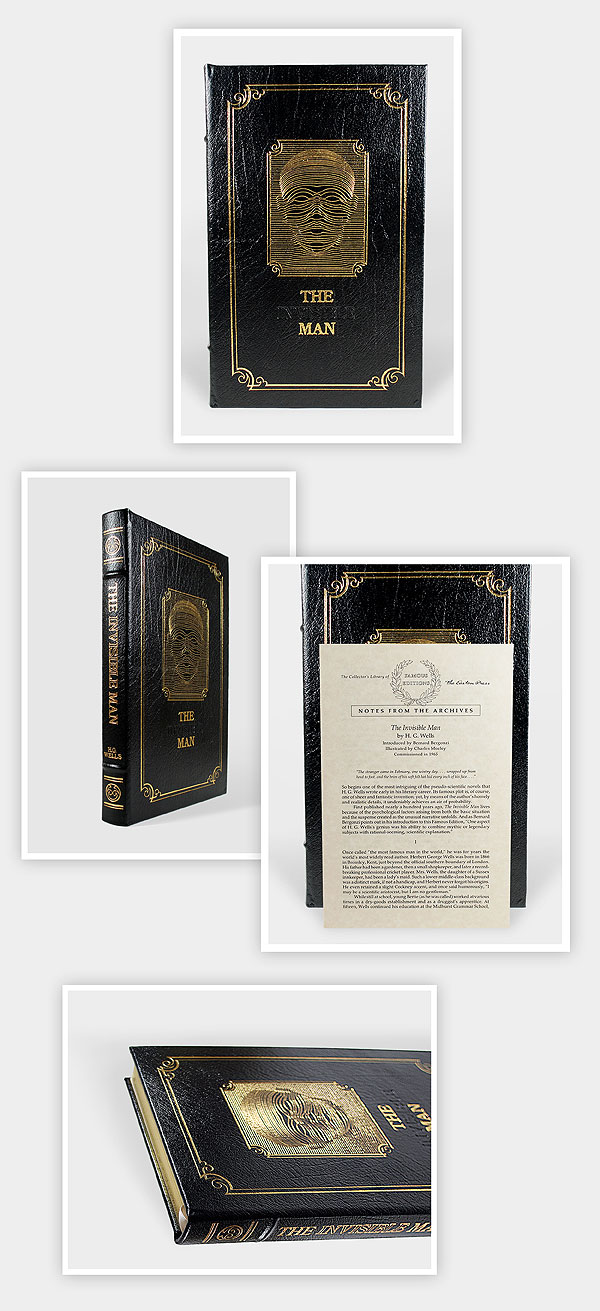 The Invisible Man is a science fiction novella by H.G. Wells published in 1897. Wells' novel was originally serialised in Pearson's Magazine in 1897, and published as a novel the same year. The Invisible Man of the title is Griffin, a scientist who theorises that if a person's refractive index is changed to exactly that of air and his body does not absorb or reflect light, then he will be invisible.
He successfully carries out this procedure on himself, but cannot become visible again, becoming mentally unstable as a result.
VERY FINE GUARANTEED
. A wonderful bright clean copy free of any markings, writings, or stamps. Sharp corners that have not been bumped. Unread book with tight binding. No bookplates attached or indication of any removed. The gilded page edges are free of any marks, scratches, or blemishes.
Publisher:

Easton Press (1967)

Edition:

Limited Edition

Binding:

Full genuine leather

Illustrator:

See description for details

Dimensions:

10" x 8" x 1"