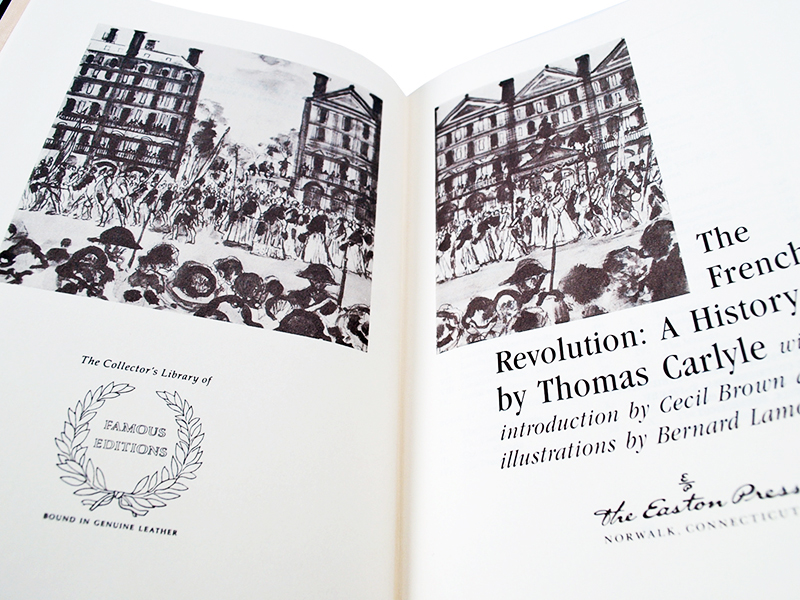 Easton Press, Norwalk, CT. The Collector's Library of Famous Editions. Includes the original NOTES FROM THE ARCHIVES.
Illustrated by Bernard Lamotte
Introduced by Cecil Brown
Commissioned in 1954
The French Revolution: A History was written by the Scottish essayist, philosopher, and historian Thomas Carlyle. The three-volume work, first published in 1837 (with a revised edition in print by 1857), charts the course of the French Revolution from 1789 to the height of the Reign of Terror (1793-94) and culminates in 1795.
About the author
Thomas Carlyle (4 December 1795 - 5 February 1881) was a Scottish philosopher, satirical writer, essayist, historian and teacher. Considered one of the most important social commentators of his time, he presented many lectures during his lifetime with certain acclaim in the Victorian era.
Features
Includes all the classic Easton Press qualities:

* Premium Leather
* Silk Moire Endleaves
* Distinctive Cover Design
* Hubbed Spine, Accented in Real 22KT Gold
* Satin Ribbon Page Marker
* Gilded Page Edges
* Long-lasting, High Quality Acid-neutral Paper
* Smyth-sewn Pages for Strength and Durability
* Beautiful Illustrations


VERY FINE GUARANTEED
A wonderful bright clean copy free of any markings, writings, or stamps. Sharp corners that are not bumped. Tight and square spine. Unread book. No attached bookplates or indication of any removed.
Publisher:

Easton Press

Edition:

Easton Press

Binding:

Leather Bound (Full genuine leather)

Illustrator:

Limited Edition

Dimensions:

9 "x 6" x 2"