Signed by author Tim O'Brien on a special title page.
Easton Press, Norwalk, CT. Tim O'Brien "Going After Cacciato" Signed Limited Edition New/Sealed. Hardcover As New; A wonderful copy of this scarce book in As New condition.
Tim O'Brien's classic novel of Vietnam, winner of the 1979 National Book Award, tells the story of a young soldier who one day lays down his weapons and departs on his impulsive journey from the jungles of Indochina to the streets of Paris.
"In October, near the end of the month, Cacciato left the war." In Tim O'Brien's novel "Going After Cacciato," the theater of war becomes the theater of the absurd as a private deserts his post in Vietnam, intent on walking 8,000 miles to Paris for the peace talks. The remaining members of his squad are sent after him, but what happens then is anybody's guess: "The facts were simple: They went after Cacciato, they chased him into the mountains, they tried hard. They cornered him on a small grassy hill. They surrounded the hill. They waited through the night. And at dawn they shot the sky full of flares and then they moved in.... That was the end of it. The last known fact. What remained were possibilities."
It is these possibilities that make O'Brien's National Book Award-winning novel so extraordinary. Told from the perspective of squad member Paul Berlin, the search for Cacciato soon enters the realm of the surreal as the men find themselves following an elusive trail of chocolate M&M's through the jungles of Indochina, across India, Iran, Greece, and Yugoslavia to the streets of Paris. The details of this hallucinatory journey alternate with feverish memories of the war--men maimed by landmines, killed in tunnels, engaged in casual acts of brutality that would be unthinkable anywhere else. Reminiscent of Joseph Heller's Catch-22, Going After Cacciato dishes up a brilliant mix of ferocious comedy and bleak horror that serves to illuminate both the complex psychology of men in battle and the overarching insanity of war.
Reviews
"Simply put, the best novel written about the war. I do not know . . . any writer, journalist, or novelist who does not concede that position to O'Brien's Going After Cacciato." --Miami Herald
"A novel of great beauty and importance." --Boston Globe
"Stark . . . rhapsodic. . . . It is a canvas painted vividly, hauntingly, disturbingly by Tim O'Brien." --Los Angeles Times
"As a fictional portrait of this war, Going After Cacciato is hard to fault, and will be hard to better." --John Updike, The New Yorker
Features
Includes all the classic Easton Press qualities:
* Premium Leather
* Silk Moire Endleaves
* Distinctive Cover Design
* Hubbed Spine, Accented in Real 22KT Gold
* Satin Ribbon Page Marker
* Gilded Page Edges
* Long-lasting, High Quality Acid-neutral Paper
* Smyth-sewn Pages for Strength and Durability
* Beautiful Illustrations
About The Author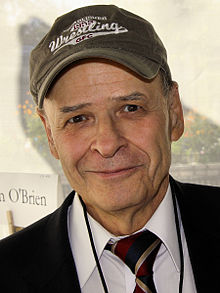 William Timothy "Tim" O'Brien (born October 1, 1946) is an American novelist. He is best known for his The Things They Carried (1990), a collection of linked short stories. These semi-autobiographical stories were inspired by O'Brien's experiences in the Vietnam War. In 2010 the New York Times described O'Brien's book as a Vietnam classic. In addition, he is known for his war novel, Going After Cacciato (1978), also about wartime Vietnam, and later novels about postwar lives of veterans.
O'Brien has held the endowed chair at the MFA program of Texas State University–San Marcos every other academic year since 2003-2004. (i.e. 2003-2004, 2005-2006, 2007-2008, 2009–2010, and 2011-2012).
VERY FINE GUARANTEED. As New (Sealed). The condition is of the highest quality without any discernible flaws.
Publisher:

Easton Press

Edition:

Signed Limited Edition w/COA

Binding:

Full Genuine Leather

Illustrator:

N/A

Dimensions:

9" x 6" x 1.25"

Signature Authenticity:

Lifetime Guarantee of Signature Authenticity. Personally signed by the author directly into the book. The autograph is not a facsimile, stamp, or auto-pen.