This definitive chronicle of America's first motorcycle is an essential for any cycle aficionado.
Easton Press, Norwalk CT. Tod Rafferty "The Indian : The History of a Classic American Motorcycle " . Leather Bound collector's edition. This deluxe over sized limited edition hardcover book is luxuriously bound in full genuine leather. As New, sealed without any flaws.
This definitive chronicle of America's first motorcycle is an essential for any cycle aficionado. It features concise hardware histories of every model produced by Indian from 1901 to the mid-1950s, when the company ceased production. Author Tod Rafferty also covers the millennial rebirth of the marque, including details and photographs of the new 2000 Indian Chief and the new Scout. This comprehensive volume contains more than 250 specially commissioned photographs, plus authoritative text and full specifications for all key machines.Tod Rafferty is the author of The Complete Illustrated Encyclopedia of American Motorcycles and Harley-Davidson: The Ultimate Machine. His work has appeared in Cycle World, Bike, Big Bike, and American Roadracing.
---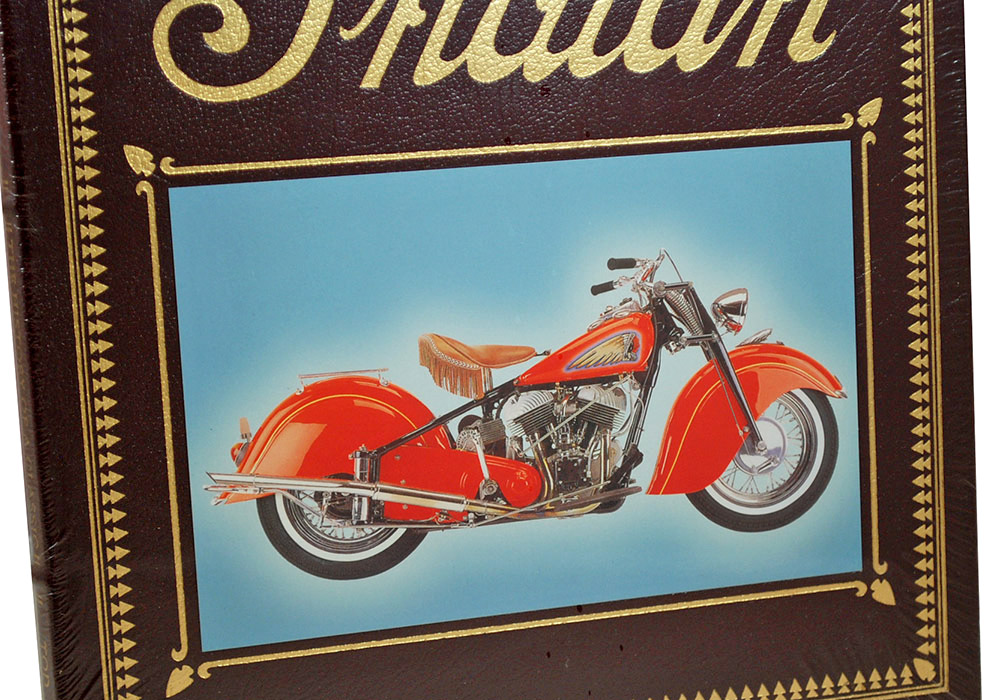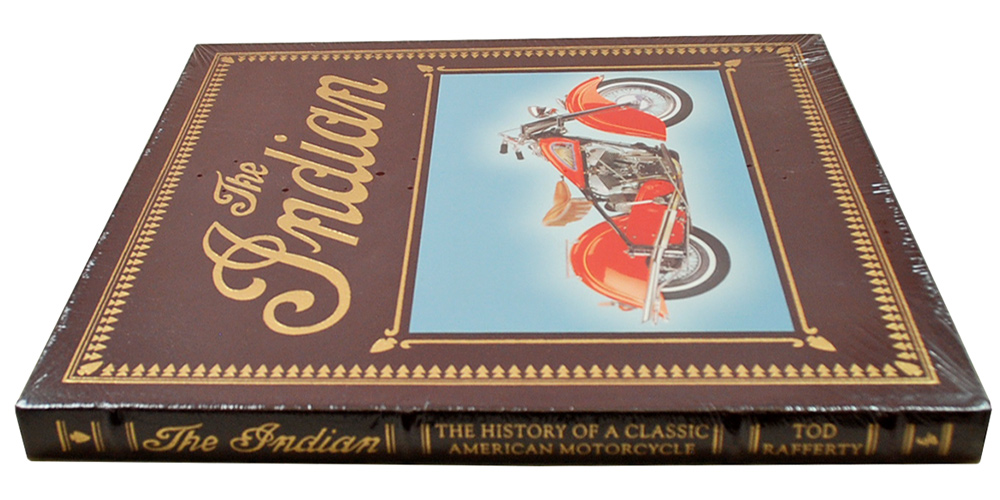 ABOUT THE INDIAN MOTORCYCLE

Indian Motorcycle is an American brand of motorcycles originally produced from 1901 to 1953 in Springfield, Massachusetts, United States. Hendee Manufacturing Company initially produced the motorcycles, but the name was changed to the Indian Motocycle Manufacturing Company in 1923.
The Indian Motorcycle factory team took the first three places in the 1911 Isle of Man Tourist Trophy. During the 1910s, Indian Motorcycle became the largest manufacturer of motorcycles in the world. Indian Motorcycle's most popular models were the Scout, made from 1920 to 1946, and the Chief, made from 1922 until 1953, when the Indian Motocycle Manufacturing Company went bankrupt. Various organizations tried to perpetuate the Indian Motorcycle brand name in subsequent years, with limited success.
In 2011, Polaris Industries purchased Indian Motorcycles and moved operations from North Carolina and merged them into their existing facilities in Minnesota and Iowa. Since August 2013, Polaris has marketed multiple modern Indian motorcycles that reflect Indian Motorcycle's traditional styling.
Wikipedia
Features
Includes all the classic Easton Press qualities:

* Premium Leather
* Silk Moire Endleaves
* Distinctive Cover Design
* Hubbed Spine, Accented in Real 22KT Gold
* Satin Ribbon Page Marker
* Gilded Page Edges
* Long-lasting, High Quality Acid-neutral Paper
* Smyth-sewn Pages for Strength and Durability
* Beautiful Illustrations
VERY FINE GUARANTEED
. Sealed. A wonderful bright clean copy free of any markings, writings, or stamps. Sharp corners that have not been bumped. Tight binding. Unread book. No bookplates attached or indication of any removed. The gilded page edges are free of any marks, scratches, or blemishes.
Publisher:

Easton Press

Edition:

Deluxe Limited Edition

Binding:

Full Genuine Leather

Illustrator:

See description for details

Dimensions:

10.0" x 10.0" x 1.0"