A signed first edition of science fiction, personally signed by Ursula K. Le Guin on a special title page.
Easton Press. Norwalk, CT. 1995. Ursula K. Le Guin "A Fisherman of the Inland Sea". Signed First Edition of Science Fiction. Leather Bound Collector's Edition. One of only 1000 signed copies of this special edition. Full genuine leather. Frontispiece by Pat Morrissey. Introduction by James Gunn.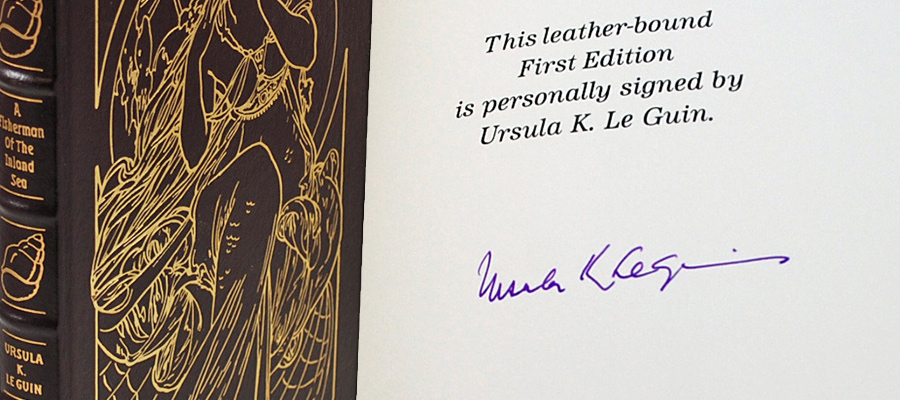 About the book
This is a collection of eight short science fiction stories. In the introduction, the author describes science fiction as "fiction that plays with certain subjects for their inherent interest, beauty, and relevance to the human condition."Publisher's Note: The winner of the Pushcart Prize, the Kafka Award, and the National Book Award, Ursula K. Le Guin has created a profound and transformational literature.
The award-winning stories in A Fisherman of the Inland Sea range from the everyday to the outer limits of experience, where the quantum uncertainties of space and time are resolved only in the depths of the human heart. Astonishing in their diversity and power, they exhibit both the artistry of a major writer at the height of her powers and the humanity of a mature artist confronting the world with her gift of wonder still intact.
Features
Includes all the classic Easton Press qualities:

* Premium Leather
* Silk Moire Endleaves
* Distinctive Cover Design
* Hubbed Spine, Accented in Real 22KT Gold
* Satin Ribbon Page Marker
* Gilded Page Edges
* Long-lasting, High Quality Acid-neutral Paper
* Smyth-sewn Pages for Strength and Durability
* Beautiful Illustrations
About The Author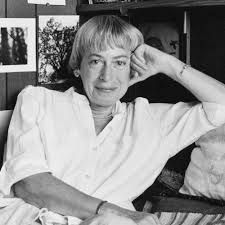 Ursula Kroeber Le Guin is an American author of novels, children's books, and short stories, mainly in the genres of fantasy and science fiction. She has also written poetry and essays. First published in the 1960s, her work has often depicted futuristic or imaginary alternative worlds in politics, natural environment, gender, religion, sexuality and ethnography.
She was influenced by fantasy writers like J. R. R. Tolkien, by science fiction writers like Philip K. Dick, by central figures of Western literature like Leo Tolstoy, Virgil and the Bronte sisters, and including feminist writers like Virginia Woolf, by children's literature like Alice in Wonderland, The Wind in the Willows, The Jungle Book, by Norse mythology, and by books from the Eastern tradition such as the Tao Te Ching. In turn, she influenced such Booker Prize winners and other writers, as Salman Rushdie and David Mitchell and notable futurism and fantasy writers like Neil Gaiman and Iain Banks.
She won the Hugo Award, Nebula Award, Locus Award, and World Fantasy Award, each more than once. In 2014, she was awarded the National Book Foundation Medal for Distinguished Contribution to American Letters. In 2003, she was made a Grandmaster of Science Fiction, one of a few women writers to take the top honor in the genre.
VERY FINE GUARANTEED
. A wonderful bright clean copy free of any markings, writings, or stamps. Sharp corners that are not bumped. Tight and square spine. Unread book. No attached bookplates or indication of any removed.
Publisher:

Easton Press (1995)

Edition:

Signed First Edition, First Printing

Binding:

Full Genuine Leather

Illustrator:

Pat Morrissey

Dimensions:

9" x 6.5" x .75"