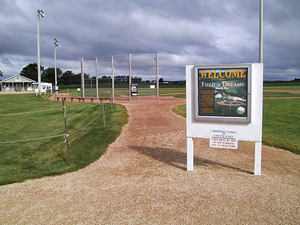 "If you build it, he will come. " A novel about baseball, about love and the power of dreams to make people come alive. Basis for Academy Awards nominated motion picture "Field of Dreams" starring Kevin Kostner and Ray Liotta.
A very special leather-bound collectible for the baseball lover!
This is the signed Easton Press heirloom edition of Bill Kinsella's brilliant novel "Shoeless Joe", the basis for Field of Dreams, possibly the greatest baseball movie ever made.

Personally autographed directly into the book by W.P. Kinsella.


Includes COA, Collector Notes, and an extra unattached bookplate.
FAQ: How do I know the signature is authentic?
Easton Press COA (certificate of authenticity) guarantees the signature to be authentic. The COA is also signed and dated by W.P. Kinsella along with a witness. You will get the COA that was originally included with this book.
Condition
Very Fine. The condition is of the highest quality. Shrink-wrap removed only once to photograph signature page. Includes original COA, collector notes, and unattached bookplate for your own personalization.

W. P. Kinsella plays with both myth and fantasy in his lyrical novel, which was adapted into the enormously popular movie, Field of Dreams. It begins with the magic of a godlike voice in a cornfield, and ends with the magic of a son playing catch with the ghost of his father. In Kinsella's hands, it's all about as simple, and complex, as the object of baseball itself: coming home. Like Ring Lardner and Bernard Malamud before him, Kinsella spins baseball as backdrop and metaphor, and, like his predecessors, uses the game to tell us a little something more about who we are and what we need.
Includes all the classic Easton Press qualities:
* Premium Leather
* Silk Moire Endleaves
* Distinctive Cover Design
* Hubbed Spine, Accented in Real 22KT Gold
* Satin Ribbon Page Marker
* Gilded Page Edges
* Long-lasting, High Quality Acid-neutral Paper
* Smyth-sewn Pages for Strength and Durability
* Beautiful Illustrations
VERY FINE GUARANTEED
A wonderful bright clean copy free of any markings, writings, or stamps. Sharp corners that have not been bumped. Tight binding. Most likely an unread book. No bookplates attached or indication of any removed. The gilded page edges are free of any marks, scratches, or blemishes.
Publisher:

Easton Press

Edition:

Signed Limited Edition

Binding:

Full genuine leather

Illustrator:

Signed Limited Edition

Dimensions:

Very Fine