Personally hand signed by Walter Mosley on a special limitation page.
#1,066 of only 1125 copies signed by the award winning author.
Easton Press. Norwalk, CT. 2001. 356 pages. SIGNED BY AUTHOR. Signed First Edition - Limited Collector's Edition. A great unique gift for yourself or for a loved one. A luxurious leather bound masterpiece by Easton Press.. Beautifully illustrated and bound in full genuine leather. A rare signed first edition for the discerning collector.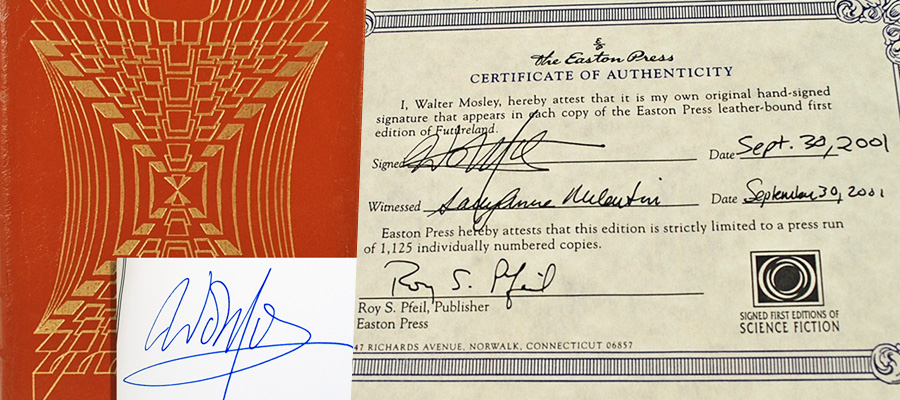 About
Projecting a near-future United States in which justice is blind in at least one eye and the ranks of the disenchanted have swollen to dangerous levels, Mosley offers nine interconnected stories whose characters appear and reappear in each others' lives. For all its denizens, from technocrats to terrorists, celebs to crooks, "Futureland" is an all-American nightmare just waiting to happen.
Features
Contains all the classic Easton Press qualities:
* Premium Leather
* Silk Moire Endleaves
* Distinctive Cover Design
* Hubbed Spine, Accented in Real 22KT Gold
* Satin Ribbon Page Marker
* Gilded Page Edges
* Long-lasting, High Quality Acid-neutral Paper
* Smyth-sewn Pages for Strength and Durability
* Beautiful Illustrations
About The Author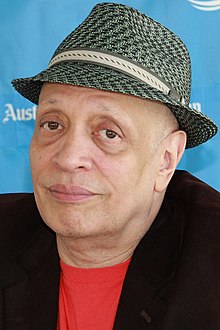 Walter Mosley (born January 12, 1952) is an American novelist, most widely recognized for his crime fiction. He has written a series of best-selling historical mysteries featuring the hard-boiled detective Easy Rawlins, a black private investigator and World War II veteran living in the Watts neighborhood of Los Angeles; they are perhaps his most popular works.
VERY FINE GUARANTEED. A wonderful bright clean copy free of any markings, writings, or stamps. Sharp corners that have not been bumped. Tight binding. Most likely an unread book. No bookplates attached or indication of any removed. The gilded page edges are free of any marks, scratches, or blemishes.
Book Grading Definitions
Publisher:

Easton Press (2001)

Edition:

Signed First Edition w/COA #1,066

Binding:

Full Genuine Leather

Illustrator:

Ron Walotsky

Dimensions:

9.25" x 6.25" x 1.5"

Signature Authenticity:

Lifetime Guarantee of Signature Authenticity. Personally signed by the author directly into the book. The autograph is not a facsimile, stamp, or auto-pen.