Personally signed by Gwyneth Paltrow directly into the book.
Grand Central Publishing (January 8, 2019). Gwyneth Paltrow "The Clean Plate: Eat, Reset, Heal". Signed First Edition. This First Edition was signed by Gwyneth Paltrow directly into the book at the only event for this title that was held on January 14th, 2018 at the B&N in Los Angeles, California. Hardcover edition with dust-jacket. First printing with full number line as required on the copyright page. Very Fine/Very Fine with archival acid-free dust-jacket protector. 288 pages. An over-sized table top hardcover book.
Gwyneth Paltrow is an Oscar-winning actress, founder of GOOP.com, co-author with Mario Batali of "Spain... A Culinary Road Trip," and mother of two. She splits her time between London and New York.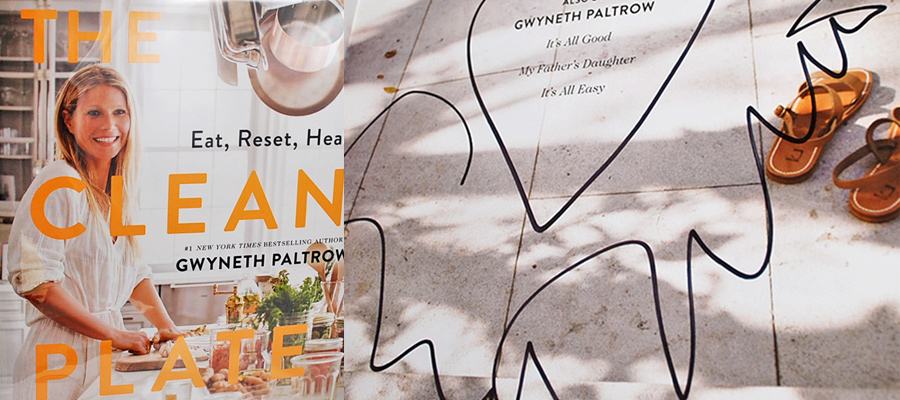 About the book
Delicious food can heal the body. Reset and rebalance with clean recipes that are flexible and easy for busy weeknight meals or lunches on the go, and healthy enough for more intensive, doctor-supported cleanses.
Gwyneth Paltrow gets the power of simple, quality food. Her recipes focus on delicious flavors and clean ingredients--pillars that have launched her cookbooks to bestseller status. Now she's back with her most ambitious cookbook to date: a collection of 100-plus recipes and customizable meal plans that offer taste, simplicity, and targeted health benefits.
This food-lover's cookbook brings everything to the table--from smoothies and soups to bowls, entrées, snacks, and desserts--with the ease and flavor that we have come to expect from Paltrow and her team at GOOP. Highlights include instant staples like Turkey Meatball Pho, Sheet Pan Chicken Broccolini, and Butternut Squash Tacos, and sweet treats like Cashew Turmeric Iced Lattes and Chocolate Chia Pudding.
Beyond the appealing recipes, THE CLEAN PLATE has meal plans, detoxes, and cleanses to address the reader's specific needs and desired results. Supported by Paltrow's team of nutrition experts and doctors, the book offers specific eating plans focused on:
Adrenal Support (with Dr. Alejandro Junger)
Heart Health (with Dr. Steven Gundry)
Candida (with Dr. Amy Myers)
Heavy Metal Detox (with Dr. James Novak)
Fat Flush (with Dr. Taz Bhatia)
Veg-Friendly Ayurveda (with Dr. Aruna Viswanathan)

Full of go-to recipes and revitalizing health tips, THE CLEAN PLATE is exactly the standout cookbook we have been waiting for, from the biggest name in clean eating.
VERY FINE GUARANTEED.
Very Fine without any flaws. As New. A wonderful bring clean copy without any other marks, writings , or stamps. Clean & straight boards. No attached bookplates or indication of any removed. A well-cared for book, protected from any potential damage. Unread with square and tight spine.
Publisher:

Grand Central Publishing (January 8, 2019)

Edition:

Signed First Edition, First Printing

Binding:

Hardcover with dust jacket

Illustrator:

N/A

Dimensions:

7.4" x 9.2" x 1.1"