SIGNED BY JERRY RICE DIRECTLY INTO THE BOOK AND NOT ON A BOOKPLATE AND NOT A PUBLISHER TIPPED-IN PAGE.
---
Personally signed by Jerry Rice, widely regarded as the greatest wide receiver in NFL history.
Dey Street Books 2019. Jerry Rice and Randy O. Williams. "America's Game: THE NFL AT 100". This book has been personally signed by Jerry Rice directly into the book. A slipcased signed first edition. A celebration of 100 years of the NFL from Hall of Fame receiver and bestselling author Jerry Rice and Randy O. Williams.
Item Features:


Personally signed by Jerry Rice directly into the book
Signed First Edition/Slipcased Edition
COA - Certificate of Authenticity
Dey Street Books 2019
Very Fine without any flaws.
Dust-jacket protected in brand new acid-free archival Brodart sleeve.
the same quality and attention you have come to expect from veryfinebooks
Professional packing and shipping.
30 Day Returns (free 2-way shipping)
Ship date: December 4th, 2019
The authors of the New York Times bestseller 50 Years, 50 Moments celebrate the first 100 years of the National Football League, interweaving history, personal stories, memories, and observations of some of its greatest players, coaches, and advocates to chronicle football's amazing evolution from a fledgling regional fly-by-night operation into a multi-billion global brand and one of America's leading franchises.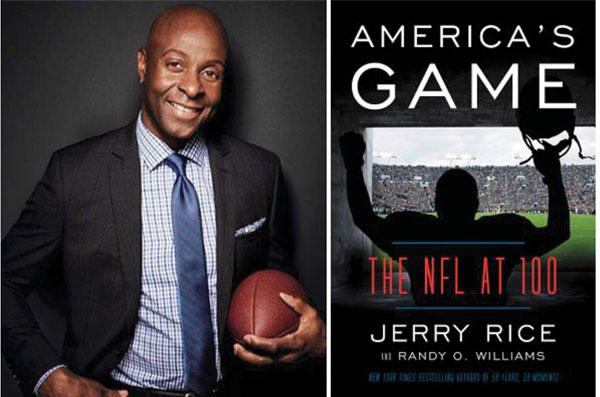 Over the past century, professional football has transformed from a game played in leather helmets on cow pastures to one of the most high-tech, popular sports on the planet. In this entertaining and concise history, Jerry Rice and Randy O. Williams celebrate the NFL's centennial, bringing together colorful memories, insights, and personal experiences and observations from the heroes, losers, innovators, and defining legends who have played the game at its highest level. America's Game is filled with inside stories of the league's fiercest rivalries, closest competitions, and most memorable characters, from the early days of Red "The Galloping Ghost" Grange and "Slingin'" Sammy Baugh to Jim Brown and "Broadway" Joe Namath to Lawrence Taylor, Jerry Rice, and Tom Brady.
Cowboy fans will never forget how Roger Staubach's Hail Mary lifted his team to a last-second playoff victory over the Vikings. Patriot followers will always point to The Tuck Rule Game as a franchise landmark where Adam Vinatieri's two clutch kicks in deep snow propelled his team to victory over the Raiders. Generations of Steelers fans will celebrate James Harrison's electrifying 100-yard interception return for a touchdown in Super Bowl XLIII. All are among the most memorable moments in NFL history. Divided by increments of twenty-five years, each section of America's Game includes the authors' selections for their "All Star" players and teams.
America's Game is a unique tribute to this enduring cultural phenomenon, and will become the authoritative tribute to all that is great about the sport Americans - and the world - loves.
Reviews
"This book is an amazing compilation of the game's history as seen through the eyes of my friend Jerry Rice, aka The GOAT. You are going to love this book almost as much as you loved watching Jerry play!" -- Barry Sanders, NFL Hall of Fame Class of 2004
"Going back to our days together, Jerry Rice's dedication to excellence has always been a trademark of his, and now it shines again with this highly entertaining book celebrating 100 years of the National Football League." -- Steve Young, Hall of Fame Class of 2005
"Jerry played every snap, whether in practice or in games, as if it were his last. His new book reflects that same dedication to be the best." -- Brett Favre, Hall of Fame Class of 2016
"It's a daunting task to compress 100 years of history into just under 500 pages with any coherency, but Rice and Williams manage the task ably...a fun read and very informative." -- Booklist
"A treat for gridiron fans." -- Kirkus Reviews
About the Author
Jerry Lee Rice Sr. (born October 13, 1962) is a former American football wide receiver who played in the National Football League (NFL), primarily with the San Francisco 49ers. Due to his numerous records, accomplishments, and accolades, he is widely regarded as the greatest wide receiver in NFL history.
Rice is the career leader in most major statistical categories for wide receivers, including receptions, touchdown receptions, and receiving yards, once being the leader for total yards and touchdowns in a season. He has scored more points than any other non-kicker in NFL history with 1,256. Rice was selected to the Pro Bowl 13 times (1986-1996, 1998, 2002) and named All-Pro 12 times in his 20 NFL seasons. He won three Super Bowls with the 49ers and an AFC Championship with the Oakland Raiders. As of 2017, Rice holds over 100 NFL records, the most of any player by a wide margin. In 1999, The Sporting News listed Rice second behind Jim Brown on its list of "Football's 100 Greatest Players". In 2010, he was chosen by NFL Network's NFL Films production The Top 100: NFL's Greatest Players as the greatest player in NFL history. Rice was inducted into the Pro Football Hall of Fame in 2010 and the College Football Hall of Fame in 2006. Rice was also inducted into the Mississippi Sports Hall of Fame in 2007, and in that same year inducted into the Bay Area Sports Hall of Fame.
Rice is now a television personality in both sports and entertainment, appearing on several shows, including Dancing with the Stars, Deal or No Deal, and Law & Order: SVU. Rice also previously cohosted Sports Sunday on the San Jose NBC local affiliate and was an NFL analyst on ESPN. He resides in the San Francisco Bay Area.
FROM THE PUBLISHER

Features
Signed first edition
Slipcased
COA (Certificate of Authenticity)
VERY FINE GUARANTEED. A wonderful bright clean copy free of any markings, writings, or stamps. Sharp corners that have not been bumped. Unread book with square and tight binding. No bookplates attached or indication of any removed. Edges are free of any marks, spots, scratches, or blemishes.
Publisher:

Dey Street Books

Edition:

Signed First Edition / Slipcased w/COA

Binding:

Hardcover in dust jacket.

Illustrator:

N/A

Dimensions:

9"x6"x1.5"

Signature Authenticity:

Lifetime Guarantee of Signature Authenticity. Personally signed by Jerry Rice directly into the book. The autograph is not a facsimile, stamp, or auto-pen.