Personally signed by Michael Whelan. This is No. 90 of 200
---
Michael Whelan 1980. FIRESTARTER - Signed Limited Edition of only 200. Acrylic on Masonite.
Michael Whelan's first cover art for Stephen King - used on the dust jacket of a rare limited edition of FIRESTARTER. Here is the main character Charlie experiencing her full power. This painting predates the movie version by 4 years and Michael used his niece Laina as his model, but many fans have commented on the girl's similarity to Drew Barrymore.

Professionally framed and matted. Small scratch on frame. Fine condition.
Overall dimensions: 17" x 14"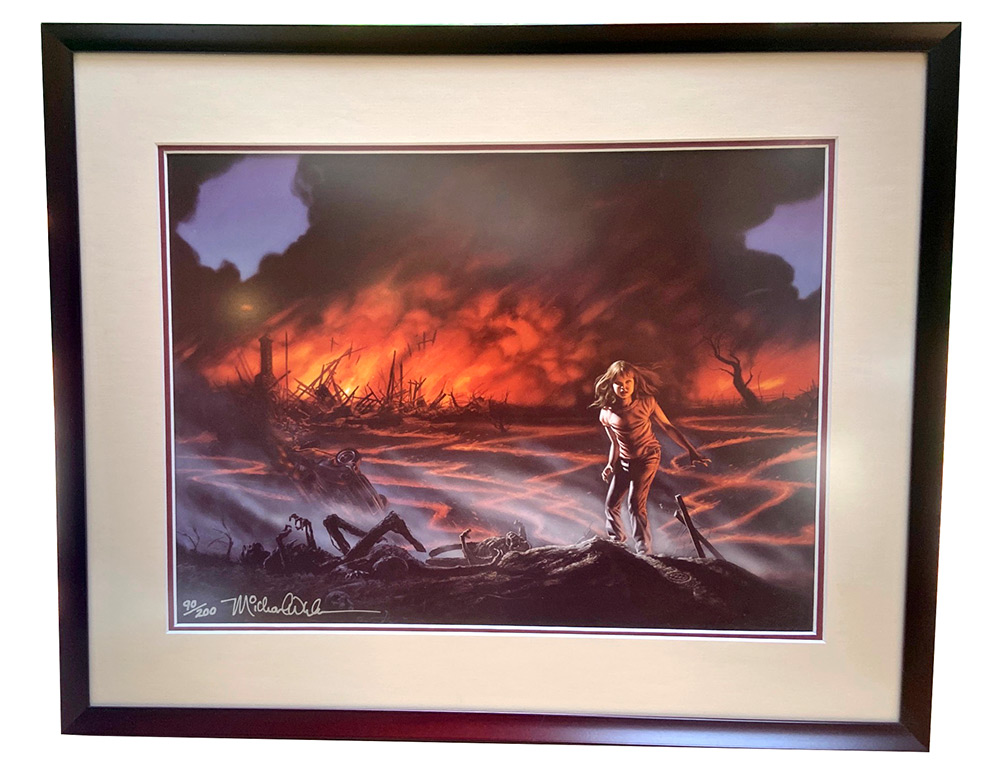 About Firestarter:
Firestarter is a novel by Stephen King originally published in 1980. It was serialized in Omni magazine prior to being published. The title character of Firestarter is Charlene "Charlie" McGee, a young girl with pyrokinesis - the ability to create fire with the power of her mind, along with other psychic powers.

From Wikipedia -

Firestarter is a science fiction-horror thriller novel by Stephen King, first published in September 1980. In July and August 1980, two excerpts from the novel were published in Omni. In 1981, Firestarter was nominated as Best Novel for the British Fantasy Award, Locus Poll Award, and Balrog Award. In 1984, it was adapted into a film.
The book is dedicated to author Shirley Jackson: "In Memory of Shirley Jackson, who never needed to raise her voice."
---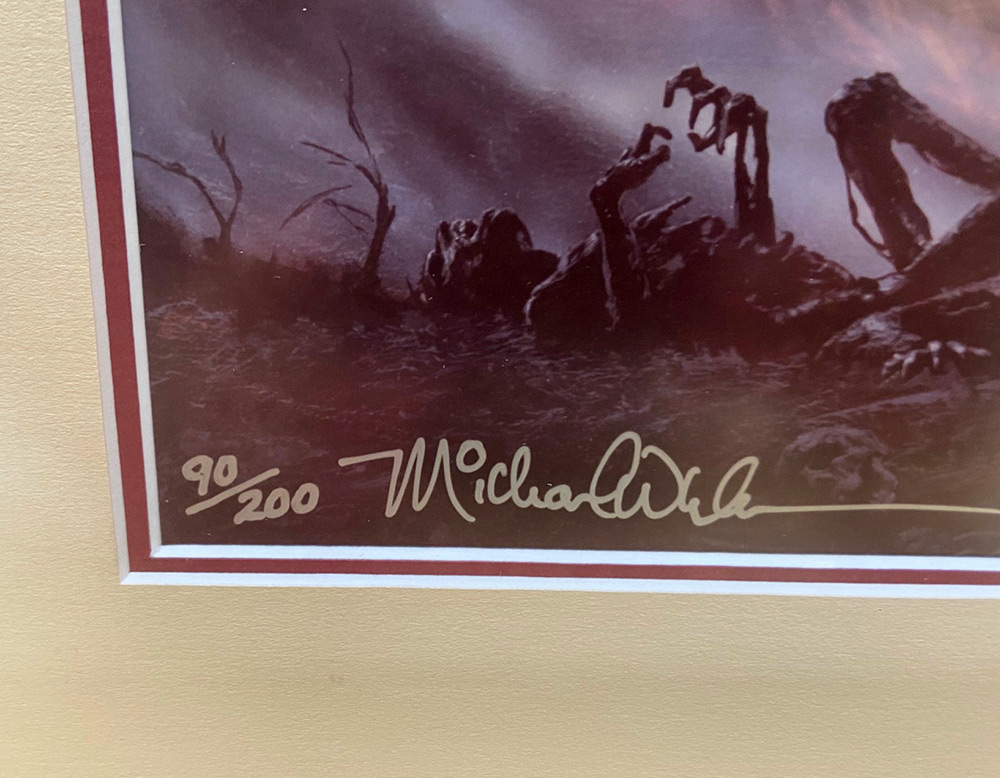 ---
ABOUT MICHAEL WHELAN

Michael Whelan (born June 29, 1950) is an American artist of imaginative realism. For more than 30 years, he worked as an illustrator, specializing in science fiction and fantasy cover art. Since the mid-1990s, he has pursued a fine art career, selling non-commissioned paintings through galleries in the United States and through his website.
The Science Fiction Hall of Fame inducted Whelan in June 2009, the first living artist so honored. According to his Hall of Fame citation.
Michael Whelan is one of the most important contemporary science fiction and fantasy artists, and certainly the most popular. His work was a dominant force in the transition of genre book covers away from the surrealism introduced in the 1950s and 1960s back to realism.
His paintings have appeared on the covers of more than 350 books and magazines, including many Stephen King novels, most of the Del Rey editions of Anne McCaffrey's Dragonriders of Pern series, Piers Anthony's Incarnations of Immortality series, the Del Rey edition of Edgar Rice Burroughs' Mars series, Melanie Rawn's Dragon Prince and Dragon Star series, the Del Rey editions of H. P. Lovecraft's short story collections, the DAW editions of Michael Moorcock's Elric of Melniboné books, numerous DAW editions of C. J. Cherryh's work, many of Robert A. Heinlein's novels including Friday and The Cat Who Walks Through Walls, the Ace editions of H. Beam Piper's Fuzzy novels, and Tad Williams's Memory, Sorrow, and Thorn, Otherland, and Shadowmarch series and Brandon Sanderson's The Stormlight Archive. Whelan provided covers and interior illustrations for Stephen King's The Gunslinger and The Dark Tower, the first and last of his Dark Tower books.
Cover art by Michael Whelan has graced many music record albums including Demolition Hammer's Epidemic of Violence, The Jacksons' Victory; Sepultura's Beneath the Remains, Arise, Chaos A.D. and Roots; Soulfly's Dark Ages; Obituary's Cause of Death; and every album by the Elric-influenced metal band Cirith Ungol. He painted original works for the covers of Meat Loaf's Bat Out of Hell II: Back into Hell and The Very Best of Meat Loaf albums and several of his older paintings illustrate the liner notes of the former. Recently, he painted the cover art for thrash metal band Evile's album Infected Nations.

Wikipedia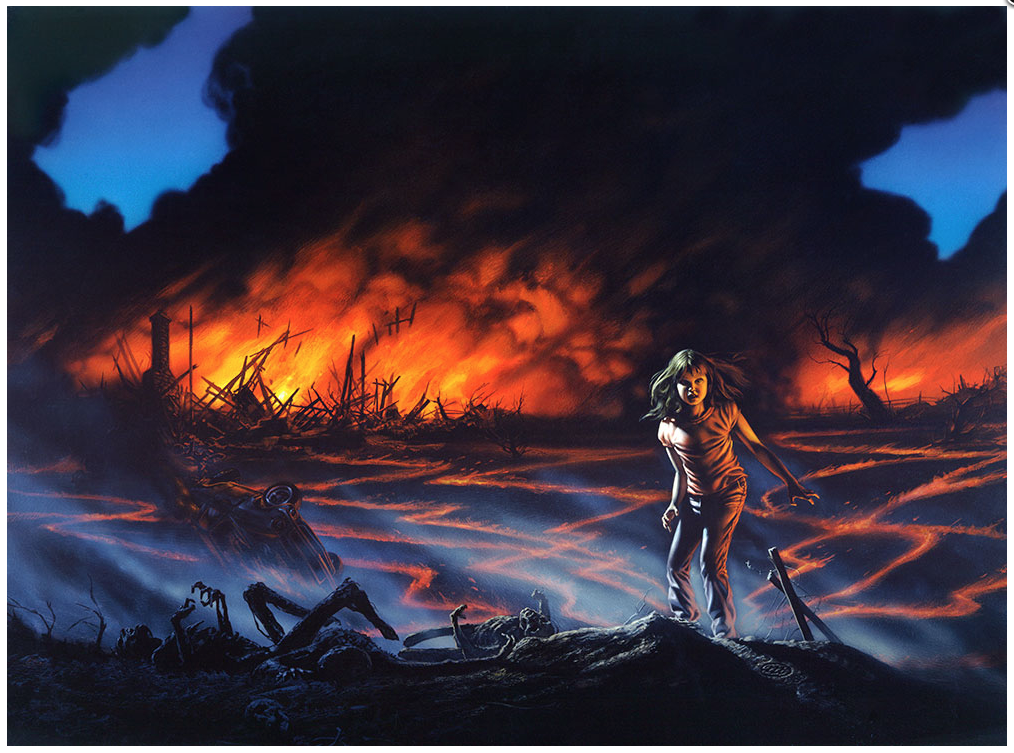 The signed artwork is Fine without any flaws. This item has been professionally matted and framed. There is a small superficial scratch on the bottom of the frame.

Publisher:

Michael Whelan 1980

Edition:

Signed Limited Edition No. 90 of 200

Binding:

Framed and matted

Illustrator:

Michael Whelan

Signature Authenticity:

Lifetime Guarantee of Signature Authenticity. Personally signed by Michael Whelan directly onto the print. The autograph is not a facsimile, stamp, or auto-pen.
1 Review
Firestarter by Michael Whelan

I am ABSOLUTELY delighted with this limited edition art print. It is a striking picture and it is matted and framed in a way that perfectly highlights its beauty. I could not be more pleased. Thank you, Emmanuel and VFB.