Personally signed by the super popular Michelle Obama directly into the book.
Book features and description:
Personally signed by Michelle Obama directly into the book!
Signed First Edition, First Printing (Crown Publishing Group) hardcover book with the full number line as required on the copyright page.
Very Fine/Very Fine without any discernible flaws.
COA - Certificate of Authenticity.
Extra provenance materials including promotional bag, event ticket, and promo cards from book tour events.
Available on a "first come, first served" basis.
Free luxury gift wrapping available at check-out.
The dust-jacket will be protected in a brand new Brodart archival acid-free Mylar sleeve.
30 day return policy with free 2-way shipping (within the US) .
The same quality and attention you have come to expect from veryfinebooks.com with professional packing & shipping.
Only 1 in stock
About the book

An intimate, powerful, and inspiring memoir by the former First Lady of the United States
In a life filled with meaning and accomplishment, Michelle Obama has emerged as one of the most iconic and compelling women of our era. As First Lady of the United States of America—the first African American to serve in that role—she helped create the most welcoming and inclusive White House in history, while also establishing herself as a powerful advocate for women and girls in the U.S. and around the world, dramatically changing the ways that families pursue healthier and more active lives, and standing with her husband as he led America through some of its most harrowing moments. Along the way, she showed us a few dance moves, crushed Carpool Karaoke, and raised two down-to-earth daughters under an unforgiving media glare.
In her memoir, a work of deep reflection and mesmerizing storytelling, Michelle Obama invites readers into her world, chronicling the experiences that have shaped her—from her childhood on the South Side of Chicago to her years as an executive balancing the demands of motherhood and work, to her time spent at the world's most famous address. With unerring honesty and lively wit, she describes her triumphs and her disappointments, both public and private, telling her full story as she has lived it—in her own words and on her own terms. Warm, wise, and revelatory, Becoming is the deeply personal reckoning of a woman of soul and substance who has steadily defied expectations—and whose story inspires us to do the same.
Becoming now holds Barnes & Noble's record for best first-week sales ever and has outsold 2018 bestsellers including journalist Bob Woodward's Fear and former FBI director James Comey's A Higher Loyalty: Truth, Lies and Leadership, according to the bookseller.
According to the publisher , Becoming is also the fastest-selling adult book over the past three years, and it's on track to be one of the fastest sellers in the history of Barnes & Noble, the 145-year-old chain that is the world's largest retail bookseller. In addition, each and every one of the book tour events have been completely sold out!
"This is definitely the must-have book of the holiday season," said Liz Harwell, Barnes & Noble's senior director of merchandising for trade books.

Order your Signed First Edition of BECOMING today!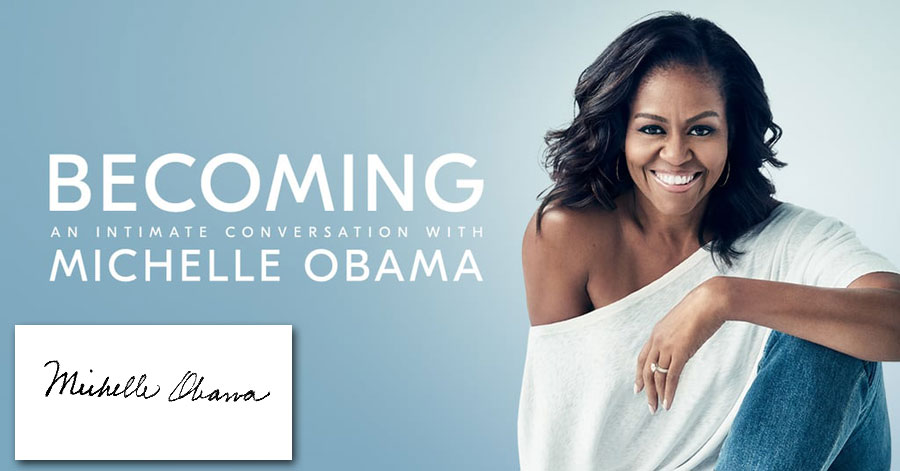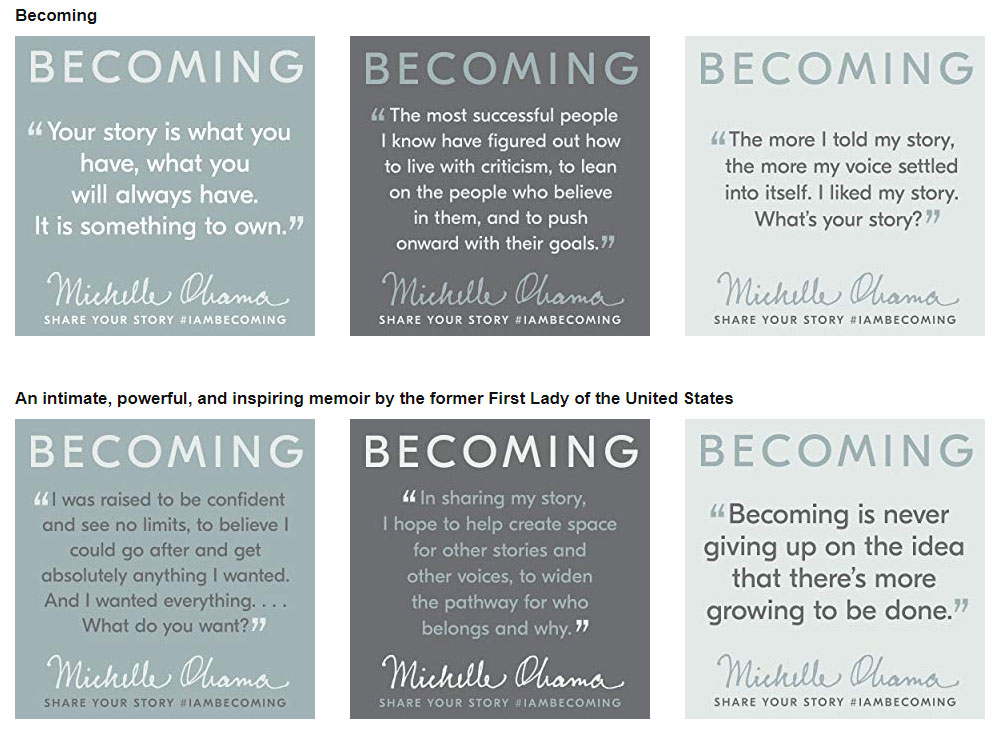 Features
Signed First Edition
COA - Certificate of Authenticity
Archival sleeve protection (acid-free Brodart sleeve)
About The Author
Michelle Robinson Obama served as First Lady of the United States from 2009 to 2017. A graduate of Princeton University and Harvard Law School, Mrs. Obama started her career as an attorney at the Chicago law firm Sidley & Austin, where she met her future husband, Barack Obama. She later worked in the Chicago mayor's office, at the University of Chicago, and at the University of Chicago Medical Center. Mrs. Obama also founded the Chicago chapter of Public Allies, an organization that prepares young people for careers in public service.
The Obamas currently live in Washington, DC, and have two daughters, Malia and Sasha.
VERY FINE GUARANTEED.
Very Fine without any flaws. As New. A wonderful bring clean copy without any other marks, writings , or stamps. Clean & straight boards. No attached bookplates or indication of any removed. A well-cared for book, protected from any potential damage. Unread with square and tight spine.
Book Grading Definitions
Publisher:

Crown Publishing Group

Edition:

Signed First Edition, First Printing

Binding:

Hardcover

Illustrator:

N/A

Dimensions:

6.4" x 1.2" x 9.5"

Signature Authenticity:

Lifetime Guarantee of Signature Authenticity. Personally signed by the author directly into the book. The autograph is not a facsimile, stamp, or auto-pen.