Personally signed by Pete Rose directly into the book.
Penguin Press 2019. Pete Rose "Play Hungry: The Making of a Baseball Player" Signed First Edition. Hardcover book with dust-jacket. Personally signed by Pete Rose. This first edition was obtained from the official book tour for this title. Very Fine without any flaws. The dust-jacket is now protected in a Mylar acid-free archival sleeve.
Pete Rose grew up in Cincinnati and went on to star for the hometown Reds and later the Philadelphia Phillies. He holds the all-time baseball records for most hits in a career (4,256), most singles (3,215), most games played (3,562), most at-bats (14,053), and most outs (10,328). Rose made his major-league debut for the Reds in April 1963, a week before his twenty-second birthday, and he was forty-five when he made his last major-league appearance in August 1986, also for the Reds. He appeared in seventeen different All-Star Games, and played on three teams that won the World Series.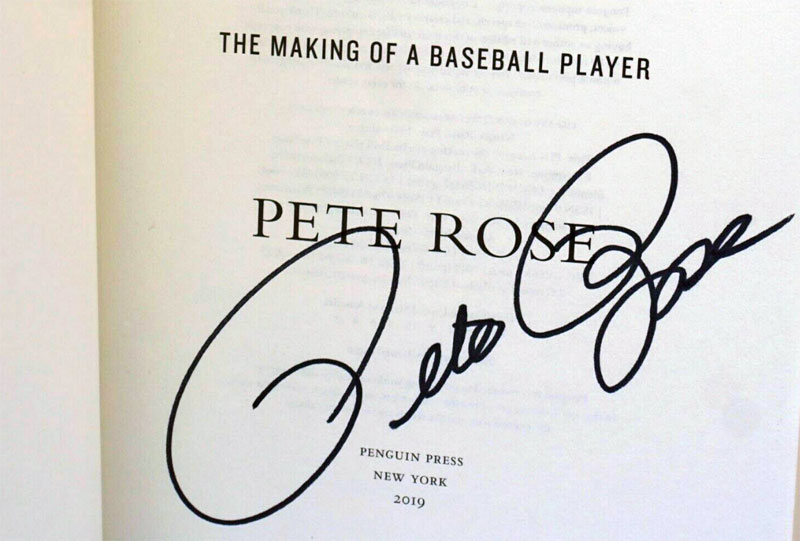 About the book.
Pete Rose was a legend on the field. As baseball's Hit King, he shattered records that were thought to be unbreakable. And during the 1970s, he was the leader of the Big Red Machine, the Cincinnati Reds team that dominated the game. But he's also the greatest player who may never enter the Hall of Fame because of his lifetime ban from the sport. Perhaps no other ballplayer's story is so representative of the triumphs and tragedies of our national pastime.
In Play Hungry, Rose tells us the story of how, through hard work and sheer will, he became one of the unlikeliest stars of the game. Guided by the dad he idolized, a local sports hero, Pete learned to play hard and always focus on winning. But even with his dad's guidance, Pete was cut from his team as a teenager—he wasn't a natural. Rose was determined, though, and never would be satisfied with anything less than success. His relentless hustle and headfirst style would help him overcome his limitations, leading him to one of the most exciting and brash careers in the history of the sport.
Play Hungry is Pete Rose's love letter to the game, and an unvarnished story of life on the diamond. One of the icons of a golden age in baseball, he describes just what it was like to hit (or try to hit) a Bob Gibson fastball or a Gaylord Perry spitball, what happened in that infamous collision at home plate during the 1970 All-Star Game, and what it felt like to topple Ty Cobb's hit record. And he speaks to how he let down his fans, his teammates, and the memory of his dad when he gambled on baseball, breaking the rules of a sport that he loved more than anything else. Told with candor and wry humor—including tales he's never told before—Rose's memoir is his final word on the glories and controversies of his life, and, ultimately, a master class in how to succeed when the odds are stacked against you.

ABOUT THE AUTHOR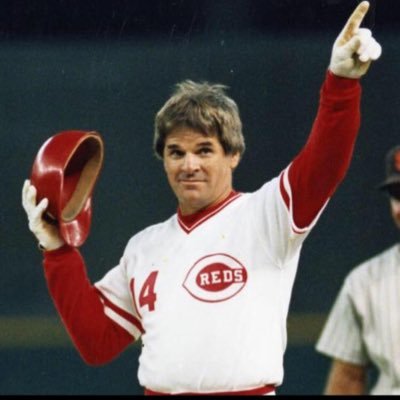 Peter Edward Rose (born April 14, 1941), also known by his nickname "Charlie Hustle", is an American former professional baseball player and manager. Rose played in Major League Baseball (MLB) from 1963 to 1986, and managed from 1984 to 1989.
Rose was a switch hitter and is the all-time MLB leader in hits (4,256), games played (3,562), at-bats (14,053), singles (3,215), and outs (10,328).[1] He won three World Series rings, three batting titles, one Most Valuable Player Award, two Gold Gloves, and the Rookie of the Year Award, and also made 17 All-Star appearances at an unequaled five positions (second baseman, left fielder, right fielder, third baseman, and first baseman). Rose won both of his Gold Gloves when he was an outfielder, in 1969 and 1970.
In August 1989 (his last year as a manager and three years after retiring as a player), Rose was penalized with permanent ineligibility from baseball amidst accusations that he gambled on baseball games while he played for and managed the Reds; the charges of wrongdoing included claims that he bet on his own team. In 1991, the Baseball Hall of Fame formally voted to ban those on the "permanently ineligible" list from induction, after previously excluding such players by informal agreement among voters. After years of public denial, Rose admitted in 2004 that he bet on baseball and on the Reds.[2] The issue of Rose's possible reinstatement and election to the Hall of Fame remains contentious throughout baseball.
On June 22, 2015, ESPN concluded its own investigation of Rose and determined that he had bet on baseball while still a player–manager from 1984 to 1986. The results of the investigation were made public and revealed the records of bets that Rose had made on baseball. U.S. federal authorities had seized the records from one of Rose's associates. Rose is the only person to be placed on the ineligible list by mutual agreement.
Reviews
"An eloquent plea for reinstatement . . . [Rose] is expressive about the sport he loves and about the father who raised him to strive to win. . . There's an authentic Huck Finn-ish charm to these passages. Baseball was not the slick slugfest of today. Players bore colorful nicknames, played day games, and they played hurt. It was a game of knockdowns and spitballs . . . Play Hungry testifies to the dividends paid by desire, not just to Mr. Rose but to the teammates that he inspired with the will to win . . . the sport misses the authenticity of his voice, and the Hall of Fame--barred to him on account of his banishment--can hardly be complete absent such an immense talent. After 30 years, baseball should think about bringing him home." —Wall Street Journal
"The title says it all. This is how a hungry kid became one of the greatest ball players of all time. Essential reading for baseball fans, controversy and all." —Booklist, starred review
"A bitingly candid reflection on his life in baseball . . . he's witty and brash, but he also displays unexpected earnestness . . . With this frank, no-holds-barred narrative, Rose just might win new fans." —Publishers Weekly
"[Rose's] recollections about baseball—and life off the field—yield rewards for readers. In a baseball memoir filled with plenty of strikes and balls, Rose offers abundant evidence of why he has become a touchstone of controversy." —Kirkus Reviews
VERY FINE GUARANTEED
. A wonderful bright clean copy free of any markings, writings, or stamps. Sharp corners that are not bumped. Tight and square spine. Unread book. No attached bookplates or indication of any removed.
Publisher:

Penguin Press (June 4, 2019)

Edition:

Signed First Edition

Binding:

Hardcover with dust-jacket

Illustrator:

see product details

Dimensions:

9.1"x6"x1.5"

Signature Authenticity:

Lifetime Guarantee of Signature Authenticity. Personally signed by the author directly into the book. The autograph is not a facsimile, stamp, or auto-pen.