Personally hand signed by President Gerald Ford
From the Library of the Presidents collection by Easton Press. This is the original 1987 publication by Easton Press per the copyright page. Includes the original pamphlet to accompany this volume.
A wonderful signed limited heirloom edition to showcase in your presidential library.
Easton Press, Norwalk, CT. 1987. Gerald Ford "A Time To Heal: The Autobiography of Gerald Ford " Signed Limited Edition. Full genuine leather. A handsome red leather Collector's Edition signed by Gerald Ford. Includes a separate pamphlet with introduction by Dr. Henry S. Kissinger, former Secretary of State and National Security Advisor during the Ford Administration.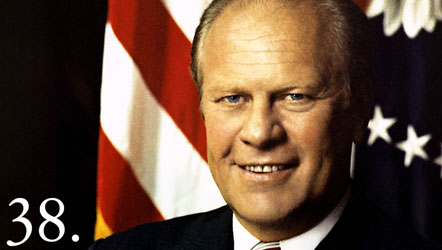 About Gerald Ford
Gerald Rudolph Ford Jr. (born Leslie Lynch King Jr.; July 14, 1913 – December 26, 2006) was an American politician who served as the 38th President of the United States from 1974 to 1977. Prior to this he was the 40th Vice President of the United States, serving from 1973 until President Richard Nixon's resignation in 1974. He was the first person appointed to the vice presidency under the terms of the 25th Amendment, following the resignation of Vice President Spiro Agnew on October 10, 1973. Becoming president upon Richard Nixon's departure on August 9, 1974, he claimed the distinction as the first and to date the only person to have served as both Vice President and President of the United States without being elected to either office. Before ascending to the vice presidency, Ford served 13 terms as Representative from Michigan's 5th congressional district, eight of them as the House Minority Leader.
As President, Ford signed the Helsinki Accords, marking a move toward détente in the Cold War. With the conquest of South Vietnam by North Vietnam nine months into his presidency, U.S. involvement in Vietnam essentially ended. Domestically, Ford presided over the worst economy in the four decades since the Great Depression, with growing inflation and a recession during his tenure.[2] One of his more controversial acts was to grant a presidential pardon to President Richard Nixon for his role in the Watergate scandal. During Ford's presidency, foreign policy was characterized in procedural terms by the increased role Congress began to play, and by the corresponding curb on the powers of the President.[3] In the GOP presidential primary campaign of 1976, Ford defeated former California Governor Ronald Reagan for the Republican nomination. He narrowly lost the presidential election to the Democratic challenger, former Georgia Governor Jimmy Carter, on November 2.
Following his years as President, Ford remained active in the Republican Party. After experiencing health problems, he died in his home on December 26, 2006. Ford lived longer than any other U.S. president, 93 years and 165 days, while his 895-day presidency remains the shortest term of all presidents who did not die in office.
Features
Includes all the classic Easton Press qualities:
* Premium Leather
* Silk Moire Endleaves
* Distinctive Cover Design
* Hubbed Spine, Accented in Real 22KT Gold
* Satin Ribbon Page Marker
* Gilded Page Edges
* Long-lasting, High Quality Acid-neutral Paper
* Smyth-sewn Pages for Strength and Durability
* Beautiful Illustrations
VERY FINE GUARANTEED
Very Fine without any flaws. The condition is of the highest quality. No bumped corners and free of any marks, scratches, blemishes to the gilded page edges. Photos of actual volume.
Publisher:

Easton Press

Edition:

Easton Press 1987

Binding:

Full genuine leather

Illustrator:

Signed Limited Edition

Dimensions:

9" x 6" x 1.5"