Personally signed by Reese Witherspoon directly into the book.
Academy Award–winning actress, producer, and entrepreneur Reese Witherspoon invites you into her world, where she infuses the southern style, parties, and traditions she loves with contemporary flair and charm.

Reese Witherspoon's grandmother Dorothea always said that a combination of beauty and strength made southern women "whiskey in a teacup." We may be delicate and ornamental on the outside, she said, but inside we're strong and fiery.

Reese's southern heritage informs her whole life, and she loves sharing the joys of southern living with practically everyone she meets. She takes the South wherever she goes with bluegrass, big holiday parties, and plenty of Dorothea's fried chicken. It's reflected in how she entertains, decorates her home, and makes holidays special for her kids—not to mention how she talks, dances, and does her hair (in these pages, you will learn Reese's fail-proof, only slightly insane hot-roller technique). Reese loves sharing Dorothea's most delicious recipes as well as her favorite southern traditions, from midnight barn parties to backyard bridal showers, magical Christmas mornings to rollicking honky-tonks. It's easy to bring a little bit of Reese's world into your home, no matter where you live. After all, there's a southern side to every place in the world, right?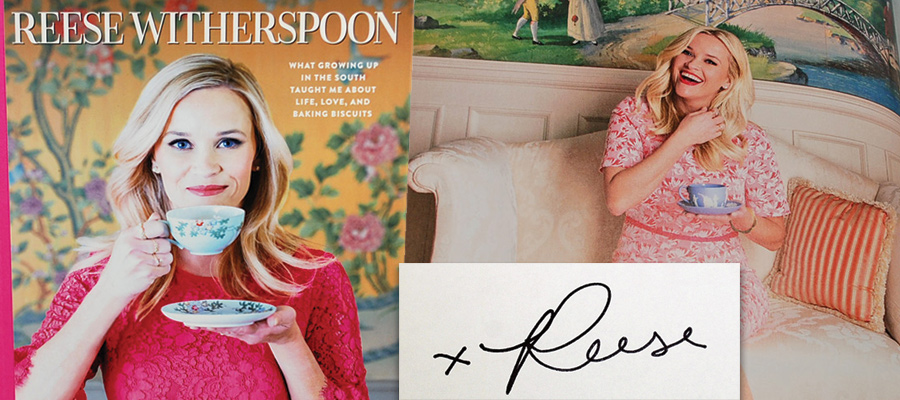 Editorial Reviews
"A must-read for Southerners and Southerners-at-heart come fall." Southern Living
"A lavish lifestyle guide and cookbook that's a paean to her native Dixie." USA Today
"Peppered with tales from her own Nashville, Tenn., upbringing, Reese Witherspoon's first book features mouthwatering recipes, tried-and-true style tips, and entertaining expertise. Come for the best advice she received from Dolly Parton, and stay for her hot-roller hair tutorial, y'all." InStyle
"You may not have known you needed a charming lifestyle guide from Reese Witherspoon, but, trust us on this one, you do. Out this month, Whiskey in a Teacup is part etiquette primer, part cookbook, and part hot-roller how-to, all told in the actress/producer's sharp, exuberant voice." Marie Claire
"In Whiskey in a Teacup, Reese shares deeply personal stories about her life in the South and offers up her best advice on entertaining and life in general (yes, there's even a detailed description on how to hot roller your hair, Reese Witherspoon style!). It contains nearly 50 recipes, making it the perfect book to buy for yourself, and also a friend." PopSugar
"OK, so you can't party with Reese Witherspoon, but you can party like Reese Witherspoon—thanks to this part memoir, part guide to southern living from Elle Woods herself. The gorgeously shot book features tips on entertaining, as well as recipes, beauty hacks, and totally random but necessary lessons like how to catch a frog with your bare hands." Cosmopolitan
Features
Signed First Edition Hardcover
About The Author
Reese Witherspoon, award-winning actress and producer, has created the kinds of unforgettable characters that connect with critics and audiences alike. She won an Academy Award® for her portrayal of June Carter Cash in Walk the Line and was later nominated in that same category for Wild in 2014, which she also produced. Her role in Wild also garnered Golden Globes, SAG, Critics' Choice, and BAFTA Awards nominations. Other film credits include Sweet Home Alabama, Legally Blonde, and Election. She has executive produced and starred in two seasons of HBO's critically acclaimed Big Little Lies, with the first season winning eight Emmy Awards, four Golden Globes, four Critics' Choice Awards, and two SAG Awards. In addition to her acting and producer roles, Witherspoon is an entrepreneur. In 2016, she established Hello Sunshine, a media brand and content company dedicated to female authorship and storytelling across all platforms. In 2015, she launched Draper James, a retail brand with a focus on fashion, accessories, and home décor inspired by the American South. She is an advocate and activist for women's issues across the globe.
VERY FINE GUARANTEED.
Very Fine without any flaws. As New. A wonderful bring clean copy without any other marks, writings , or stamps. Clean & straight boards. No attached bookplates or indication of any removed. A well-cared for book, protected from any potential damage. Unread with square and tight spine.
Publisher:

Touchstone (September 18, 2018)

Edition:

Signed First Edition, First Printing

Binding:

Hardcover

Illustrator:

N/A

Dimensions:

7.4" x 9.2" x 1.1"

Signature Authenticity:

Lifetime Guarantee of Signature Authenticity. Personally hand signed by Reese Witherspoon directly into the book. The autograph is not a facsimile, stamp, or auto-pen.