Personally signed by Stephen King directly onto the title page of the book!

Brand new from the legendary author of Modern Horror. A wonderful gift for the King fan this holiday season.
Scribner, New York. 2014. "Revival" by Stephen King. Signed first edition, first printing. 416 pages. Full number line on the copyright page starting with "1" to indicate the first printing state. Signed by the author directly onto the title page and not on a book-plate. The dust-jacket is protected in a brand new Mylar plastic archival sleeve. Includes matching custom slipcase and the pamphlet from the book signing event.
Booklet Information
The Library Foundation, Inc.
28th Annual Author Event.
AN EVENING WITH STEPHEN KING
THURSDAY, JANUARY 29, 2015
Manatee Performance Arts Center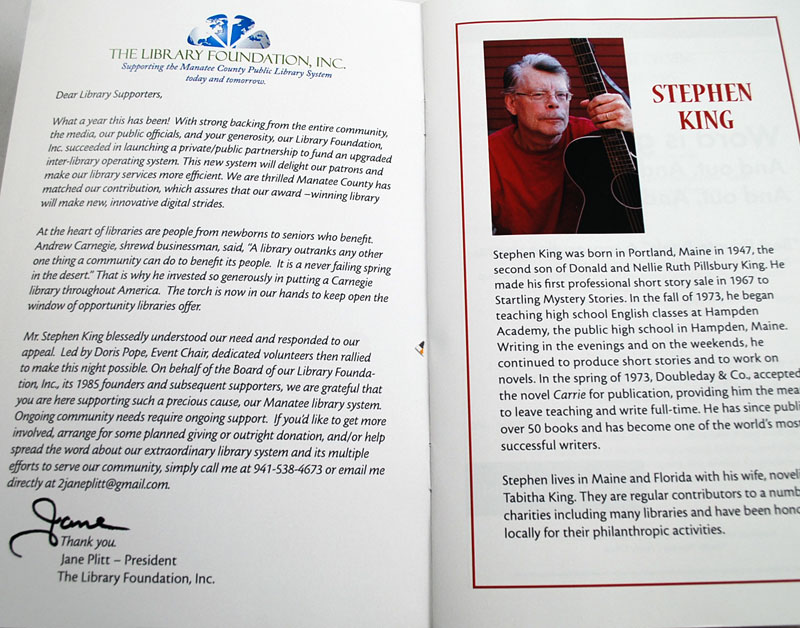 About the book
A dark and electrifying novel about addiction, fanaticism, and what might exist on the other side of life.
In a small New England town, over half a century ago, a shadow falls over a small boy playing with his toy soldiers. Jamie Morton looks up to see a striking man, the new minister. Charles Jacobs, along with his beautiful wife, will transform the local church. The men and boys are all a bit in love with Mrs. Jacobs; the women and girls feel the same about Reverend Jacobs, including Jamie's mother and beloved sister, Claire. With Jamie, the Reverend shares a deeper bond based on a secret obsession. When tragedy strikes the Jacobs family, this charismatic preacher curses God, mocks all religious belief, and is banished from the shocked town.
Jamie has demons of his own. Wed to his guitar from the age of thirteen, he plays in bands across the country, living the nomadic lifestyle of bar-band rock and roll while fleeing from his family's horrific loss. In his mid-thirties, addicted to heroin, stranded, desperate Jamie meets Charles Jacobs again, with profound consequences for both men. Their bond becomes a pact beyond even the Devil's devising, and Jamie discovers that revival has many meanings.
This rich and disturbing novel spans five decades on its way to the most terrifying conclusion Stephen King has ever written. It's a masterpiece from King, in the great American tradition of Frank Norris, Nathaniel Hawthorne, and Edgar Allan Poe.
Reviews
Spellbinding. King is a master at invoking the supernatural through the powerful emotions of his characters, and his depiction of Jacobs as a man unhinged by grief but driven by insatiable scientific curiosity is as believable as it is frightening. The novel's ending is one of King's best, stuns like lightning. (Publishers Weekly (starred review))
"King continues to point out the unspeakably spooky weirdness that lies on the fringes of ordinary life. No one does psychological terror better than King. Another spine-tingling pleasure for his fans." (Kirkus Reviews)
Bibliographical Details
Hardcover: 416 pages
Publisher: Scribner; Original edition (November 11, 2014)
Language: English
ISBN-10: 1476770387
ISBN-13: 978-1476770383
Product Dimensions: 6.1 x 1.4 x 9.2 inches
About The Author
Stephen King is the author of more than fifty books, all of them worldwide bestsellers. His recent work includes Mr. Mercedes, Doctor Sleep, and Under the Dome, now a major TV miniseries on CBS. His novel 11/22/63 was named a top ten book of 2011 by The New York Times Book Review and won the Los Angeles Times Book Prize for Mystery/Thriller as well as the Best Hardcover Book Award from the International Thriller Writers Association. He is the recipient of the 2003 National Book Foundation Medal for Distinguished Contribution to American Letters. He lives in Bangor, Maine, with his wife, novelist Tabitha King.
VERY FINE GUARANTEED. Very Fine/Very Fine with a brand new Mylar sleeve to protect the dust-jacket. Includes a matching protective slipcase.
Publisher:

Scribner (November 11, 2014)

Edition:

Signed First Edition, First Printing

Binding:

Hardcover with dust jacket

Illustrator:

see description

Dimensions:

9 "x 6" x 2"