Personally

signed by Stephen King

directly onto the title page.

Scribner 2011 "11/22/63" by Stephen King. Signed First Edition, Second Printing. A very fine hardcover book with dust jacket, now protected in Mylar plastic sleeve. Full number line on the copyright page except for a 1, and ending in a 2 as a second printing book. This book was obtained in person during the official book signing tour for 11/22/63. 960 pages.

The tray-case alone is $75 value.

'The details of Fifties America, the cars, the clothes, the food, the televisions with wonky horizontal hold, are so vivid that you begin to wonder whether the author himself hasn't had access to a time machine. ...But as you worry at the paradoxes and the brilliantly explained pseudo science there is no denying that this monster yearn is blindingly impressive. Manly writers run out of steam as they get older. King, though, writes books that are ever longer and more demanding. I can't wait to see what he will tackle next.' -- Daily Express

About the book:

On November 22, 1963, three shots rang out in Dallas, President Kennedy died, and the world changed. What if you could change it back? Stephen King's heart-stoppingly dramatic new novel is about a man who travels back in time to prevent the JFK assassination - a thousand page tour de force. Following his massively successful novel Under the Dome, King sweeps readers back in time to another moment - a real life moment - when everything went wrong: the JFK assassination. And he introduces readers to a character who has the power to change the course of history. Jake Epping is a thirty-five-year-old high school English teacher in Lisbon Falls, Maine, who makes extra money teaching adults in the GED program. He receives an essay from one of the students' a gruesome, harrowing first person story about the night 50 years ago when Harry Dunning's father came home and killed his mother, his sister, and his brother with a hammer.

Harry escaped with a smashed leg, as evidenced by his crooked walk. Not much later, Jake's friend Al, who runs the local diner, divulges a secret: his storeroom is a portal to 1958. He enlists Jake on an insane - and insanely possible - mission to try to prevent the Kennedy assassination. So begins Jake's new life as George Amberson and his new world of Elvis and JFK, of big American cars and sock hops, of a troubled loner named Lee Harvey Oswald and a beautiful high school librarian named Sadie Dunhill, who becomes the love of Jake's life - a life that transgresses all the normal rules of time. A tribute to a simpler era and a devastating exercise in escalating suspense, 11/22/63 is Stephen King at his epic best.

About the Traycase:

This custom traycase is wrapped in a cream linen and leatherette & snaps shut with neodymium magnets. Inside is a two sided placard featuring news events from both timelines of 11/22/63.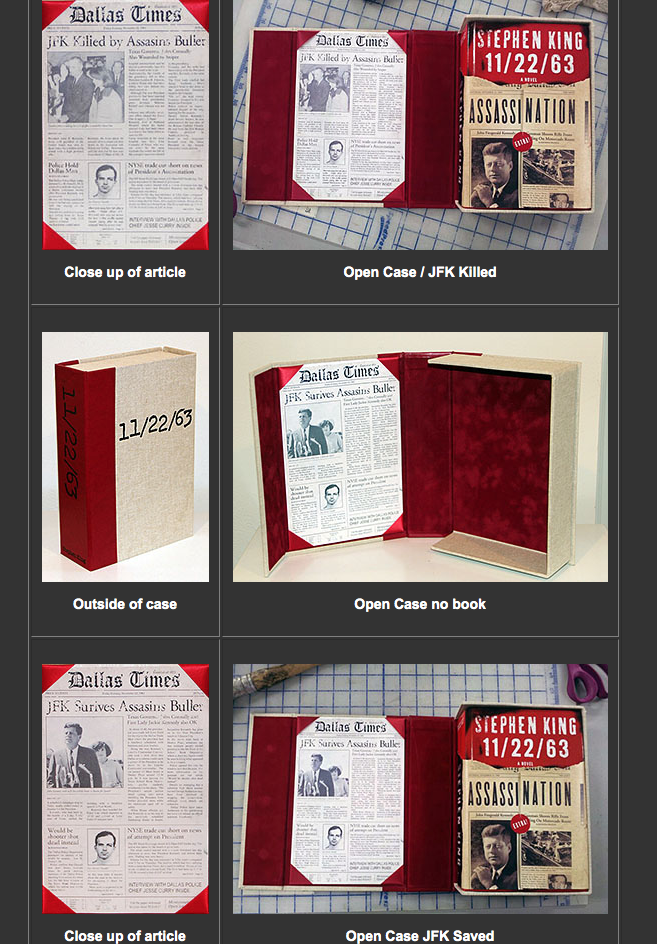 VERY FINE GUARANTEED
. Free of markings, writings, or stamps. Unread book with tight spine. No bookplates attached or indication of any removed. No bumped corners. A wonderful bright clean copy that is unread.
Publisher:

Scribner (2011)

Edition:

Signed First Edition, Second Printing

Binding:

Hardcover in dust jacket

Illustrator:

read description

Dimensions:

9.5" x 6.5" x 2.0"