A very unique and colorful comic that you will enjoy in your Stephen King collection. Lavishly illustrated throughout.

New York: New American Library / Plume, 1982. Stephen King "Creepshow" First edition. First Printing. Full number line as required on the copyright page for a 1st/1st. An over-sized trade softcover. 64 pages. Dimensions: 8.4 x 0.5 x 10.8 inches. Illustrated Fiction with the original prices printed on the back cover in the upper right corner.
"First Printing, July, 1982" with full number line 1 2 3 4 5 6 7 8 9
Creepshow is a graphic novella published by Penguin imprint Plume in July 1982, based on the movie Creepshow (also from 1982). The movie, directed by George A. Romero and written by Stephen King, consists of five short films, two of which are based on earlier prose stories by King, while the remaining three were written specifically for the movie. The book's interior art is by Bernie Wrightson with Michele Wrightson, with a cover by Jack Kamen.
Stories
The comic book, like the movie, consists of five short stories:
"Father's Day"
"The Lonesome Death of Jordy Verrill" (based on the short story "Weeds", first published in 1976)
"Something to Tide You Over"
"The Crate" (based on the short story "The Crate"", first published in 1979)
"They're Creeping Up on You"
There is no introduction or afterword of any kind, although on the back cover it states "Stephen King conjures up five jolting tales of horror." The short stories "Weeds" and "The Crate" have never been collected in a King book and both remain uncollected.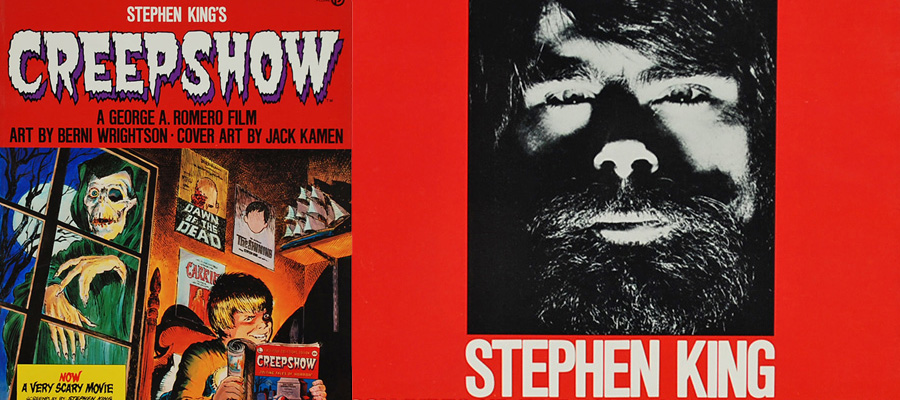 About Creepshow
Originally written as a screenplay by King in 1982, the film was originally considered a sleeper hit at the box office bringing in over $21 million domestically and has grown with a cult following. Directed by George A. Romero (of "Night of the Living Dead" fame) and starring a high-powered ensemble cast, including Hal Holbrook, Adrienne Barbeau, Leslie Nielsen, Ted Danson, E.G. Marshall, Fritz Weaver, Carrie Nye, and Ed Harris. King himself also has a cameo appearance, as does his son, Joe Hill, as the boy being punished by his parents for reading horror comic books on Halloween night.
Immediately following the film, King developed the graphic novel version of "Creepshow," which contained the five stories illustrated in comic book form by legendary artist, Bernie Wrightson.
Features
Softcover comic. The book's interior art is by Bernie Wrightson with Michele Wrightson, with a cover by Jack Kamen.
About The Author
Stephen King is the author of more than fifty books, all of them worldwide bestsellers. His recent work includes Doctor Sleep and Under the Dome, now a major TV miniseries on CBS. His novel 11/22/63 was named a top ten book of 2011 by The New York Times Book Review and won the Los Angeles Times Book Prize for Mystery/Thriller as well as the Best Hardcover Book Award from the International Thriller Writers Association. He is the recipient of the 2003 National Book Foundation Medal for Distinguished Contribution to American Letters. He lives in Bangor, Maine, with his wife, novelist Tabitha King.
NEAR FINE+. Square and tight spine without any marks , writings or stamps. The binding is uniform and tight, colors clear and vibrant. An original Collector's Grade comic that is difficult to locate. A wonderful bright clean copy. Free of any marks across the page edges. A small crease to spine with minuscule edge-wear in a couple of spots. Just about Near Fine+. No bookplates attached or indication of any removed. Photos of actual book.
Publisher:

New American Library / Plume 1982

Edition:

First Edition/First Printing

Binding:

Softcover wraps

Illustrator:

Bernie Wrightson

Dimensions:

8.4 x 0.5 x 10.8 inches

Author:

Stephen King