Signed Lettered Edition "X" of only 52 produced in this edition.
This signed limited edition of "Doctor Sleep" has been
personally signed by Stephen King along with the illustrators Vincent Chong and Erin S. Wells
onto the special limitation page.
Cemetery Dance Publications 2013. Stephen King "Doctor Sleep" Signed Lettered Edition. Limited to only 52 signed and numbered copies. A hardcover book with dust-jacket in a matching custom box. A highly sought after edition that is now OUT OF PRINT and sold out from the publisher in 4.5 hours. As New.
IMPORTANT UPDATE FOR COLLECTORS:
This Lettered Edition sold out in 75 minutes, the Limited Edition sold out in 4.5 hours, and the Gift Edition sold out exactly one week after it was announced, which is the fastest a Stephen King Gift Edition has ever sold out for us!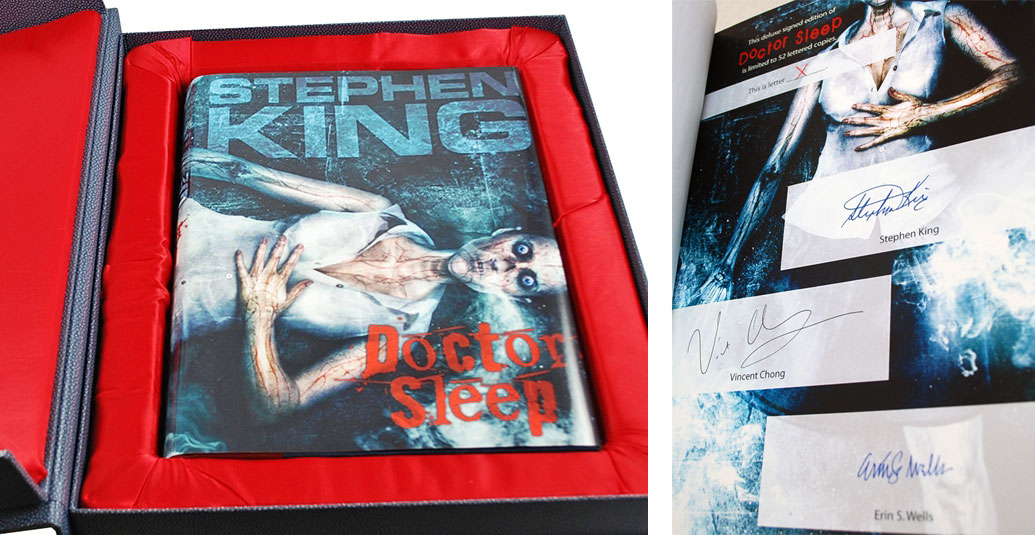 Published in three states:

• Slipcased Oversized Hardcover Gift Edition of only 1,750 illustrated copies printed in two colors with two-color hot foil stamping, a fine binding, and illustrated endpapers featuring an original drawing by Glenn Chadbourne.
• Traycased Oversized Hardcover Signed Limited Edition of only 750 illustrated copies printed in two colors with two-color hot foil stamping, a satin ribbon page marker and embossed endpapers, signed by Stephen King and all of the artists.
• Oversized Signed Hardcover Lettered Edition of only 52 illustrated copies printed in two colors and bound in two different fine materials with gilded page edges, imported endpapers, a satin ribbon page marker, and protected in a custom deluxe box, signed by Stephen King and all of the artists.

THIS IS LETTERED "X" of the third state.
About this Deluxe Special Edition:
Cemetery Dance Publications is very pleased to announce our Deluxe Special Limited Edition of Stephen King's new novel, Doctor Sleep.
Stephen King returns to the characters and territory of one of his most popular novels ever, The Shining, in this instantly riveting novel about the now middle-aged Dan Torrance and the very special twelve-year-old girl he must save from a tribe of murderous paranormals.
On highways across America, a tribe of people called The True Knot travel in search of sustenance. They look harmless—mostly old, lots of polyester, and married to their RVs. But as Dan Torrance knows, and tween Abra Stone learns, The True Knot are quasi-immortal, living off the "steam" that children with the shining produce when they are slowly tortured to death.
Haunted by the inhabitants of the Overlook Hotel where he spent one horrific childhood year, Dan has been drifting for decades, desperate to shed his father's legacy of despair, alcoholism, and violence. Finally, he settles in a New Hampshire town, an AA community that sustains him, and a job at a nursing home where his remnant "shining" power provides the crucial final comfort to the dying. Aided by a prescient cat, he becomes "Doctor Sleep."
Then Dan meets the evanescent Abra Stone, and it is her spectacular gift, the brightest shining ever seen, that reignites Dan's own demons and summons him to a battle for Abra's soul and survival. This is an epic war between good and evil, a gory, glorious story that will thrill the millions of hyper-devoted readers of The Shining and wildly satisfy anyone new to the territory of this icon in the King canon.
The exclusive Cemetery Dance Special Limited Edition of Doctor Sleep by Stephen King will be published in three states, all of them printed in two colors and bound in fine materials.
Special Features Exclusive to this Collector's Edition:
• deluxe oversized design (7 inches X 10 inches) featuring two-color interior printing
• full color cover artwork by Vincent Chong
• six color paintings by Vincent Chong printed on a high-quality glossy stock and tipped into the book
• twenty black & white full page illustrations and six black & white spot illustrations by Erin S. Wells
• illustrated endpapers for the Gift Edition by legendary horror artist Glenn Chadbourne
• high-quality endpapers and fine bindings for all three editions
• full-color signature sheets in the signed editions
• extremely collectible print run that is a tiny fraction of the print run of the trade hardcover edition from Scribner — and you will NOT find our edition in chain bookstores!
The hand-bound, custom-made book features:
* Three-piece hand-binding featuring Cromwell red leather on spine and Asahi Japanese Blue Mohair Bookcloth for front and back boards
* French Marbled endsheets
* pages edged with hand-dipped silver gilding
* hot-stamped with Light Blue Metallic and Silver Bright foils
* Smyth sewn with cotton thread
* cotton hinge cloth, sewn headbands, and red silk ribbon page marker
* dust jacket with a different design than the other editions
The massive hand-made, custom box features:
* Blue Galuchat covering material
* White Ester Foam With Red Satin Covering
* Two color hot foil stamping
* Heavy-duty premium recycled chipboard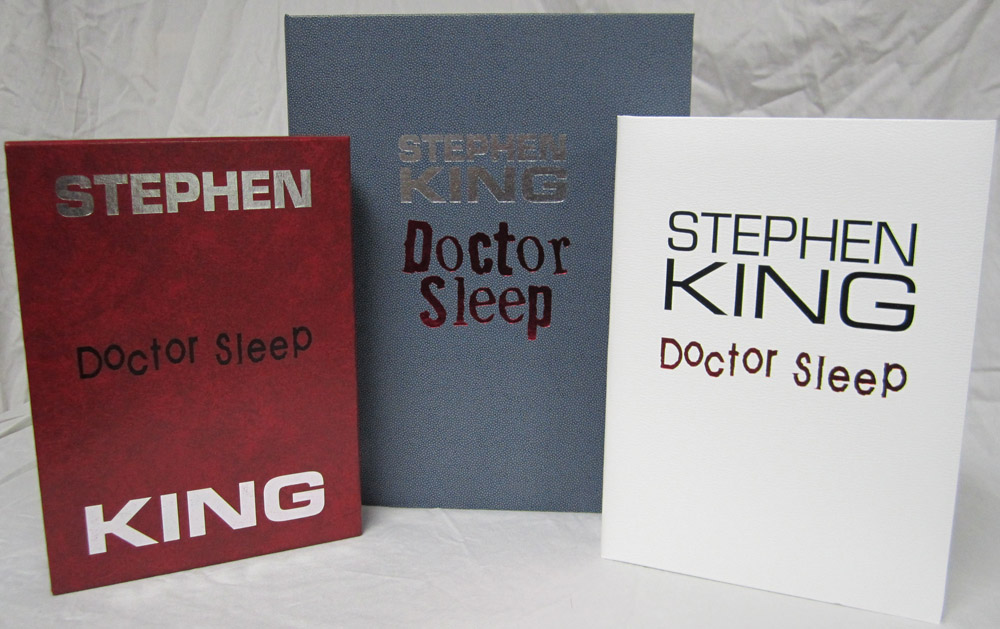 Comparison photo from https://brianjamesfreeman.com
About The Author
Stephen King
has written more than forty novels and two hundred short stories. He is the recipient of the 2003 National Book Foundation Medal for Distinguished Contribution to American Letters and he also received the O. Henry Award for his story "The Man in the Black Suit." Among his most recent worldwide bestsellers are
Lisey's Story,
Duma Key, Under the Dome, Just After Sunset,
and
Full Dark, No Stars.
His other releases from Cemetery Dance Publications include
From a Buick 8
,
The Secretary of Dreams (Volume One)
,
The Secretary of Dreams (Volume Two)
,
Full Dark, No Stars,
It: The 25th Anniversary Special Limited Edition
, and the World's First Edition of
Blockade Billy.
King lives in Bangor, Maine, with his wife, novelist Tabitha King.
Vincent Chong is an award-winning freelance illustrator and designer living in the UK. He has worked for clients around the world on projects ranging from book cover designs to website art, and has illustrated the works of renowned authors such as Stephen King and Ray Bradbury. In 2010 he released his first art book, Altered Visions: The Art of Vincent Chong. Vincent has also received the British Fantasy Award for 'Best Artist' on multiple occasions and has been shortlisted for the World Fantasy and BSFA Awards for "Best Artist". You can learn more about Vincent at www.vincentchong-art.co.uk and vincentchongart.wordpress.com.
Erin S. Wells grew up on a farm in southwestern Wisconsin, surrounded by corn fields, creeks and wooded hills. She earned a B.A. degree from Coe College in Cedar Rapids, Iowa, and an M.F.A. from the Academy of Art University in San Francisco. Erin now lives happily with her husband amongst the redwoods in California's Santa Cruz Mountains, and works as an illustrator and fine artist.
VERY FINE GUARANTEED
. As New as if normally shipped from the publisher. Very Fine without any discernible flaws. A wonderful bright clean copy free of any markings, writings, or stamps. Tight spine. Unread book. The silver page edges may have a couple of manufacturer's superficial marks typical for this book. The dust jacket is now in a brand new archival acid-free Mylar sleeve.
Publisher:

Cemetery Dance Publications (2013)

Edition:

Signed Lettered Edition

Binding:

Hardcover in dust-jacket with case.

Illustrator:

Vincent Chong, Erin S. Wells

Dimensions:

14" x 11" x 3.5"

Signature Authenticity:

LIFETIME GUARANTEE OF SIGNATURE AUTHENTICITY. Personally signed by Stephen King along with the illustrators Vincent Chong and Erin S. Wells directly onto the special limitation page. The autographs are not facsimiles, stamps, or auto-pens.