Personally signed by Stephen King directly onto the title page of the book.

A wonderful first edition for the Stephen King collector. Viking 1994. Stephen King "Insomnia". Hardcover with dust-jacket. A fine/fine example without any flaws.
All the First Edition, First Printing issue points:
$27.95 on unclipped dust jacket
Full number line on copyright page 1 3 5 7 9 10 8 6 4 2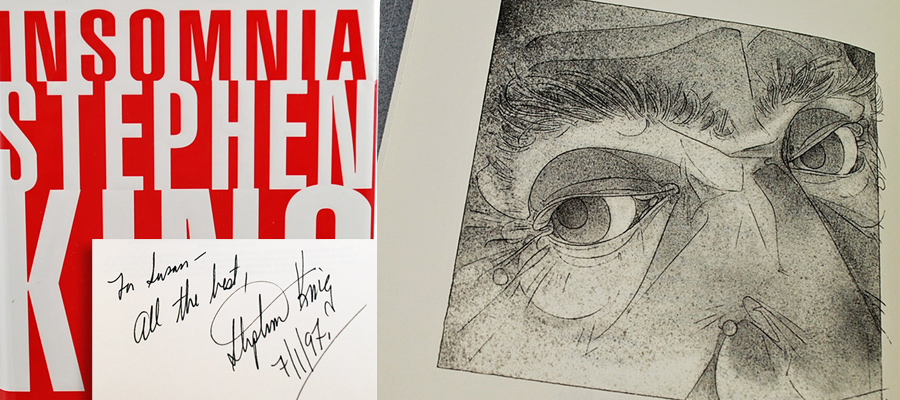 About Insomnia
With this dark fantasy based on the conception of a multilevel ultimate reality, he returns to the massiveness of The Stand and It and The Tommyknockers. On one of the long, exhausting walks old Ralph Roberts starts taking as a brain tumor slowly kills his wife, he witnesses a friendly young neighbor, Ed Deepneau, behaving totally out of character--indeed, like someone possessed.

About a year later and after his wife's death, Ralph begins waking early and then earlier and earlier. He also starts seeing things--intense colors streaming off people and animals. Meanwhile, Ed has turned into an antiabortion fanatic and wife-beater. Ralph intervenes to help Helen Deepneau escape from Ed, for which Ed threatens him. Or is it Ed?

Ralph senses that someone or something else is in control of the troubled man. Ralph's right, of course. Ed has been involuntarily recruited on one side, and, it develops, Ralph and his also-widowed neighbor, Lois Chasse, on the other, of a supercosmic struggle the import of which King reveals with deliciously tantalizing gradualness.

This is a yarn so packed with suspense, romance, literary reference, fascinating miscellaneous knowledge, and heart that only Stephen King could have written it. Marvelous--that is, full of marvels.
Features
Hardcover with dust-jacket.
About The Author
Stephen Edwin King (born September 21, 1947) is an American author of horror, supernatural fiction, suspense, science fiction and fantasy. His books have sold more than 350 million copies, many of which have been adapted into feature films, miniseries, television series, and comic books. King has published 58 novels, including seven under the pen name Richard Bachman, and six non-fiction books. He has written around 200 short stories, most of which have been published in book collections.
Fine/Fine. Free of markings, writings, or stamps. No bookplates attached or signs of any removed. No bumped corners. A wonderful bright clean copy. Dust jacket in now protected in new Mylar sleeve.
Publisher:

Viking 1994

Edition:

Signed First Edition, First Printing

Binding:

Hardcover with dust jacket

Illustrator:

N/A

Dimensions:

9.5" x 6.5" x 2.25"