"I worked on the book in a dream. I remember very little about the writing of it, except for the idea that I'd gotten hold of something that felt very big to me, and something that talked about more than monsters..."
-Stephen King, from the exclusive afterword for this special edition

Personally signed by Stephen King and all of the artists, Glen Orbik, Alan M. Clark, and Erin S. Wells
This is number 171 of only 750 and includes the signed limited edition artwork portfolio "PC".

A rare and highly sought after signed limited edition.


Cemetery Dance Publications 2011. "IT: The 25th Anniversary Special Limited Edition" by Stephen King. Signed Limited Deluxe Edition. This volumes features a brand new afterword by Stephen King, full-color wrap-around color artwork by Glen Orbik, and nearly thirty original color and black & white interior illustrations by Alan M. Clark and Erin S. Wells! Very Fine without any flaws.
IMPORTANT UPDATE FOR COLLECTORS: This Deluxe Limited Edition sold out from the publisher within 30 hours of being announced.

Limited Edition Cover Artwork
About this Deluxe Special Edition:

Cemetery Dance Publications is very pleased to publish our Special Deluxe Limited Edition of Stephen King's classic novel It, which he calls his "final exam on Famous Monsters" in his brand new afterword to this oversized special edition.
This project was easily the biggest, most lavish production Cemetery Dance Publications had ever undertaken. Glen Orbik painted the gorgeous wrap-around cover artwork, Alan M. Clark and Erin S. Wells created nearly thirty exclusive interior illustrations including black & white drawings and color paintings, and we hired the designer of the Limited Editions of The Secretary of Dreams, Blockade Billy, Riding the Bullet, and Full Dark, No Stars to create a unique interior design.
his fine collectible volume was published in three states, all of them printed in two colors and bound in fine materials that go beyond the scope and quality of our other much-acclaimed Stephen King special editions. The exclusive Cemetery Dance Special Limited Edition of It by Stephen King is the perfect addition to any collection.




Special Features Exclusive to this Collector's Edition:
brand new afterword by Stephen King detailing why he wrote the book
deluxe oversized design (7 inches X 10 inches) featuring two color interior printing
epic wrap-around full color cover artwork by Glen Orbik
nearly thirty pieces of color and black & white interior artwork by Alan M. Clark and Erin S. Wells
interior color artwork will be printed on a high-quality glossy stock and tipped into the book
high-quality embossed endpapers and fine bindings for all three editions
full-color signature sheets with exclusive color artwork in the signed editions
a page count so high it pushes the limits of our printer, easily our largest book ever!
extremely collectible print run that is a tiny fraction of the MILLIONS of copies of this novel you've seen in bookstores over the last 25 years , and you will NOT find our edition in chain bookstores!
The Cover Painting (Raw Artwork):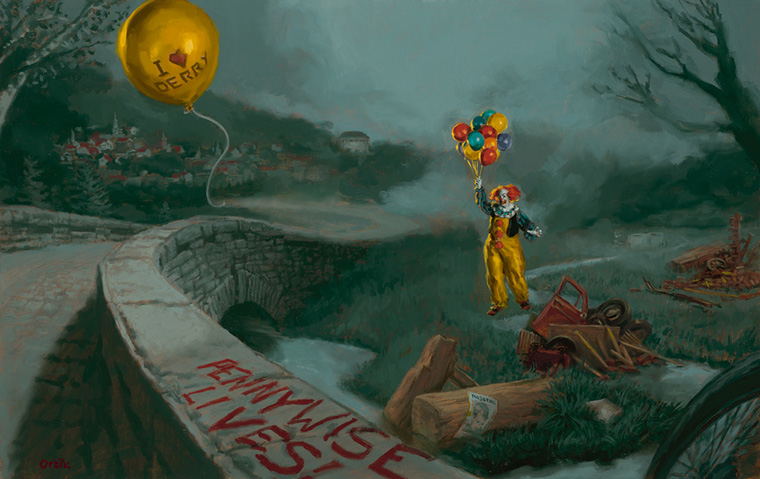 About the authorStephen King
has written more than forty novels and two hundred short stories. He is the recipient of the 2003 National Book Foundation Medal for Distinguished Contribution to American Letters and he also received the O. Henry Award for his story "The Man in the Black Suit." Among his most recent worldwide bestsellers are Lisey's Story, Duma Key, Under the Dome, Just After Sunset, and Full Dark, No Stars.
Glen Orbik
has been a freelance illustrator and drawing instructor for over twenty years. He studied with master illustrator and classic movie poster artist Fred Fixler, eventually taking over many of Fixler's classes upon his retirement. Specializing primarily in covers for paperbacks and comics, Glen has painted for clients including Marvel and DC Comics, Sony, TSR, Blizzard Entertainment, Berkley Books, and Avon Books (including two Ray Bradbury titles). He has also painted collectible imagery for Warner Bros./DC Studios, as well as preliminary poster work for the >Spider-Man and Hulk movies.
Alan M. Clark
grew up in Tennessee in a house full of bones and old medical books. He has a Bachelor of Fine Arts degree from the San Francisco Art Institute. His illustrations have appeared in books of fiction, non-fiction, textbooks, young adult fiction and children's books. Awards for his illustration work include the World Fantasy Award and four Chesley Awards. His short fiction has appeared in magazines and anthologies and four of his novels have been published. Lazy Fascist Press, an imprint of Eraserhead Press, released a collection of his fiction titled Boneyard Babies in November 2010 and will release his fifth novel, Of Thimble and Threat, in the fall of 2011. Clark's publishing company, IFD Publishing, has released six books, the most recent of which is a full color collection of his artwork, The Paint in My Blood. He and his wife, Melody, live in Oregon.
Erin S. Wells
grew up on a farm in southwestern Wisconsin, surrounded by corn fields, creeks and wooded hills. She earned a B.A. degree from Coe College in Cedar Rapids, Iowa, and an M.F.A. from the Academy of Art University in San Francisco. Erin now lives happily with her husband amongst the redwoods in California's Santa Cruz Mountains, and works as an illustrator and fine artist.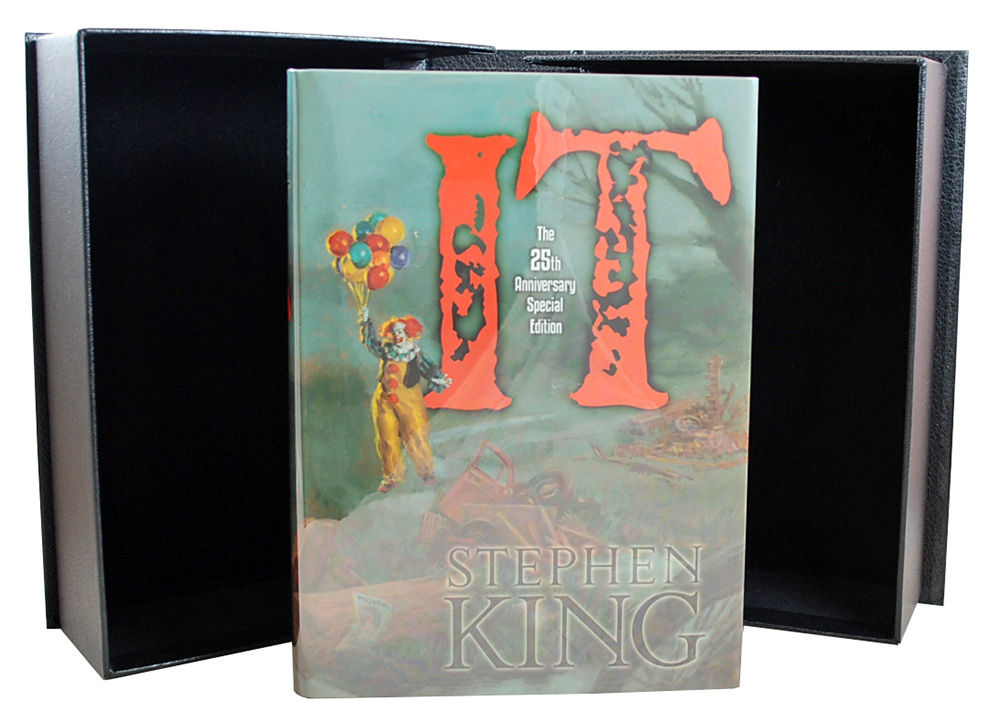 Sample Images (just a handful of the nearly 30 pieces that are exclusive to this edition!)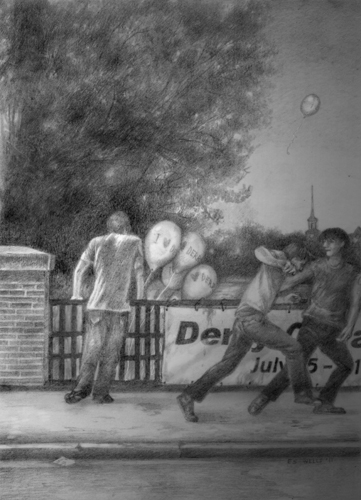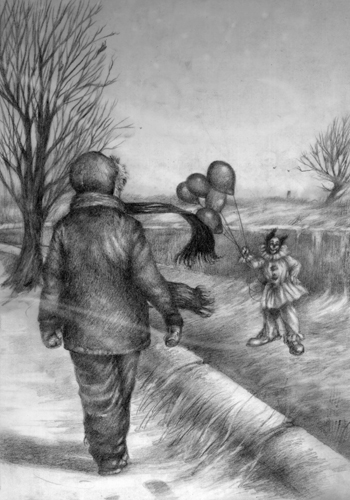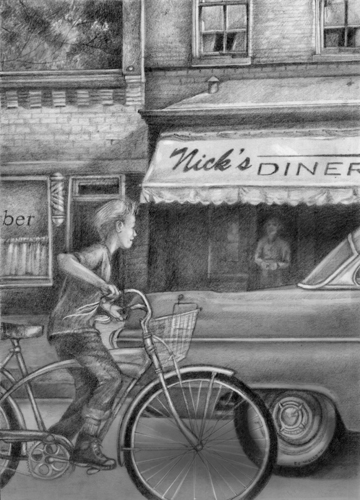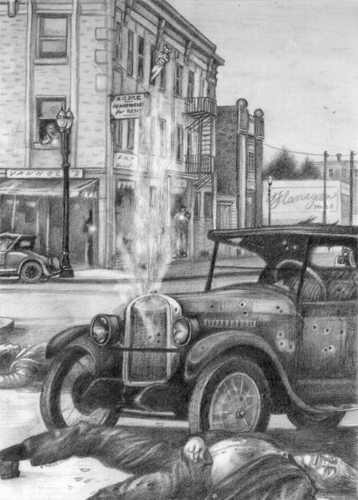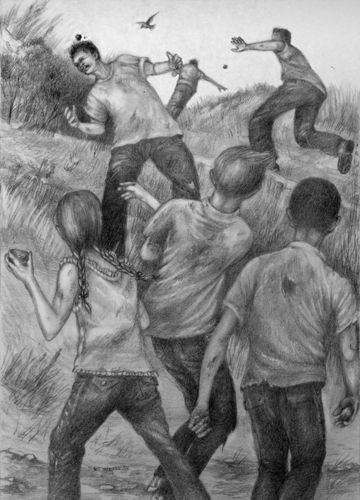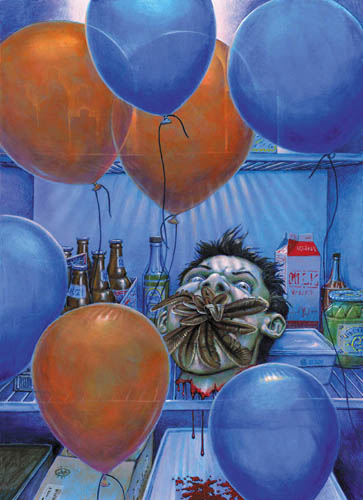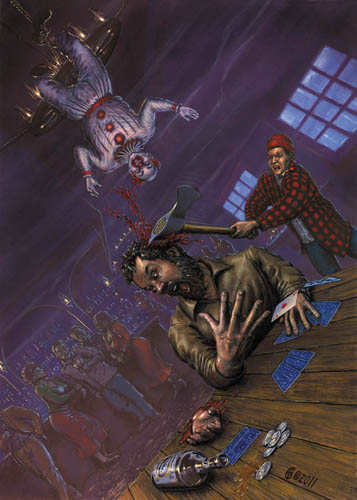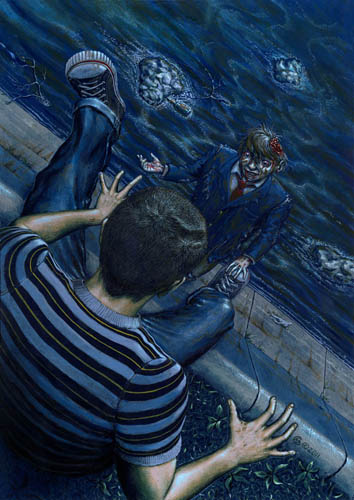 FROM THE PUBLISHER:


IT: The 25th Anniversary Edition Limited Edition Artwork Portfolio
29 Pieces of Artwork, 11 inch X 14 inch Art Prints!
Signed By All Three Artists and Limited to Just 500 sets!
If you love artwork inspired by the works of Stephen King or you're a huge fan of IT, then we have a deal you won't be able to beat — but it isn't going to last long due to already strong demand from collectors!
We've made special arrangements with Glen Orbik, Alan M. Clark, and Erin Wells to collect ALL of their artwork from our upcoming 25th Anniversary Edition of IT by Stephen King into one giant artwork portfolio, which will be SIGNED by all three artists and limited to a one-time printing of just 500 sets! These special artwork portfolios will never be reprinted or reissued.
When we say GIANT, we mean it, too! Each piece of artwork — including the 6 interior color plates, the full-color cover artwork, all of the black & white interiors, plus Erin Wells' TWO pieces of color signature sheet artwork — will be printed on 11 inch by 14 inch sheets archival quality paper stock. Not only will we be using a high-quality material for the folder itself, but there will be one-color hot foil stamping on the front cover, too!
Remember: this is a ONE-TIME printing of this artwork portfolio and we will NOT be printing more! This set includes EVERY piece of artwork in the book, including the two color signature sheets that will only ever be seen by the collectors who were lucky enough to snag a copy of the Limited Edition or Lettered Edition before they sold out. Plus there's a special, full-color signature sheet signed by all three artists!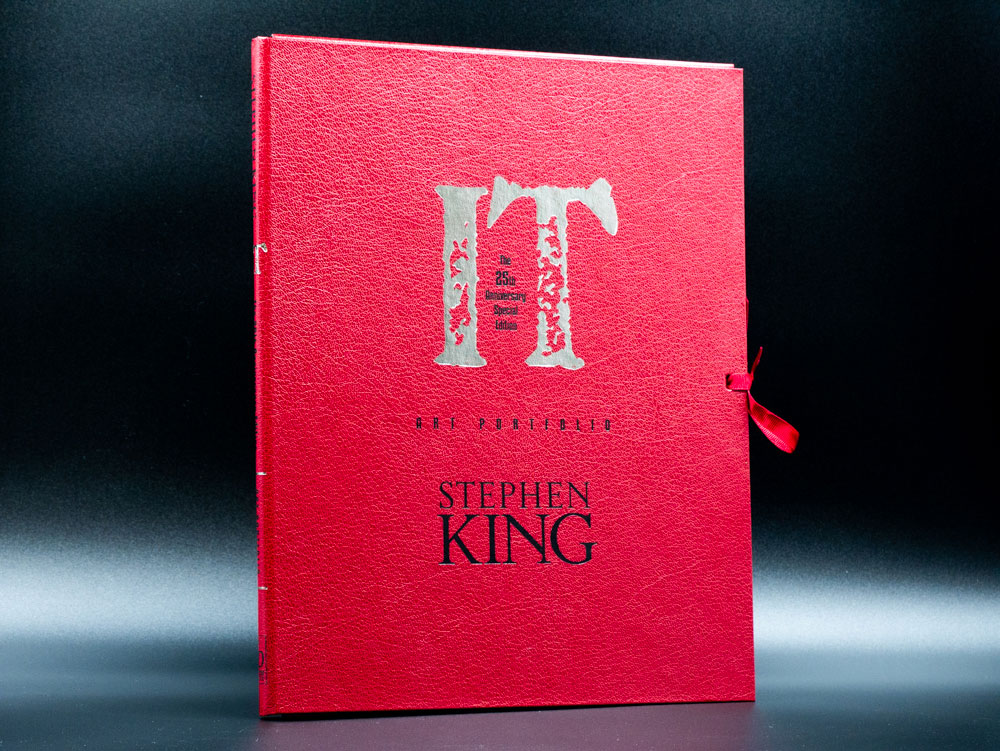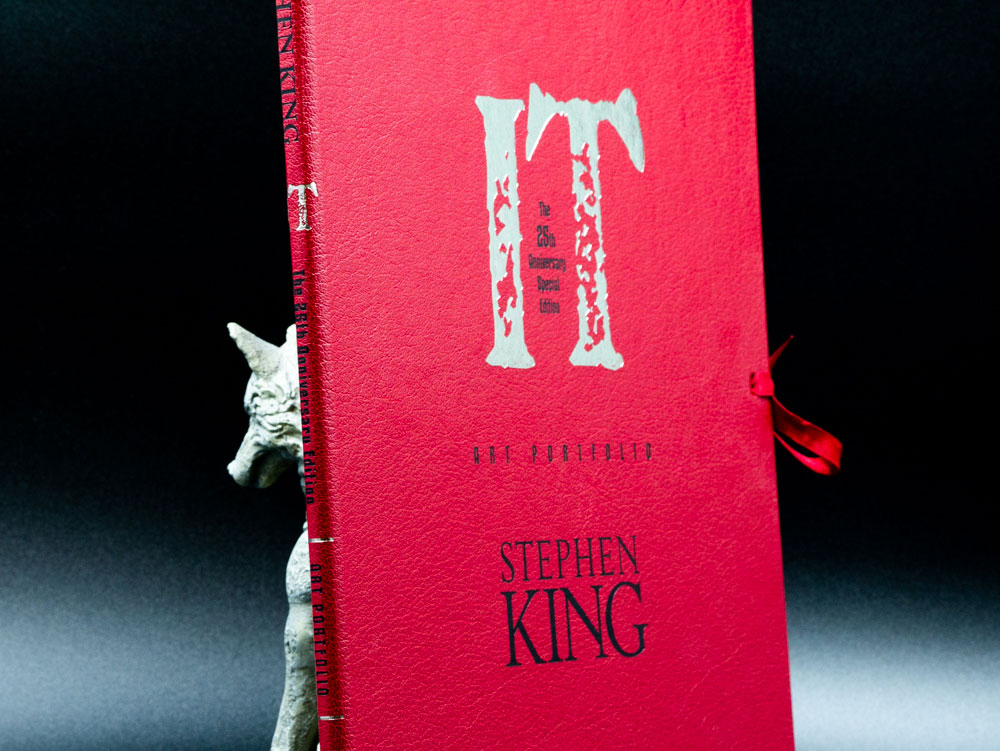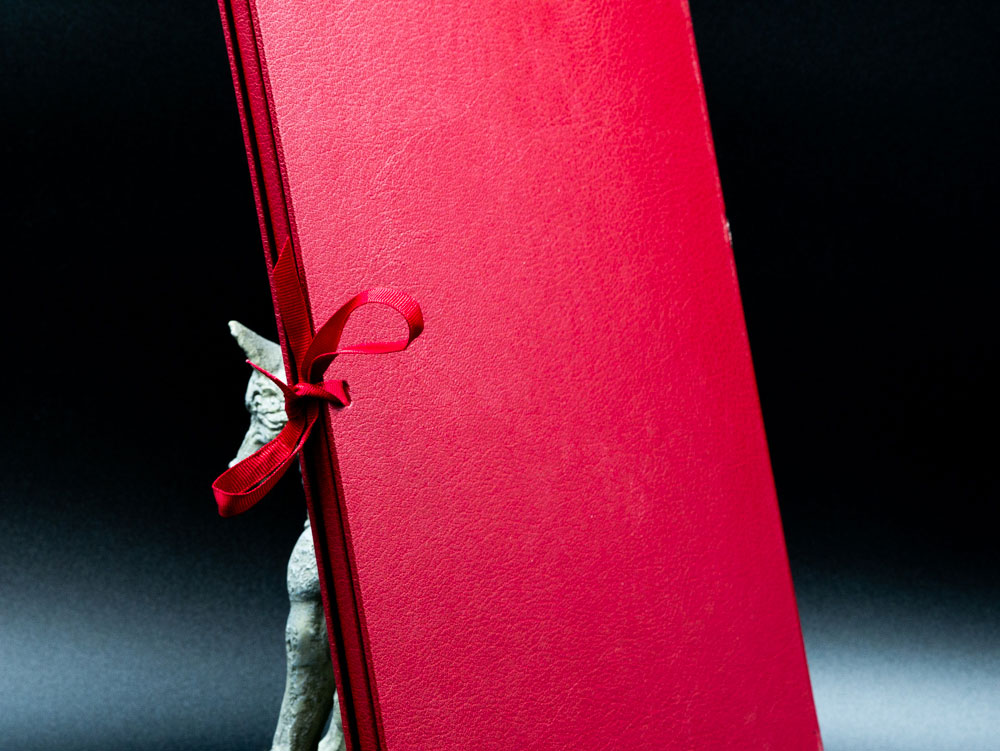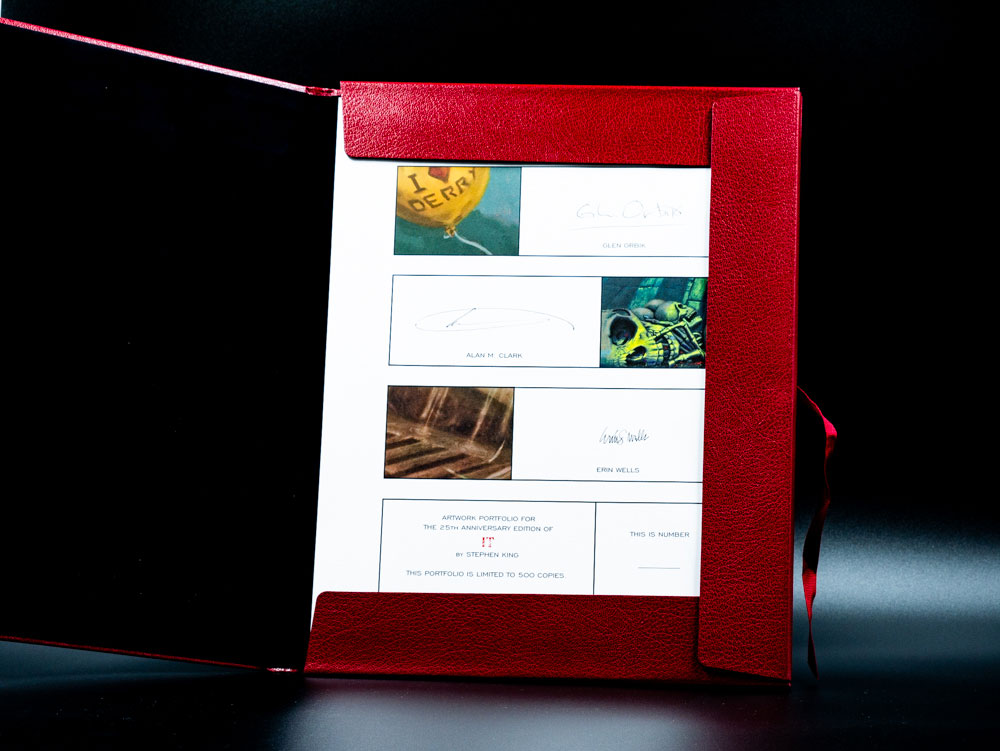 About The Author
Stephen Edwin King (born September 21, 1947) is an American author of horror, supernatural fiction, suspense, science fiction and fantasy. His books have sold more than 350 million copies, many of which have been adapted into feature films, miniseries, television series, and comic books. King has published 58 novels, including seven under the pen name Richard Bachman, and six non-fiction books. He has written around 200 short stories, most of which have been published in book collections.
Signature Authenticity
Lifetime Guarantee of Signature Authenticity.
This edition has been personally signed by Stephen King and all of the artists directly onto the special limitation page. The autographs are not facsimiles, stamps, or auto-pens.
Hardcover: Very Fine without any flaws. A wonderful bright clean copy, free of marks, writings, or stamps. No attached bookplates or indication of any removed. Unread book with square and tight spine.

Dust-jacket: Very Fine without any tears, creases, or edge-wear. It is now protected in a brand new archival Mylar sleeve.

Tray-case: Very Fine without any flaws.

Publisher:

Cemetary Dance Publications 2011

Edition:

Signed Limited Edition of 750 and S/L Artwork Portfolio

Binding:

Oversized Deluxe Hardcover with dust-jacket

Illustrator:

see product description

Dimensions:

11" x 8" x 3.5"

Signature Authenticity:

Lifetime Guarantee of Signature Authenticity. This edition has been personally signed by Stephen King and all of the artists directly onto the special limitation page. The autographs are not facsimiles, stamps, or auto-pens.
2 Reviews
Stephen King "IT" S/L Deluxe Edition with Artwork Portfolio

Good communication and fast shipping, products as described and very well packaged for shipping! Happy with my purchase from Very Fine Books!!!

It 25th anniversary deluxe edition

I'm over the moon to have this! Shipped with utmost care and the books are VF in perfect condition! I always look to VFB for collecting because I know I will receive exactly what they advertise! Book is amazing!