Personally hand signed by Stephen King and Peter Straub directly onto the special limitation page.

Presenting two beautiful volumes for the collector of unique books.
Donald M. Grant Publishers. 1984. "The Talisman" in two hard cover volumes in matching cloth slipcase. Signed by Stephen King and Peter Straub. First Edition and First Printing. 2 volumes. 8vo. Volume One: 463 pp. Volume Two: 334 pp. Deluxe Signed Limited First Edition, issued after the trade edition by Viking Press. A classic novel of literature and fiction. Book design by Thomas Canty. Original issue price in 1984 was $120
This is the relatively low No.85 of 1200 numbered copies that have been signed by both authors on the limitation page. Bound in cream cloth with gray pictorial end-papers; bright gilt lettering and ruled boxes, with blind-stamped decoration, to the spines and front boards; and a sepia-tone illustration mounted to each front board.
Illustrated throughout with 11 full-color plates, including 4 two-page spreads (all present and intact, featuring work by Jeffrey Jones, Rowena Morrill, Thomas Canty, Berni Wrightson, Don Maitz, Stephen Gervais, Ned Dameron, Richard Berry, Phil Hale, and R. J. Krupowicz).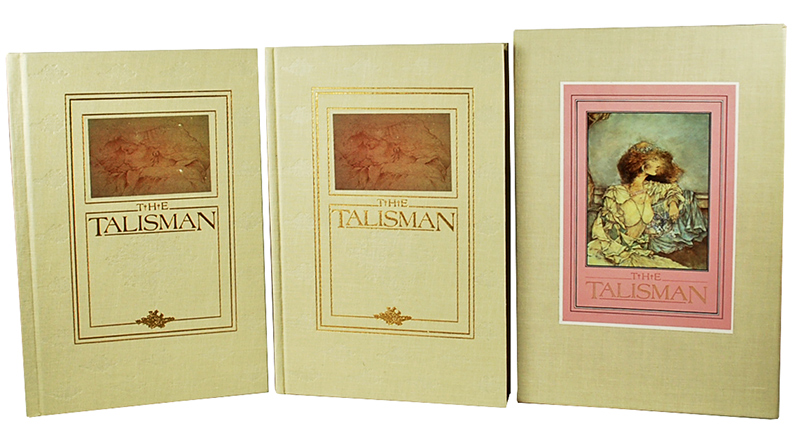 Book Information
This book charts the adventure of a twelve year old boy named Jack Sawyer. The young hero sets out from Arcadia Beach, New Hampshire in a bid to save his mother, who is dying from cancer, by finding an artifact called "the Talisman."
The premise of the novel involves the existence of a parallel world to Earth, called "the Territories" (a strange fantasy world with ties to King's The Dark Tower). Individuals in the Territories have "twinners," or parallel individuals, in our world. Twinners' births, deaths, and (it is intimated) other major life events are usually para lleled. Twinners can also flip, but only share the body of their alternate universe's analogue.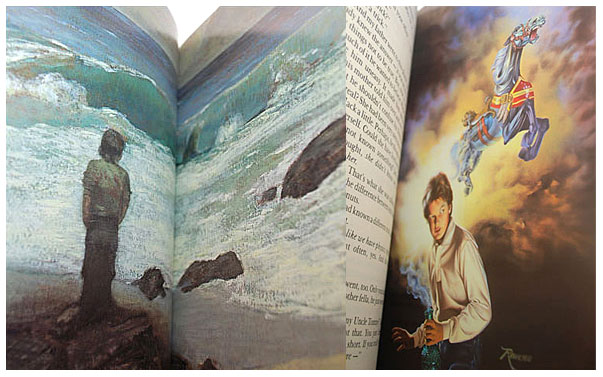 Publishing History
The idea of writing The Talisman first took form when Stephen King moved with his family to London in early 1977. It was there he met Peter and Susan Straub, along with their children, and the two writers became friends, both being fans of each other's work. After a short friendship, King and his family left after only three months back to the United States. Straub and King had talked multiple times before about collaborating to write a book, but nothing ever surfaced until ten years after King moved back, when the Straubs moved to the United States as well. According to King, after Straub moved, "the talk got serious," and they began writing. Their literary friendship did not end after the publication of The Talisman. In 1999 they began working on a sequel to The Talisman, dealing with Jack Sawyer as an adult. It was published in 2001, entitled Black House.
Very Fine/Very Fine for both hardcover volumes. Clean and straight boards without any markings, writings, or stamps. No attached bookplates or indication of any removed. Unread books with square and tight spines. Slipcase is Fine with no bumped corners. Original 1984 publication.



Publisher:

N/A

Edition:

Donald M. Grant Publishers 1984

Binding:

Hardcover in slipcase

Illustrator:

Signed Limited Edition in slipcase

Dimensions:

9" x 6" x 2.0"