Personally inscribed by Stephen King: "For Nancy, With best wishes, Stephen King"
A rare collectible book, Fine/Fine, and signed by Stephen King with a personal inscription. Penguin Books, U.S.A. 1996. Stephen King writing as Richard Bachman. "The Regulators" . Fine in a Fine Dust Jacket. True First Edition, First Printing. "First Trade Printing" as stated on Copyright Page. Full number line 10...1 as shown. Original price of $24.95 still intact on the inside front dust-jacket flap. ISBN #0-525-94190-8.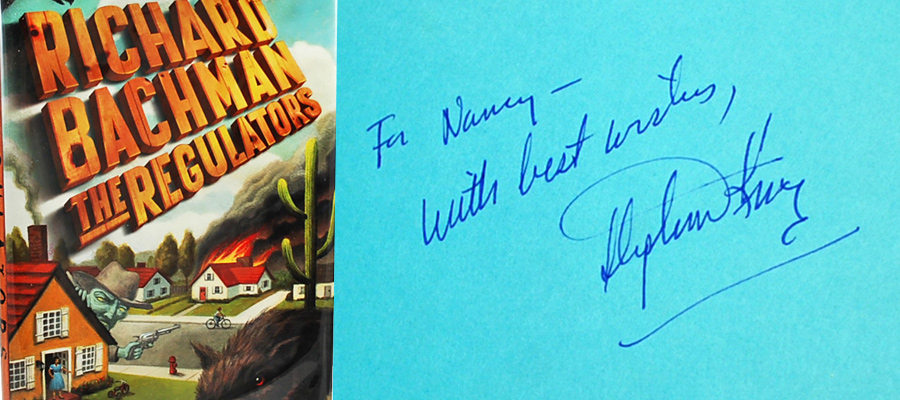 About

The Regulators is a novel by Stephen King under the pseudonym Richard Bachman. It was published in 1996 at the same time as its "mirror" novel, Desperation. The two novels represent parallel universes relative to one another, and most of the characters present in one novel's world also exist in the other novel's reality, albeit in different circumstances. Additionally, the hardcover first editions of each novel, if set side by side, make a complete painting, and on the back of each cover is also a peek at the opposite's cover. King had previously "killed off" Bachman after the pseudonym was publicly exposed around the time of the 1984 release of the Bachman novel Thinner. However, on the book's jacket and in a tongue-in-cheek introduction by the book's editor, it was alleged that this 1996 work was written by Bachman years earlier, but the manuscript had only recently been discovered by his widow in a trunk.
source: Wikipedia
Features
Hardcover with Dust-jacket fully protected with a mylar cover.
About The Author
Stephen Edwin King (born September 21, 1947) is an American author of horror, supernatural fiction, suspense, science fiction and fantasy. His books have sold more than 350 million copies, many of which have been adapted into feature films, miniseries, television series, and comic books. King has published 58 novels, including seven under the pen name Richard Bachman, and six non-fiction books. He has written around 200 short stories, most of which have been published in book collections.
Fine/Fine. Clean & straight boards. No markings, writings, or stampings. No attached bookplates or signs of any removed. A well-cared for book, protected from any potential damage. This book stands out as having had exemplary care. Square and tight spine. Not price-clipped. Excellent original example. Dust-jacket fully protected with a mylar cover. A beautiful, tight copy.
Book Grading Definitions
Publisher:

Penguin Books (1996)

Edition:

Signed First Edition

Binding:

dj/HC

Illustrator:

Jaye Zimet

Dimensions:

9.5" x 6.5" x 1.5"