A Unique Signed Limited Edition of The Regulators, personally signed by "Richard Bachman" (aka Stephen King)
Still two to choose from #169(
SOLD

) #265, and #387. Please indicate your choice in the Comments section at the order check-out.

New York. Dutton,. [1996]. Richard Bachman "The Regulators" Signed Limited Edition. A fine copy in cloth "MotoKops 2200 Power Wagon" toy box without dust jacket as issued. (#128880). This edition is limited to only 552 numbered and lettered copies. It is signed by King as "Richard Bachman" on a fake check tipped onto limitation leaf. The check is made out to a different recipient in different amounts and dated, along with a hand-written memo. Original issue price was $325. 475 pages.
The limitation page reads:
This check was obtained from
the Bachman estate to authorize
the limited edition of the novel
THE REGULATORS
by Richard Bachman.

Of five hundred and fifty-two signed books,
the check number designates
the number of letter of this copy.
Book Design by: Peter Schneider
Red cloth covered boards with inset leather square. Black ribbon to lift book from box. This book was designed and produced by Chamel House for Dutton/Penguin Books. Winner of The Most Collectible Book of the Year Award for 1996.
Three to choose from. Please indicate which number you would like to receive in the "Comments" section at check-out.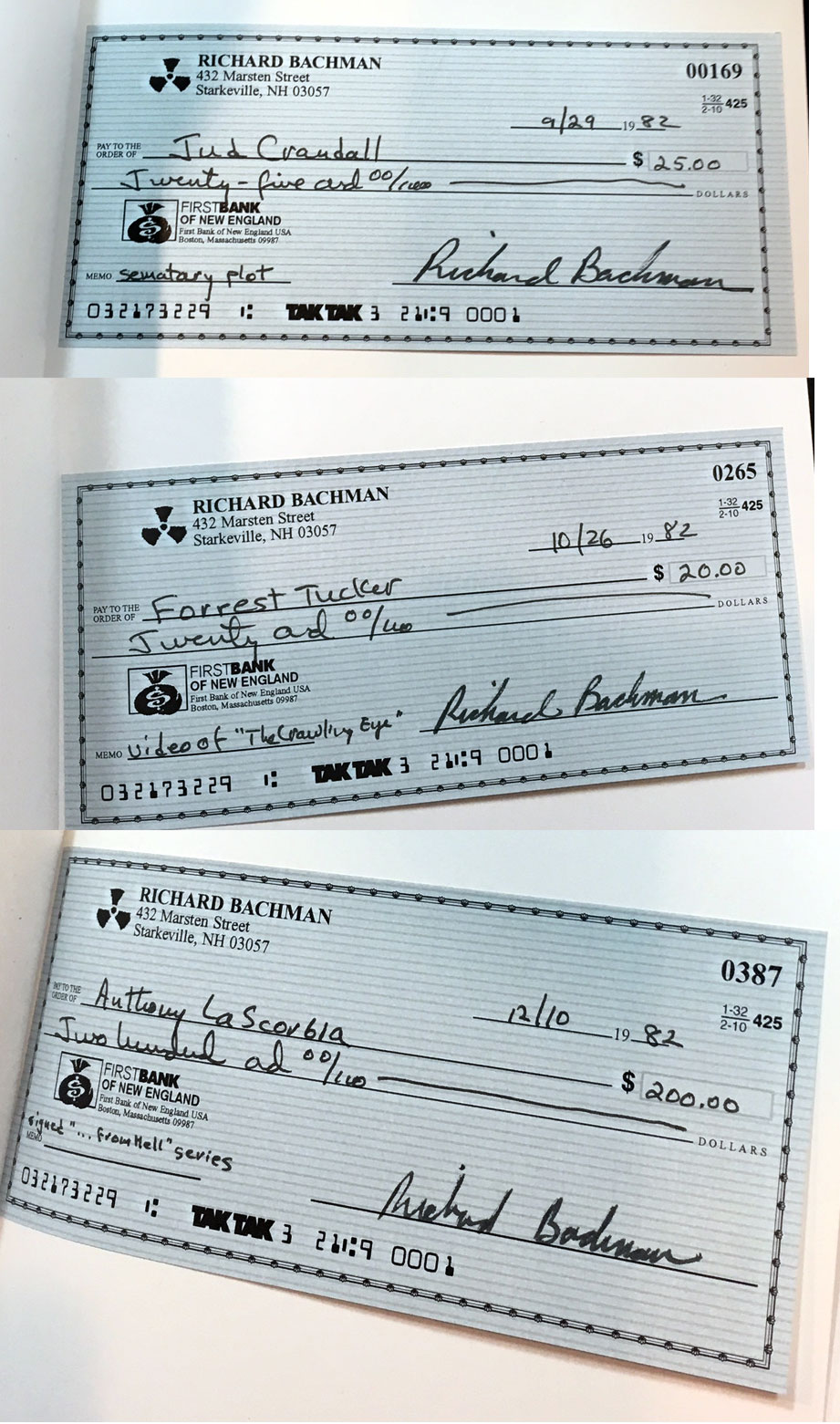 About The Regulators
Master storyteller Stephen King presents the classic, terrifying New York Times bestseller of those caught between the surreal forces of good versus evil in a small suburban town.
"The red van rolls past…humming and glinting.…Things are happening fast now, although no one on Poplar Street realizes it yet."
It's a gorgeous midsummer afternoon along Poplar Street in the peaceful suburbia of Wentwort, Ohio, where life is as pleasant as you ever dreamed it could be. But that's all about to end in blaze of gunfire and sudden violence, forever shattering the tranquility and the good times here. For the physical makeup of Poplar Street itself is now being transformed into a surreal landscape straight out of the active imagination of the innocent and vulnerable Seth Garin—an autistic boy who's been exposed to and possessed by a horrific, otherworldly force of evil, one with sadistic and murderous intent and who is willing to use whatever means necessary to grow ever stronger.
Fine/Fine. A Fine hardcover book in the Fine toy box as shown. Unread book with a tight spine, and a wonderful bright clean copy without any writings, marks, or stamps. This edition is as normally shipped from the publisher. No attached bookplates or indication of any removed. All photos of the actual book.
Publisher:

Dutton (1996)

Edition:

Signed Limited Edition

Binding:

Hardcover in cloth

Illustrator:

read description

Dimensions:

12" x 9" x 3"