One of only 52 Signed Lettered Deluxe First Editions, personally hand signed by Stephen King and the illustrator Glenn Chadbourne directly onto the limitation page.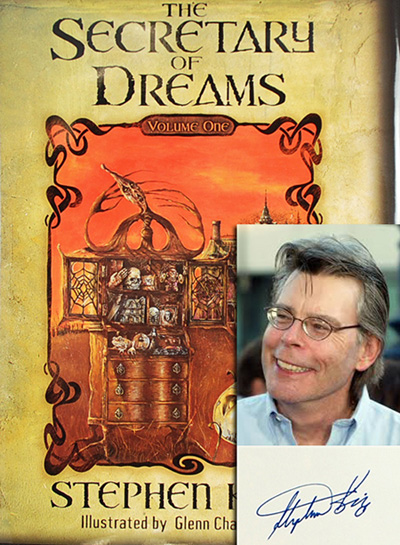 Cemetery Dance Publications, Baltimore, MD. 2010. "Secretary Of Dreams: Volume 1" by Stephen King. Signed Lettered Edition "PC" of only 52 produced. Signed limited first edition. A Signed Oversized Hardcover Lettered Edition of only 52 copies, bound in fine materials with gilded page edges, a satin ribbon page marker, and protected in a massive deluxe tray-case
The dust-jacket is now in a brand new archival Mylar sleeve by Brodart. A rare collectible item, offered at the original issue price. This item is now OUT OF PRINT from the publisher and will not be available for purchase again.
This special edition features:
A hand-bound custom Lettered Edition:
- A completely unique dust-jacket (different design than the Gift and Limited Editions)
- Cromwell Black Leather with Flanders Grain on spine
- brown Skivertex Sanigal, Oxford embossing, aqueous coating for front and back covers
- imported French marbled endsheets
- pages edged in gold gilding
- hot-stamped, blind embossed with clear foil on spine
- custom black imprinted image on cover
- smyth sewn with cotton thread
- skrimmed with cotton hinge cloth, sewn headbands
A handmade custom clamshell box:
- violet baroque satin lining
- wrapped in a "green" ecological, recycled paper, manufactured in New Hampshire, Safari Elk color
- box made from 100-point recycled chipboard, manufactured in Philadelphia, Pennsylvania
- hot-stamped, blind embossed with clear foil on box top
Secretary of Dreams Volume I
From Cemetery Dance:
Featuring a half-dozen classic tales of terror personally selected by King, this collection presents his stories for the first time in the tradition of the pulp horror comics. Spanning over 280 oversized pages, the hundreds of illustrations and full comic panels from acclaimed Maine artist Glenn Chadbourne transform The Secretary of Dreams into a work of art. Not one word from King's stories has been left out, but now they've been brought to life by hundreds of pen and ink drawings by Chadbourne! The featured stories are: "The Road Virus Heads North," "Uncle Otto's Truck," "Rainy Season," "The Reach," "Jerusalem's Lot," and "Home Delivery."
This exclusive Cemetery Dance title features an oversized deluxe trim-size and is available in three editions: a slipcased Gift Edition limited to 5,000 copies, a traycased deluxe Limited Edition limited to 750 copies signed by King and Chadbourne, and a deluxe Lettered Edition limited to 52 copies signed by King and Chadbourne and housed in a deluxe traycase. There are no other editions planned of this title, but King has already selected six more stories for a second volume that will be announced in 2006, and Chadbourne is hard at work on the illustrations!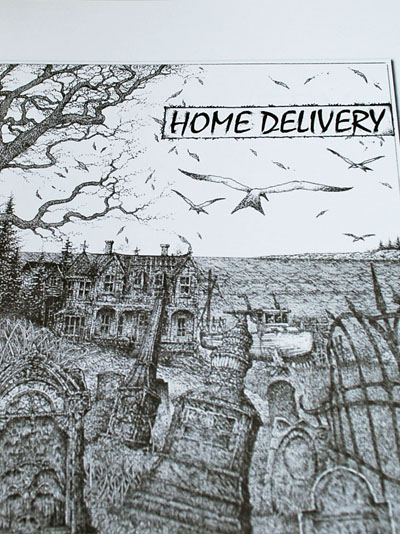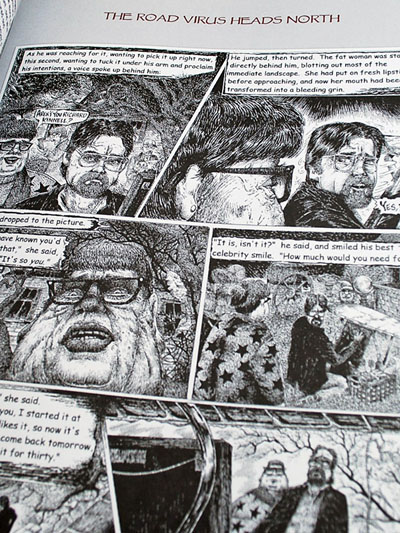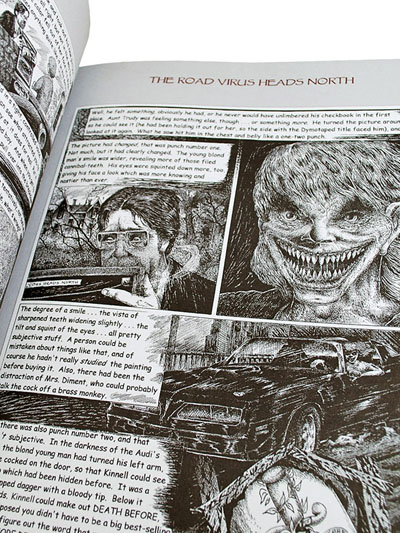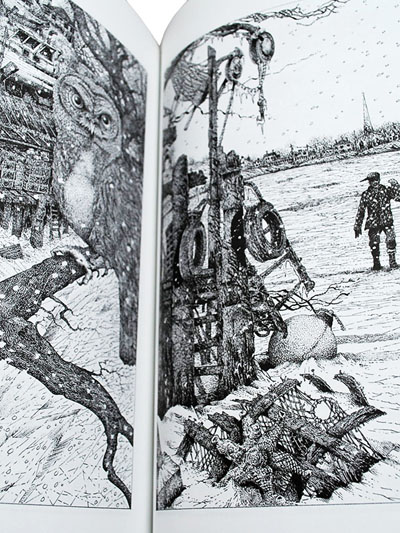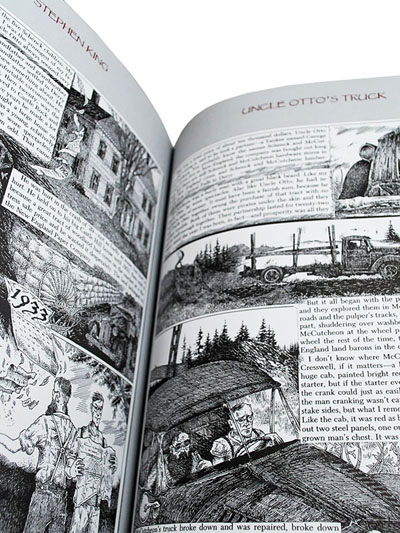 Very Fine hardcover leather bound book in a Very Fine dust-jacket. A wonderful bright clean copy free of any markings, writings, or stamps inside the book. Sharp corners that have not been bumped. Unread book with tight binding. As New book. The tray-case has one small white spot on the front. All photos of actual item.


Publisher:

N/A

Edition:

Cemetary Dance Publications 2010

Binding:

Leather Bound/dj in Deluxe Traycase

Illustrator:

Signed Lettered Edition of 52

Dimensions:

12" x 15" overall