Personally hand signed by Stephen King directly onto the limitation page.
A rare gem for the serious Stephen King collector. A signed limited edition paperback - SIX STORIES, humbly printed across the top.
This rare edition is signed on the last page and is limited to only 1,100 signed and numbered copies. This is the very low number 7.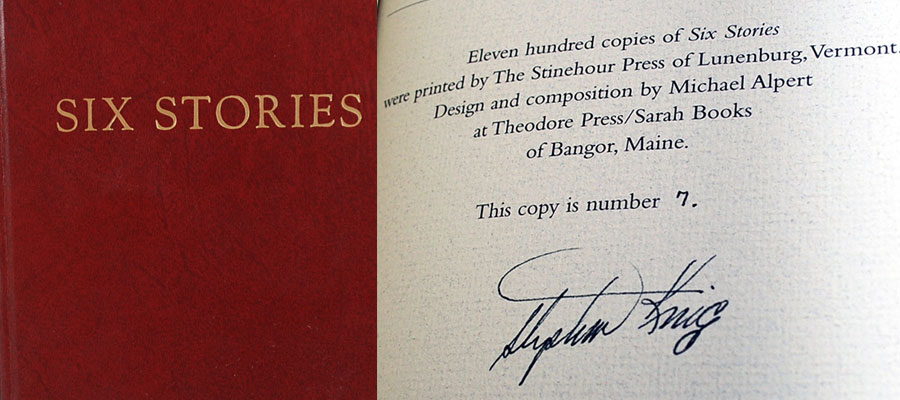 This rare signed-limited edition collection of six stories was published by King's own Philtrum Press line in 1997. This collection features first time appearances of stories or collects rare pieces for the first time. Produced with high-quality papers by the Philtrum Press publisher, Michael Alpert, who also produced the limited edition of Eyes of the Dragon, The Ideal Genuine Man, and The Plant.
This is a thin trade paperback with a water-marked black cover, the words "STEPHEN KING Six Stories" humbly printed in white text across the top of the cover. Inside, the paper is of heavy stock and acid-free. The last page, 199, contains the printing information, the book number and Stephen King's signature. This book is #7 of only 1,100 signed copies.
This is a rare and historical piece of King literature to own. This copy has been sealed in an archival bag. This means the book has been free from flourescent light, dust, liquid, or any other book contaminate. The book has been preserved to the highest quality.
This collection of six stories includes:
Autopsy Room Four
Blind Willie
L.T.'s Theory Of Pets
Luckey Quarter
Lunch at the Gotham Cafe
The Man in the Black Suit
Features
A fragile softcover signed limited edition that is hard to find in this very fine condition. Bangor, Maine, Trade Paperback. Signed limited edition. Presented in a new cloth clam-case with the author and title printed on the side spine.
About The Author
Stephen Edwin King (born September 21, 1947) is an American author of horror, supernatural fiction, suspense, science fiction and fantasy. His books have sold more than 350 million copies, many of which have been adapted into feature films, miniseries, television series, and comic books. King has published 58 novels, including seven under the pen name Richard Bachman, and six non-fiction books. He has written around 200 short stories, most of which have been published in book collections.
VERY FINE GUARANTEED. A wonderful bright clean copy free of any markings, writings, or stamps. Sharp corners that are not bumped. Tight and square spine. Unread book. No attached bookplates or indication of any removed.
Book Grading Definitions
Publisher:

Phitrum Press (1997)

Edition:

Signed Limited First Edition #7 of 1,100

Binding:

Softcover w/ Case

Illustrator:

N/A

Dimensions:

6.75" x 9.75" x 1.25"