Personally signed by Stephen King directly onto the title page!
Donald M. Grant. 2004. Stephen King "The Dark Tower VII: The Dark Tower" Signed First Edition, First Printing. This book has been personally signed by Stephen King with a blue pen directly onto the title page. Full number line as required for a first printing. Fine/Fine in a Fine slipcase. Includes event ticket and COA from the bookseller.

A valuable addition for your Stephen King library. This would also make a wonderful unique gift.
---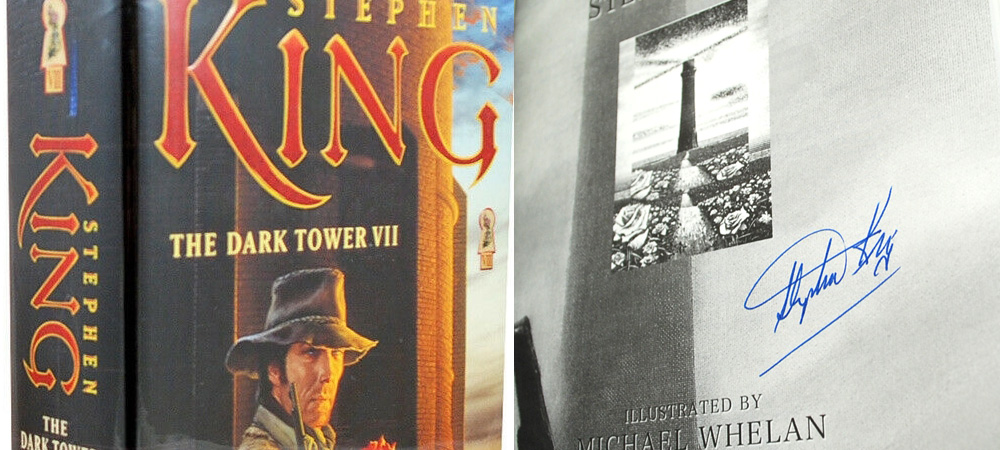 ---
About The Dark Tower VII: The Dark Tower
The Dark Tower is a fantasy novel by American writer Stephen King. It is the seventh and final book in his Dark Tower series. It was published by Grant on September 21, 2004 (King's birthday), and illustrated by Michael Whelan. It has four subtitles: REPRODUCTION, REVELATION, REDEMPTION, and RESUMPTION – all but the second of these having been used as subtitles for previous novels in the series.
Now a major motion picture starring Matthew McConaughey and Idris Elba .
Creating "true narrative magic" (The Washington Post) at every revelatory turn, Stephen King surpasses all expectation in the stunning final volume of his seven-part epic masterwork. Entwining stories and worlds from a vast and complex canvas, here is the conclusion readers have long awaited—breathtakingly imaginative, boldly visionary, and wholly entertaining.
Roland Deschain and his ka-tet have journeyed together and apart, scattered far and wide across multilayered worlds of wheres and whens. The destinies of Roland, Susannah, Jake, Father Callahan, Oy, and Eddie are bound in the Dark Tower itself, which now pulls them ever closer to their own endings and beginnings...and into a maelstrom of emotion, violence, and discovery.


About The Dark Tower books
The Dark Tower is a series of seven books written by American author Stephen King and contains fantasy fiction, science fantasy, horror and western elements. They describe a gunslinger's quest toward a tower whose nature the books call both physical and metaphorical. King has described the series as his magnum opus; besides the seven novels that compose the series proper, many of his other books relate to the story, introducing concepts and characters that come into play as the series progresses between 1970 and 2004.
The series was chiefly inspired by the "Childe Roland to the Dark Tower Came" by Robert Browning, whose full text was included in the final volume's appendix. In the preface to the revised 2003 edition of The Gunslinger, King also identifies "The Lord of the Rings", the "Arthurian Legend", and "The Good, the Bad and the Ugly" as inspirations. He identifies Clint Eastwood's "Man with No Name" character as one of the major inspirations for Roland. King's style of location names in the series, such as Mid-World, and his development of a unique language abstract to our own, are also influenced by J. R. R. Tolkien's work.
About the Publisher
Donald M. Grant Publisher, Inc. has been producing specialty books in the fantasy genre for over 45 years. Over that period the company has published substantially more than 100 quality titles, placing an emphasis on time-honored book design and an abundance of full color and black and white illustrations.
Indeed, the company's forte is the production of fine editions designed for the book collector and for the book lover. Particular concern is always shown in the use of quality bindings, paper, typography and reproduction of artworks.
Many of the Grant imprint books are illustrated in full and striking color. Donald M. Grant, Publisher will continue to bring you fine quality books in the future. Many exciting projects are currently being discussed or are already underway.
About The Author
Stephen Edwin King (born September 21, 1947) is an American author of horror, supernatural fiction, suspense, science fiction and fantasy. His books have sold more than 350 million copies, many of which have been adapted into feature films, miniseries, television series, and comic books. King has published 58 novels, including seven under the pen name Richard Bachman, and six non-fiction books. He has written around 200 short stories, most of which have been published in book collections.
Fine/Fine. A wonderful bright clean copy with straight boards and free of markings, writings, or stamps. No attached bookplates or indication of any removed. A well-cared for book, protected from any potential damage. This edition stands out as having had exemplary care. Square and tight spine. Not price-clipped.
Publisher:

Donald M. Grant Publishers 2004

Edition:

Signed First Edition, First Printing

Binding:

Hardcover with dust jacket Slipcased

Illustrator:

Michael Whelan

Dimensions:

6.25" x 9.25" x 1"

Signature Authenticity:

Lifetime Guarantee of Signature Authenticity. This edition has been personally signed by Stephen King directly onto the title page of the book. The autographs are not facsimiles, stamps, or auto-pens. Includes COA , Certificate of Authenticity.