A Unique Opportunity to Own The Complete Red Leather Library by Stephen King



The Stephen King Red Leather Library. Part of the Stephen King Library printed for members only with a limited print run -- bound in bright red faux leather with golden lettering on the spine and cover - ECRE parchment end papers - there is a facsimile signature of the author on the cover - archival quality paper was used to prevent premature aging - these editions are now

O

UT OF PRINT

and hard to find .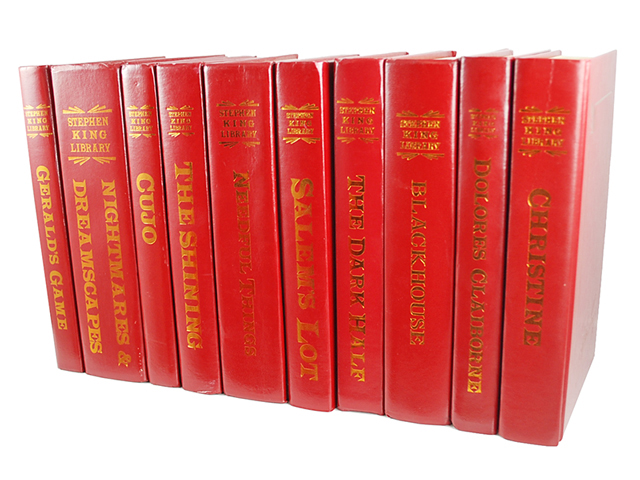 The red leather books were only available to people that signed up to the Stephen King Library many years ago. They were published by the Book of the Month Club and bound in faux leather with Stephen King's signature in gold on the front board. Now they have become collector editions and are sought after by many King fans.
This collection included the following volumes. A complete set of 37 books in the collection. Each book is Fine except where noted:
Secret Windows
On Writing
The Dark Half (Near Fine)
From a Buick 8
Dreamcatcher
Salem's Lot
Misery
Four Past Midnight (Near Fine)
Firestarter
Dolores Claiborne
It
Insomnia
Bag of Bones
Gerald's Game
Desperation
Different Seasons (Near Fine)
Needful Things
The Shining
The Eyes of the Dragon
The Girl Who Loved Tom Gordon
Hearts in Atlantis
Christine
Cujo
Thinner
Storm of the Century
The Stand (Near Fine)
Everything's Eventual
The Dead Zone
Nightmares & Dreamscapes (Near Fine)
Black House
Tommyknockers
Pet Sematary
Skeleton Crew (Near Fine)
Rose Madder
Night Shift
Carrie
The Stand (Complete & Uncut) (Near Fine)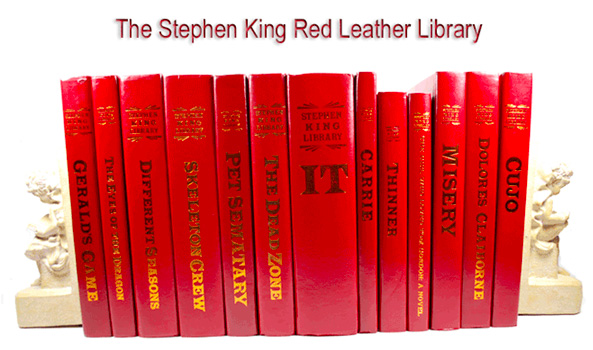 Most of the volumes are in Fine condition as if normally mailed from the BOMC. Read description for the condition of each book. The Fine books have no attached bookplates or indication of any removed. Square and tight spines. Unread books.
Publisher:

N/A

Edition:

Book of the Month Club

Binding:

Red Faux Leather

Illustrator:

BOMC Limited Edition

Dimensions:

Varying sizes.