This First Edition has become increasingly scarce in this condition.
"He builds up the suspense, holds back the dynamite until you're screaming for it, and then lets you have it."
-- Minneapolis Tribune
"It grabs you and holds you and won't let go...excruciating suspense...a genuine page-turner."
-- Chattanooga Times
The Viking Press 1981. Stephen King. "Cujo". First Edition, First Printing with original dust-jacket. The #1 bestseller-for King's rabid fans - A unique book for the serious Stephen King collector. "First published in 1981..." as required on the copyright page with no mention of later printing.
A collector's grade hardcover book in original condition. The dust-jacket is now protected in a brand new Brodart mylar sleeve. Original price of $13.95 still on the dust-jacket. Not price clipped.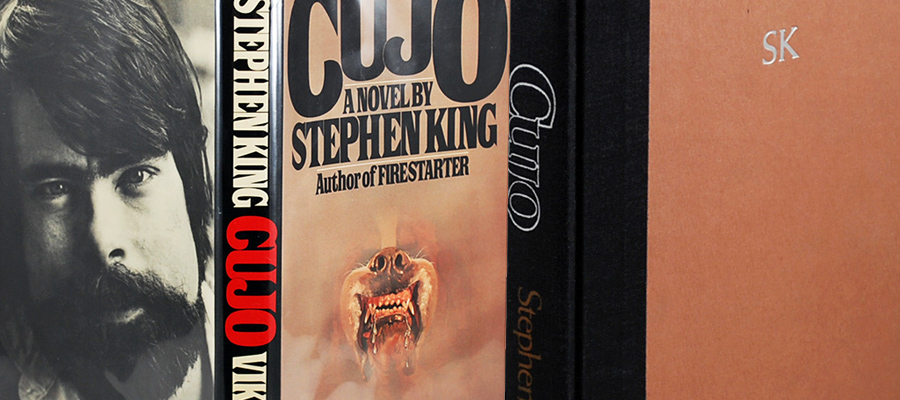 About "CUJO"

Cujo is so well-paced and scary that people tend to read it quickly, so they mostly remember the scene of the mother and son trapped in the hot Pinto and threatened by the rabid Cujo, forgetting the multifaceted story in which that scene is embedded. This is definitely a novel that rewards re-reading. When you read it again, you can pay more attention to the theme of country folk vs. city folk; the parallel marriage conflicts of the Cambers vs. the Trentons; the poignancy of the amiable St. Bernard (yes, the breed choice is just right) infected by a brain-destroying virus that makes it into a monster; and the way the "daylight burial" of the failed ad campaign is reflected in the sunlit Pinto that becomes a coffin. And how significant it is that this horror tale is not supernatural: it's as real as junk food, a failing marriage, a broken-down car, or a fatal virus.

Cujo is a horror novel by Stephen King, published by Viking in 1981. The book tells the story of the middle-class Trenton family and rural Camber clan in Castle Rock, Maine. Mundane marital and financial difficulties plague disgraced advertising man Vic Trenton and his adulterous wife Donna. Their domestic problems are dwarfed by mortal danger when Donna and her four-year-old son Tad are terrorized by a rabid St. Bernard named Cujo. The novel was adapted into a 1983 film of the same name.

The book is a semi-sequel to King's earlier work The Dead Zone. "Cujo" makes several specific references to the events and characters of "The Dead Zone," even so much as to lead the audience to believe that Frank Dodd (committed suicide in The Dead Zone) is possessing Cujo. King made later reference to the dog in his 1983 novel The Body, fromDifferent Seasons.

A reference to Cujo is made in the short story Mrs. Todd's Shortcut, where it mentions Joe Camber getting killed by his own dog.

The name for the dog originated with King's research for a novel regarding the Symbionese Liberation Army (SLA) and the kidnapping of Patty Hearst. One of the members of the SLA, and Hearst's lover during her ordeal, was Willie Wolfe who took the name Cujo as his nom de guerre.
Features
Hardcover with dust-jacket.
About The Author
Stephen Edwin King (born September 21, 1947) is an American author of horror, supernatural fiction, suspense, science fiction and fantasy. His books have sold more than 350 million copies, many of which have been adapted into feature films, miniseries, television series, and comic books. King has published 58 novels, including seven under the pen name Richard Bachman, and six non-fiction books. He has written around 200 short stories, most of which have been published in book collections.
Hardcover
: Near Fine with slight wear on the page edges and an erased pencil mark on the first page. Otherwise a Fine book without any marks, writing, or stamps. Free of bookplates. Excellent original condition. Clean boards. A well-cared for book, protected from any potential damage. Spine lettering clear and not faded. A wonderful bright clean copy without any bumped corners.
Dust-jacket
: Near Fine with some slight wear on the edges. It is now protected in a brand new Mylar archival sleeve. Uncommon in this condition.
Book Grading Definitions
Publisher:

The Viking Press 1981

Edition:

First Edition

Binding:

Hardcover with dustjacket

Illustrator:

N/A

Dimensions:

9" x 6" x 1.5"