Are you new to collecting Stephen King works or interested in learning more?
This article contains some basic collector guidelines and general book grading definitions, along with photos to illustrate common issues and flaws that have a direct correlation to value. This collector's tips and guide does not only concern King books but it can also be applied to other collected works in general.
DOES CONDITION REALLY MATTER?
What makes a King collectible book (or any other type of book for that matter) more desirable than others? If in real estate, it is all about location, location, location, with rare collected works, it is all about condition, condition, condition. So does a book's condition really matter? The answer is Yes, yes, and yes again. The books in the best condition are both significantly more desirable and significantly more expensive than worn copies.
When considering a purchase, it is wise to purchase the cleanest copy of a book that you can afford in the best condition possible. For many collectors, this is going to be in Near Fine or Fine with little to no issues. Very Fine copies are the most desirable and worth the most – and yes, there is a distinction among the two grades, Fine and Very Fine. (see grading guidelines below).
Furthermore, even if you can afford a copy in a better condition, one may not always be available for purchase. Mint condition copies of recent first editions may not be difficult to obtain, but it's quite unlikely that a first edition of CARRIE or SALEM'S LOT from 1970's will be Very Fine. For a book such as that, even Fine, may be an unobtainable goal, regardless of your budget. In some instances, a book that has become increasingly scarce, the condition may not be such a large factor in its value, especially if it's entirely intact and original.
Many of King's later first edition novels can be found without at least minimal wear, and therefore are not considered to be collectible (just yet).
So why do some first editions, signed limited editions or lettered editions cost so much? It is due to a variety of factors but usually due to their scarcity. It can involve quite a bit of time in locating a great original example in Fine condition.
What makes a book collectible in the first place vs ones that are still selling at their original publication price? Supply and demand. In simple terms, when a buyer pays a higher price than the original. For example, the original 1974 price for a First Edition of Carrie was $5.95. At some point years later, when this first edition was traded for higher than the original $5.95, it became collectible.
Photos – Are you considering to buy a pre-owned collectible book? Always ask to see the photos if detailed ones are not already provided . It is especially critical if you are looking at a relatively more valuable book to ascertain the condition and its history….
The photos do not always tell the entire story, however, but they are a good indicator. Try to purchase books that have had exemplary care. For the modern first and signed first editions, these will command the highest values, and have a chance at possible price appreciation in the future.
A good hassle-free return policy is also desirable, in case you discover any conditional issues which were not disclosed in the listing. This will also give the opportunity to closely inspect the autograph (it it's a signed book) or even get a second opinion from a professional.
Below is a list of book grading definitions that are common in the rare book world. With all other attributes being equal, an example with a lower grade will be inferior and worth less than one in a higher grade.
Book Grading Definitions
Very Fine (VF) : The highest grade given to any copy. A crisp, fresh copy with NO flaws. Even a minor blemish must not be graded Very Fine – there will be NO "Very Fine except…." Some sellers describe these books as "Mint" or "AS NEW". Very Fine books have never been read, or at least appear to have never been read. Not all recently published books are automatically considered to be Very Fine. Sometimes they may show minor manufacturing and handling flaws such as marks, bumped corners, or other issues.
Fine (F) : This is a copy that is without any visible flaws, but not as crisp as a Very Fine copy. A Fine book has had great loving care. Any minor blemish in the book or dust jacket must be noted in description. Books close to Fine with small flaws are often labeled as "Near Fine".
The following two grading terms include the word "Good", but for many discerning collectors who are quite picky about what takes up space on their bookshelves, it is not very good.
Very Good (VG) : The most common grade given to a collectable copy, very good means exactly what it says. A Very Good copy is no longer fresh; it has been handled and shows some signs of wear, but it is still sound and appealing. Flaws such as ownership signatures, bookplates, and remainder marks must be noted in the description, along with rubbing, chips and tears, and price-clipping in dust jackets, where applicable.
Good (G) : Good is the lowest grade given to a collectable copy. The book has been used and abused, but is whole. There may be one major flaw, like damp-staining or a cracked hinge, that keeps it from a higher grade, or there may be an accumulation of minor problems. A dust jacket may have some design elements lost, but it must not be fragmentary. It can also be known as "Fair" if it's on the brink of "Good".
In the world of collectors who are quite picky about the condition of their books, these last two grades "Very Good" or "Good" are actually not very good at all.
Uncollected Conditions (UC) : This describes a copy that is not whole either in binding or text, or abused to the point of not being sound or attractive. Ex-library copies with pockets glued to – or torn off – the endpapers, abundant rubber stamping and pasted-down lending sheets. An ex-library copy may be acceptable reading copy, but not collectible copy.
The condition is all in the details! So you are looking to purchase something unique and rare that very few King collectors have? When you consider becoming the new owner of a signed, first, or limited edition collectible by the master of modern horror, always pay close attention to the details. The overall physical state is an important factor but more importantly are the small details.
If you are a picky collector who is looking to own a beautiful library of rare books, we have included some photos of flaws to pay attention to or to ask about during the buying process.
Below is a list of common conditional issues that affect the value.
1. Bumped Corners.
This type of flaw refers to the corners or spine ends of a book that have been damaged in shipping, or by being dropped or carelessly handled or shelved. Sharp corners are always the most desirable. Furthermore, a book that is "new" and sealed in the original shrink-wrap does not always guarantee it is Very Fine. In one of the examples below, the outer corner of the slipcase of the Signed Artist Edition of MISERY has a bumped corner that was likely hit at some point. Sometimes "new" books shipped directly from the publisher may have some handling flaws.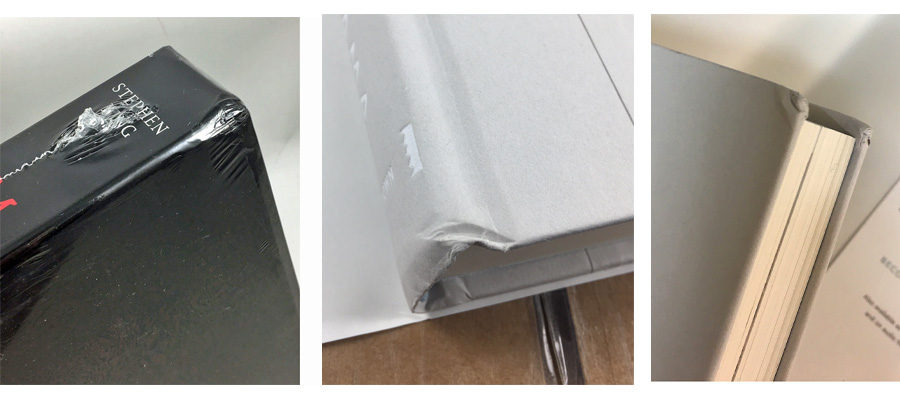 2. Price-clipped dust-jackets
When a dust-jacket is price-clipped, it indicates that the portion of the dust jacket flap that has the publisher's suggested retail price has been cut off.
A substantial amount of the value (sometimes up to 80%) of a collectible book resides in the presence and condition of the dust jacket. … A price-clipped book will typically cost much much less then an un-clipped copy of the same title.
There are three main reasons why a clipped dust-jacket is not desirable:
It doesn't look pretty.
It is a modification from the original state.
It creates doubt that in fact it's a first edition dust-jacket and not from a Book Club Edition.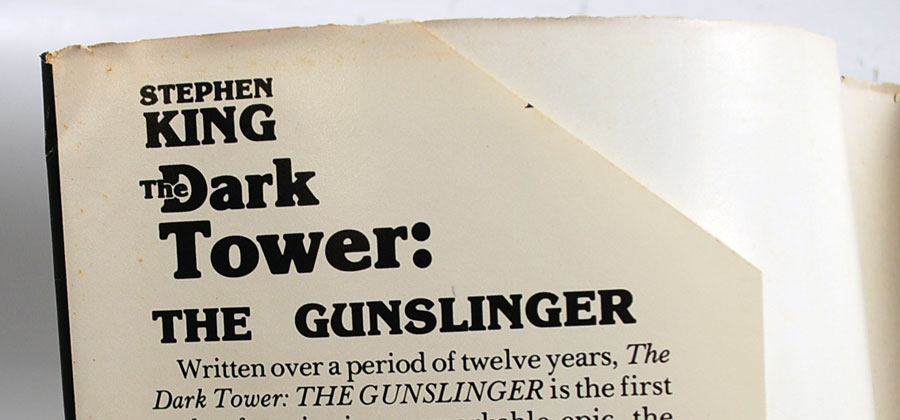 Not a pretty sight for Dark Tower fans who value the original book in the series.
3. Dust-jackets: Rips, Tears, Creases, Edge-wear, Chips, etc.
Congratulations! You have finally located a first edition book with original dust-jacket that has not been price-clipped. Now what are some of the condition features you should look out for?
Chipping is used to describe where small pieces are missing from the edges of the boards or where fraying has occurred on a dust jacket or the edge of a paperback. It is mainly where small pieces are broken off of a dust jacket or binding. Soiling is another issue, defined as a gathering of dust or dirt usually caused by handling. One of the worst condition problem, however, is stains, which occur from water or other liquids. This may cause discoloration and perhaps actual shrinking – this has also been known to be referred to as Tidemark.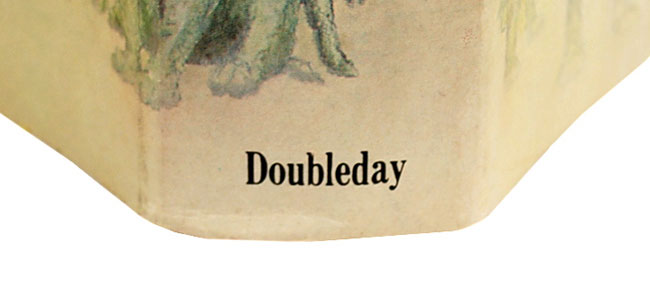 This First Edition dust-jacket of The Shining would be a perfect Fine condition if not for the slight crease to the bottom end. Many booksellers would still designate this DJ as Fine.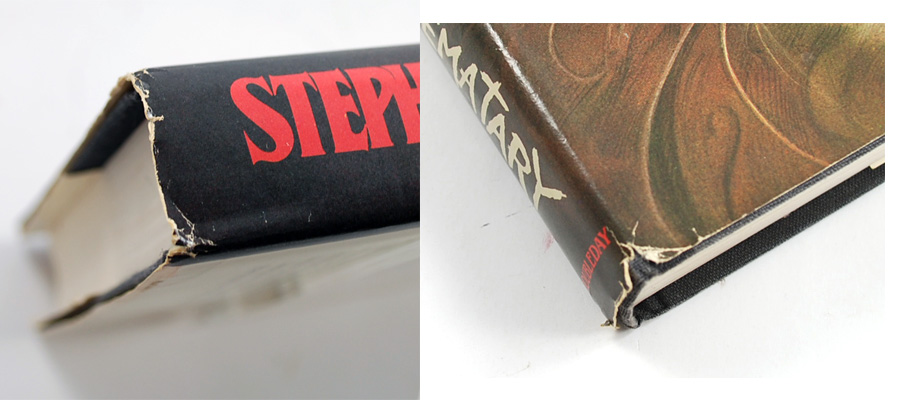 This first edition dust-jacket of Pet Sematary would fall in the Very Good to Near Fine grade , due to its chipping and edge-wear.
4. Attached Bookplates (or indication of removed)
If you are fairly new to collecting, bookplates, or ex-libris ("from the library of"), are simply personalized labels pasted inside the front cover or first page, signifying ownership and establishing provenance.
In some cases, affixing a book-plate may decrease its value by more than 50%. In most cases, a collector would likely pass on that same book altogether and opt for one without a personalized bookplate attached.
When searching for a special edition to add to your home library or office, always make sure there are no previous owner bookplates affixed inside the pages or any indication of a bookplate that has been removed. There are exceptions to this rule , however, when dealing with publisher-pasted bookplates that have been signed by the author.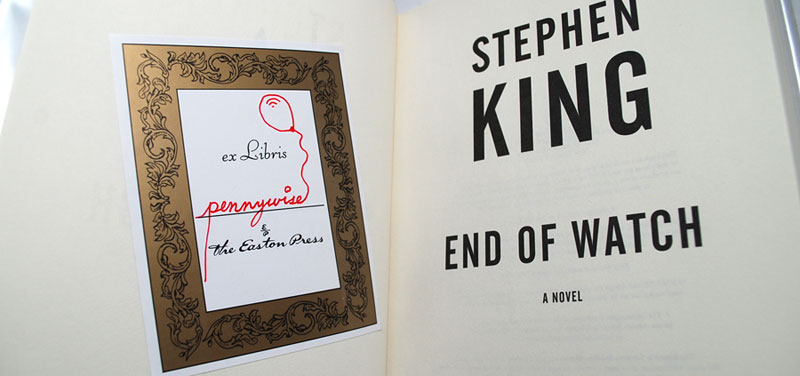 5. Writing, Marks, Stamps, Stickers.
When you are looking to acquire a collectible book, another tip is to try and avoid ones that have marks, writing, or stamps (either embossed or superficial). These types of unwanted characteristics come in all sizes and forms. Below is a couple examples of a sticker that was improperly removed and also of pencil writing that had been erased.
Evidence of a small sticker on the FFEP (first free end paper) . A portion has been removed.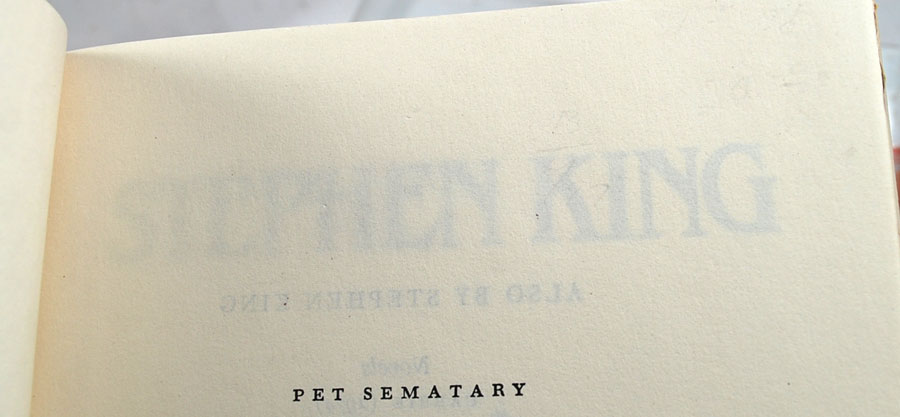 At first glance, there is nothing there. However, if you look more closely, there is some minor indentation pencil writing on the surface of the page that has been erased.
6. Text-blocks and page edges- marks, scratches, blemishes, etc. Condition of Gilded Page Edges.
Text block: One way to look at it – if you take a book and remove the binding, you are left with the text-block. Most simply this is the inside pages of a book. More precisely, the block of paper formed by the cut and stacked pages of a book.
Some of the flaws on the text-block and page edges includes but are not limited to, marks, scratches, blemishes, stains, spots, and indentations. On a book that has gilded page edges such as Easton Press books, these particular flaws will be more pronounced.

A slight discoloration streak across the top of the text block.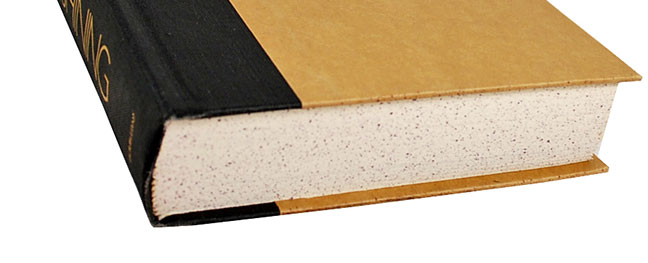 Remainder spray across the bottom page edges on a first edition of The Shining.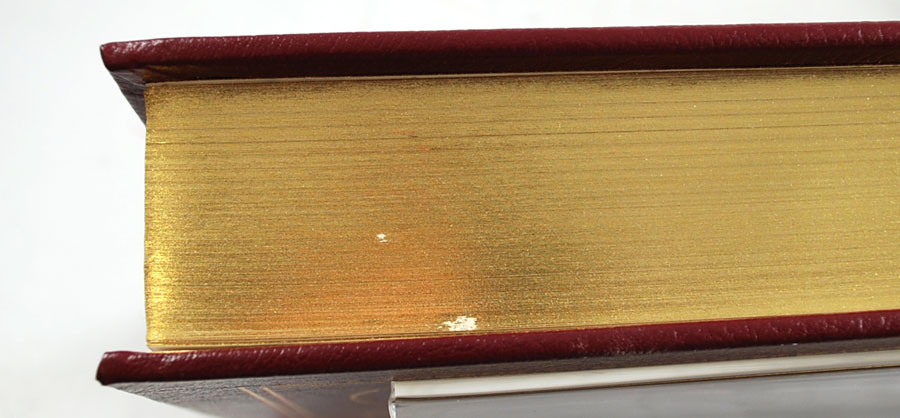 A couple of small white spots that could be paint, or part of the gilt that has rubbed away from the surface. A Fine book should be free of these types of flaws on the page edges.
7. Spine Lean
A shelf cocked book is not able to stand perpendicular and straight up on the shelf and therefore leans to the side . This is called spine lean. In such a case, a book can't actually stand straight up unless closely propped on both sides.
Similarly, a spine cocked book is one in which the front and back boards do not line up. When the text block is viewed from the top (or bottom), the spine and for-edge sides are slanted, rather than square. This type of condition can happen on both hardcover as well as softcover books.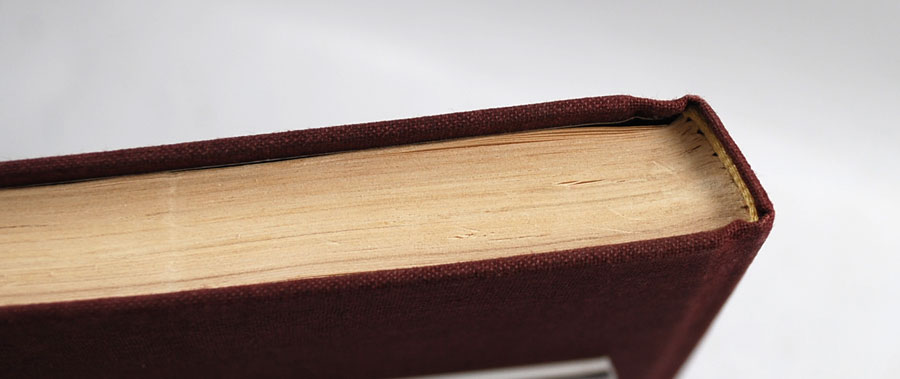 Spine lean (not square) on a First Edition of Carrie.
8. Spine Integrity
The spine integrity is an important aspect to the condition of the book as it pertains to value. A book with its spine cracked (or loosened) is one where the book automatically falls open to a place where the binding has been substantially weakened. Often, the mull or backing can be seen through the "crack" when the book lies open. Many examples that exhibit this flaw have curved or irregular spines, and the binding in that area has become separated.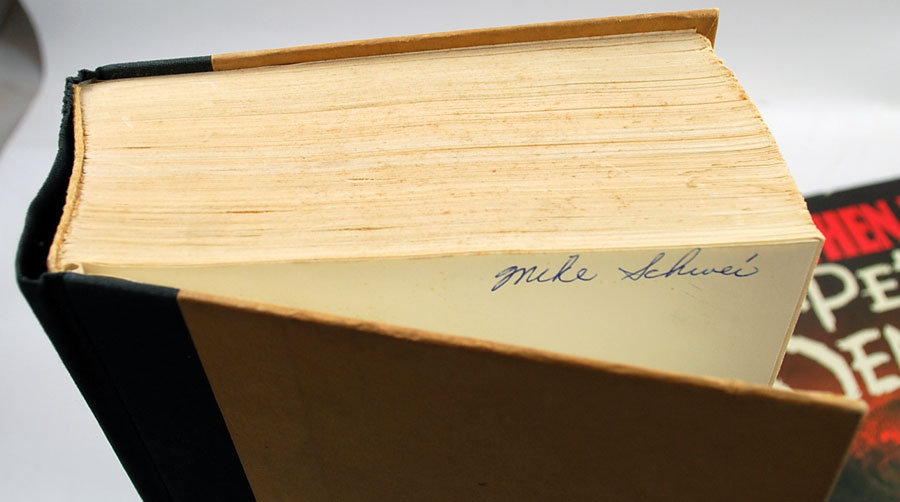 1978 First Edition The Stand. This copy not only has the previous owner's name written on the top right corner of the FFEP , but also shows spotting across the page edges and a spine that is not altogether (square and tight).
9. Bowed Covers
Improper storage can lead to a condition of bowed (or warped) covers or boards of a hard cover book. Bowed covers may turn inward toward the leaves or outward away from the leaves. The condition generally results from a rapid change in the level of moisture in the air and is caused by different rates of expansion or contraction of the paste-down and the outer material covering the board. This condition can also happen when a book has been stored in a very low humidity environment over a long period of time, usually during the long and dry cold winter months.
An extreme example of warped covers. This particular book was most likely stored in an environment with very low humidity .
10. Unwanted Odors such as Tobacco
When reading online descriptions for a potential purchase, you may have heard the expression "this book comes from a smoke-free home"… This is actually quite important and not to be overlooked. Cigarette odors on books can be difficult (if not impossible) to remove and make them unappealing to non-smokers. If you are a non-smoker, it is often a good idea to ask if the book has any tobacco odors, or other smells like perfume for that matter.
Additional Resources
First Editions and Identification – Is it a first edition or a Book Club Edition? Now you will know. Here is a complete list of all novels, starting with CARRIE up to present. A table that includes publisher information, cover photo, and all first edition issue points for each. You can search by title, publication date, etc.
View the First Edition ID Guide
Questions?
Do you have any questions about collecting signed and rare Stephen King? Let us know below: