Personally signed by President Jimmy Carter, the Nobel Peace Prize Winner.

Easton Press, Norwalk CT. 2000 "Living Faith"and "Sources Of Strength" President Jimmy Carter. Two-volume matching set. Living Faith has been personally signed by President Jimmy Carter and includes a COA by the publisher. Luxuriously bound in full genuine leather. Signed Limited Edition. Sealed without any visible flaws.
Two volume set in one shipment:
"Living Faith" Signed Limited Edition [Sealed]
"Sources Of Strength" Limited Edition [Sealed]
A wonderful signed limited edition to showcase in your presidential library.
Living Faith
For almost three decades, President Carter has regularly spent part of each Sunday reading from scripture and sharing his personal faith with neighbors, friends, and visitors at his Baptist church in Plains, Georgia. In Living Faith, he draws on this experience, exploring the values closest to his heart and the personal beliefs that have nurtured and sustained him.
For President Carter, faith finds its deepest expression in a life of compassion, reconciliation, and service to others. Living Faith is filled with stories of people whose lives have touched his--some from the world stage, more from modest walks of life. We see how President Carter learned about other faiths from Prime Minister Menachim Begin and President Anwar Sadat; learned a lesson in forgiveness from a clash with commentator George Will; how he was inspired by the simple theology of preacher Ely Cruz, "Love God and the person in front of you"; and how the cheerful strength of family friend Annie Mae Rhodes taught him the meaning of "patient faith."
Rooted in scripture and infused with a vision of how a dynamic faith can enrich our public and private lives, this is the most personal book yet by one of our most admired Americans--a warmly inspirational volume to give and to share.
Features
Include the classic Easton Press qualities:
Premium Leather
Silk Moire Endleaves
Distinctive Cover Design
Hubbed Spine, Accented in Real 22KT Gold
Satin Ribbon Page Marker
Gilded Page Edges
Long-lasting, High Quality Acid-neutral Paper
Smyth-sewn Pages for Strength and Durability
Beautiful Illustrations
President Jimmy Carter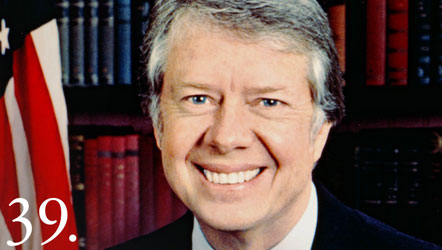 James Earl Carter Jr. (born October 1, 1924) is an American former politician who served as the 39th president of the United States from 1977 to 1981. A member of the Democratic Party, he previously served as the 76th governor of Georgia from 1971 to 1975 and as a Georgia state senator from 1963 to 1967. Since leaving office, Carter has remained engaged in political and social projects, receiving the Nobel Peace Prize in 2002 for his humanitarian work.
Born and raised in Plains, Georgia, Carter graduated from the United States Naval Academy in 1946 with a Bachelor of Science degree and joined the United States Navy, serving on numerous submarines. After the death of his father in 1953, he left his naval career and returned home to Plains, where he assumed control of his family's peanut-growing business. He inherited comparatively little due to his father's forgiveness of debts and the division of the estate amongst himself and his siblings. Nevertheless, his ambition to expand and grow the family's peanut farm was fulfilled. During this period, Carter was encouraged to oppose racial segregation and support the growing civil rights movement. He became an activist within the Democratic Party. From 1963 to 1967, Carter served in the Georgia State Senate, and in 1970 was elected as the governor of Georgia, defeating former Governor Carl Sanders in the Democratic primary. He remained as governor until 1975. Despite being a dark-horse candidate who was generally unknown outside of Georgia, he won the 1976 Democratic presidential nomination. In the 1976 presidential election, Carter ran as an outsider and narrowly defeated incumbent Republican president Gerald Ford.
On his second day in office, Carter pardoned all Vietnam War draft evaders by issuing Proclamation 4483. During his term, two new cabinet-level departments—the Department of Energy and the Department of Education—were established. He created a national energy policy that included conservation, price control, and new technology. Carter pursued the Camp David Accords, the Panama Canal Treaties, the second round of Strategic Arms Limitation Talks (SALT II), and the return of the Panama Canal Zone to Panama. On the economic front, he confronted stagflation, a persistent combination of high inflation, high unemployment and slow growth. The end of his presidential tenure was marked by the 1979–1981 Iran hostage crisis, the 1979 energy crisis, the Three Mile Island nuclear accident, the Nicaraguan Revolution and the Soviet invasion of Afghanistan. In response to the invasion, Carter escalated the Cold War when he ended détente, imposed a grain embargo against the Soviets, enunciated the Carter Doctrine, and led a 1980 Summer Olympics boycott in Moscow. He is the only president to have served a full term in office and not have appointed a justice to the Supreme Court. In the 1980 Democratic party presidential primaries, he was challenged by Senator Ted Kennedy, but won re-nomination at the 1980 Democratic National Convention. Carter lost the 1980 presidential election in an electoral landslide to Republican nominee Ronald Reagan. Polls of historians and political scientists generally rank Carter as a below-average president. His post-presidential activities have been viewed more favorably than his presidency.
In 1982, Carter established the Carter Center to promote and expand human rights. In 2002, he was awarded the Nobel Peace Prize for his work in co-founding the Center. He has traveled extensively to conduct peace negotiations, monitor elections, and advance disease prevention and eradication in developing nations. Carter is considered a key figure in the charity Habitat for Humanity. He has written over 30 books, ranging from political memoirs to poetry, while continuing to actively comment on ongoing American and global affairs, including the Israeli–Palestinian conflict. At 97 years old and with a 40-year-long retirement, Carter is both the oldest living and longest lived president, as well as the one with the longest post-presidency, and his 75-year-long marriage makes him the longest married president. He is also the fifth oldest living person to have served as a state leader.
VERY FINE GUARANTEED. Sealed without any visible flaws. The condition is of the highest quality without any bumped corners. Unread book with square and tight spine.
Publisher:

Easton Press

Edition:

Signed Limited Edition

Binding:

Full genuine leather

Format:

Hardcover

Dimensions:

9" x 6" x 1.5"

Signature Authenticity:

Lifetime Guarantee of Signature Authenticity. Personally signed by Jimmy Carter. Includes COA. The autograph is not a facsimile, stamp, or auto-pen.

Publication Year:

2000