"It was a pleasure to burn." —Ray Bradbury, Fahrenheit 451
---
Personally signed by Neil Gaiman, Julia Griffin, and Jonathan R. Eller.
Suntup Press 2020. Ray Bradbury "Fahrenheit 451" Signed Limited Edition. Slipcased. This Numbered edition is limited to only 250 copies and is quarter bound in Italian cloth with decorative French marbled paper covers. The spine is hot foil stamped, and the edition is printed letterpress on Mohawk Superfine. The top edge is gilded in copper and the edition is housed in a dual cloth covered slipcase with hot foil stamping on the spine. Introduction by Neil Gaiman.

Limited to only 250 signed and numbered copies!


FROM THE PUBLISHER

This year marks the Centennial of Ray Bradbury's birth, and to celebrate the life and work of this beloved and visionary author, Suntup Editions is delighted to announce a fine press limited edition of Fahrenheit 451.
Highly regarded as Ray Bradbury's masterpiece, Fahrenheit 451 depicts a dystopian society in which all books are outlawed and burned. The novel follows the personal evolution and journey of Guy Montag, from a fireman for whom it is a pleasure to burn books, to a man disillusioned with the censoring of knowledge and dedicated to the preservation of literature.
In a 1956 interview, Bradbury said, "I wrote this book at a time when I was worried about the way things were going in this country four years ago. Too many people were afraid of their shadows; there was a threat of book burning. Many of the books were being taken off the shelves at that time."
Bradbury has also described the book as a commentary on resistance to conformity, and how mass media can create a lack of interest in reading literature.
Though considered one of the greatest science-fiction novels of all time, much of Fahrenheit 451 has become science-fact. The novel predicted earbud headphones, flatscreen televisions, and 24-hour banking machines.
In 1954, Fahrenheit 451 won the American Academy of Arts and Letters Award in Literature and the Commonwealth Club of California Gold Medal. It later won the Prometheus "Hall of Fame" Award in 1984, and a "Retro" Hugo Award in 2004, one of only seven Best Novel "Retro" Hugo Awards ever given.
The fine press limited edition of Fahrenheit 451 by Ray Bradbury is presented in three states: Lettered, Numbered and Artist Gift editions. This is the Numbered state of only 250 copies produced.


Signed Numbered Edition
Signed by Neil Gaiman, Julia Griffin, and Jonathan R. Eller.
6" x 9" trim size. Limited to 250 copies.
Quarter bound in Italian cloth with decorative French marbled paper covers.
Introduction by NY Times Bestselling author, Neil Gaiman.
Six full color illustrations by Julia Griffin.
77-page bonus section on the history, context and criticism of the novel edited by Jonathan R. Eller.
Includes Bradbury's short story The Pedestrian and his novella The Fireman, which later evolved into Fahrenheit 451.
Printed letterpress on Mohawk Superfine Copper top-edge gilding.
Housed in a dual cloth covered slipcase with hot foil stamping on the spine.
Premiums with all pre-orders include print and bookmarks.
PREMIUMS

Shipping with this Numbered edition of Fahrenheit 451 is this limited premium set of a 6" x 9" print, two 2" x 8" bookmarks and printed envelope.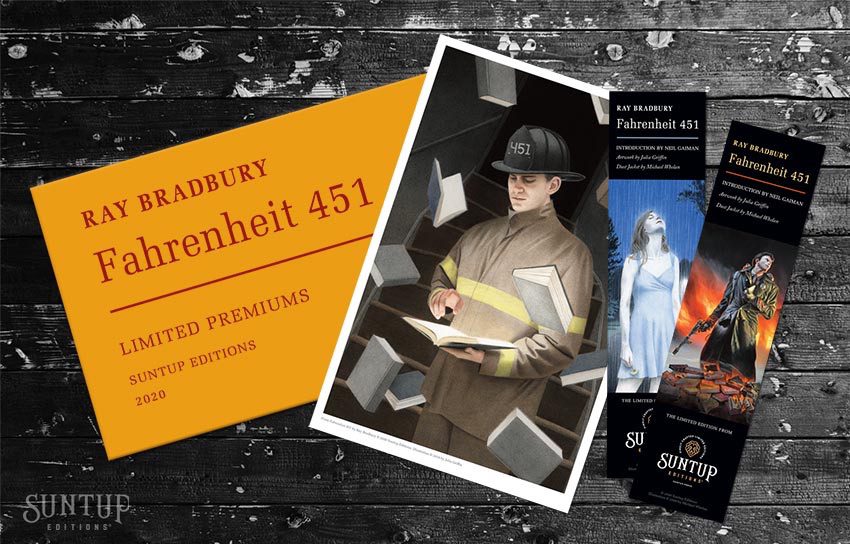 ABOUT THE BOOK

Ray Bradbury's internationally acclaimed novel Fahrenheit 451 is a masterwork of twentieth-century literature set in a bleak, dystopian future. Guy Montag is a fireman. In his world, where television rules and literature is on the brink of extinction, firemen start fires rather than put them out. His job is to destroy the most illegal of commodities, the printed book, along with the houses in which they are hidden. Montag never questions the destruction and ruin his actions produce, returning each day to his bland life and wife, Mildred, who spends all day with her television "family." But then he meets an eccentric young neighbor, Clarisse, who introduces him to a past where people didn't live in fear and to a present where one sees the world through the ideas in books instead of the mindless chatter of television. When Mildred attempts suicide and Clarisse suddenly disappears, Montag begins to question everything he has ever known. He starts hiding books in his home, and when his pilfering is discovered, the fireman has to run for his life.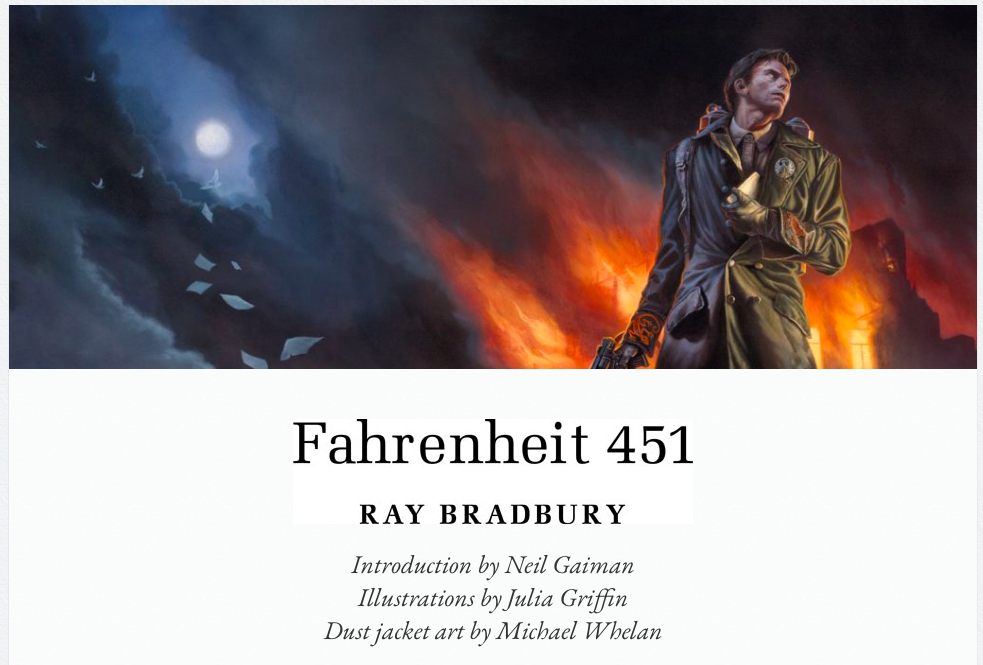 Reviews

"Frightening in its implications...Mr. Bradbury's account of this insane world, which bears many alarming resemblances to our own, is fascinating." -- The New York Times

"Hailed for its bracing portrait of a future media-addled society victimized by the systematic burning of all books, Ray Bradbury's classic science fiction novel Fahrenheit 451 is the perfect work to highlight issues of censorship and the freedom to read." -- Publishers Weekly


About the Author

Ray Douglas Bradbury (August 22, 1920 - June 5, 2012) was an American fantasy, horror, science fiction, and mystery writer. Bradbury is credited with writing 27 novels and over 600 short stories. More than eight million copies of his works, published in over 36 languages, have been sold around the world.

Predominantly known for writing the iconic dystopian novel Fahrenheit 451 (1953), and his science-fiction and horror-story collections, The Martian Chronicles (1950), The Illustrated Man (1951), and I Sing the Body Electric (1969), Bradbury was one of the most celebrated 20th- and 21st-century American writers. While most of his best known work is in fantasy fiction, he also wrote in other genres, such as the coming-of-age novel Dandelion Wine (1957) and the fictionalized memoir Green Shadows, White Whale (1992).

Bradbury also wrote and consulted on screenplays and television scripts. He wrote the screen play for John Huston's classic film adaptation of Moby Dick, and was nominated for an Academy Award. He adapted sixty-five of his stories for television's The Ray Bradbury Theater, and won an Emmy for his teleplay of The Halloween Tree. He was the recipient of the 2000 National Book Foundation Medal for Distinguished Contribution to American Letters, the 2004 National Medal of Arts, and the 2007 Pulitzer Prize Special Citation, among many honors.

Upon his death in 2012, The New York Times called Bradbury "the writer most responsible for bringing modern science fiction into the literary mainstream." The Los Angeles Times credited Bradbury with the ability "to write lyrically and evocatively of lands an imagination away, worlds he anchored in the here and now with a sense of visual clarity and small-town familiarity." Bradbury's grandson, Danny Karapetian, said Bradbury's works had "influenced so many artists, writers, teachers, scientists, and it's always really touching and comforting to hear their stories". The Washington Post noted several modern day technologies that Bradbury had envisioned much earlier in his writing, such as the idea of banking ATMs and earbuds and Bluetooth headsets from Fahrenheit 451, and the concepts of artificial intelligence within I Sing the Body Electric.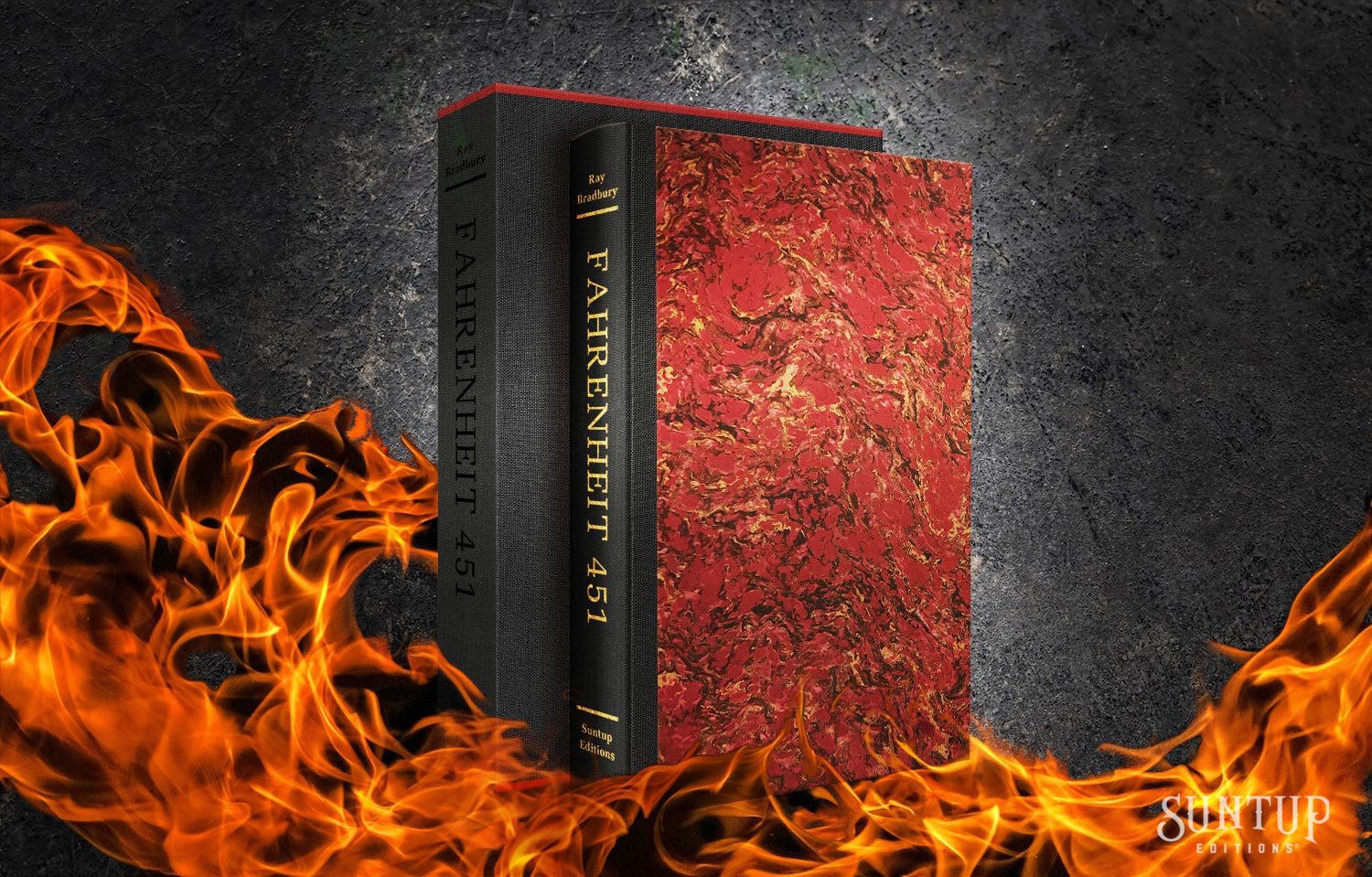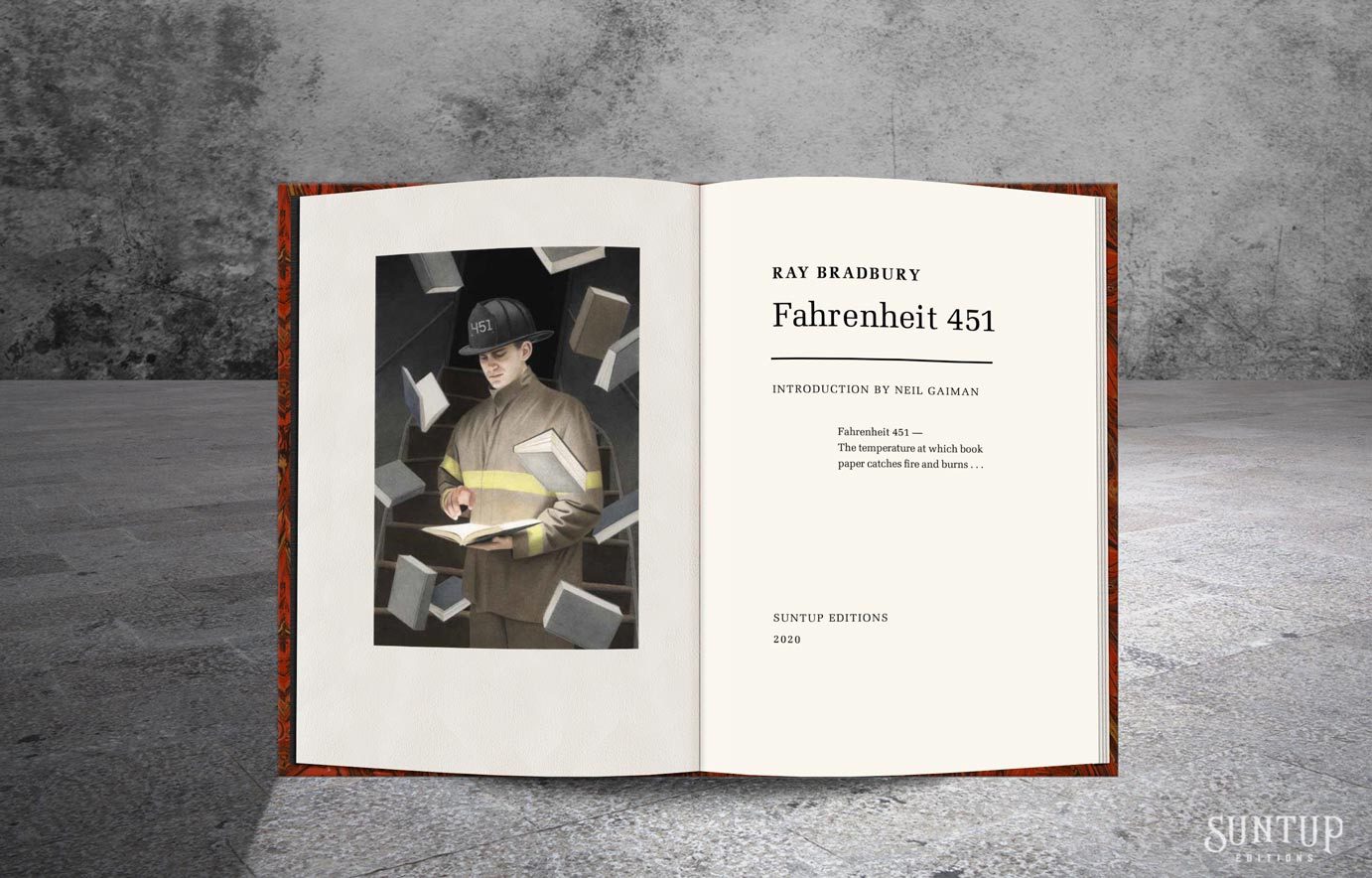 VERY FINE GUARANTEED. As New from the publisher. A wonderful bright clean copy free of any writing or stamps. Sharp corners that have not been bumped. Unread book with square and tight binding. No bookplates attached or indication of any removed. Edges are free of any marks, spots, scratches, or blemishes.
Publisher:

Suntup Press 2020

Edition:

Signed Limited Edition

Binding:

Quarter bound in Italian cloth

Illustrator:

see product description

Dimensions:

Overall 9.5"x6.5"x1.5"

Signature Authenticity:

Lifetime Guarantee of Signature Authenticity. Personally signed by Neil Gaiman, Julia Griffin, and Jonathan R. Eller directly into the book. The autographs are not facsimiles, stamps, or auto-pens.