Be one of only 10 collectors in the world to own this unique set of items from Cemetery Dance, including a hand-written story by Brian Freeman

Now you can own this rare and extremely limited set from Cemetery Dance Publications. There were only 10 of these sets privately offered and made available by Cemetery Dance . Each set included the Signed Limited Edition Cemetery Dance #50, a unique hand-written story, the "Celebrating 50 Issues of the Dance" poster, and a typed manuscript of the story.

The following items are included in one shipment:
"Celebrating 50 Issues of the Dance" Framed Poster
"Lost And Lonely" Brian James Freedom, Signed Limited Edition of 1,000
Cemetery Dance 50, Signed Limited Edition, with hand-written story by Brian Freeman
Typed manuscript of "The Plague of Sadness"
---
1. "Celebrating 50 Issues of the Dance" Framed Poster
Cemetery Dance privately printed a poster featuring all of the covers of the first 50 issues the magazine. These "Celebrating 50 Issues of the Dance" posters were made exclusively for Cemetery Dance office staff and a few friends of the press. They were never sold and only a handful have ever been seen outside their office.

This beautiful poster is professionally framed and only 10 were made available for this very special collection. Framing was done with a sophisticated, genuine wood picture frame with a classic black finish over a crown profile, paired with raised relief detail highlighted in a rich gold. Genuine glass. The cost of the framing alone was $300.


2. "LOST AND LONELY" Signed Limited Edition

Cemetery Dance Publications. "Lost And Lonely" Brian James Freedom. First Limited Edition Printing. Limited to only 1,000 signed copies, each one signed by Brian Freeman and Glenn Chadbourne on a special page within the book. Hardcover book with dust-jacket, now protected in a new Mylar acid-free archival sleeve.

3. "CEMETERY DANCE 50" Signed Limited Edition with hand-written story by Brian Freeman

Cemetery Dance Issue 50. Signed Limited Edition. Number 193 of 200. This hardcover edition is unique because it includes an *original short story* by Brian Freeman called The Plague of Sadness", hand-written directly onto the endpapers of the book. Each edition had one story per book and no two stories of the 10 offerings were the same. No matter what the author does with the story later on, each collector had the only original, handwritten version in his special edition of Cemetery Dance #50.

Glenn Chadbourne also added a remarque (small, original drawing) to each of these 10 copies of the signed Limited Edition hardcover of Cemetery Dance 50, appropriate to the story written by the author.

From the publisher:

Cemetery Dance magazine issue #50 Deluxe Signed Limited Edition Hardcover "Magazine"
The Cemetery Dance #50 signed Limited Edition hardcover was published to commemorate our first fifteen years of publishing! The print run was a tiny 200 copies, the retail price of $75, and every copy sold out within 24 hours of the project being announced.
This hardcover edition has been personally signed by:
Bentley Little
Glenn Chadbourne
Ed Gorman
Gary Braunbeck
Mick Garris
Chad Savage
Allen Koszowski
Ray Garton
Douglas Clegg
Bev Vincent
Glen Hirshberg
Keith Minnion
Michael Marano
Richard Chizmar
Alex McVey
Elizabeth Massie
Tom Monteleone
Robert Morrish
Norm Partridge
Dominick Cancilla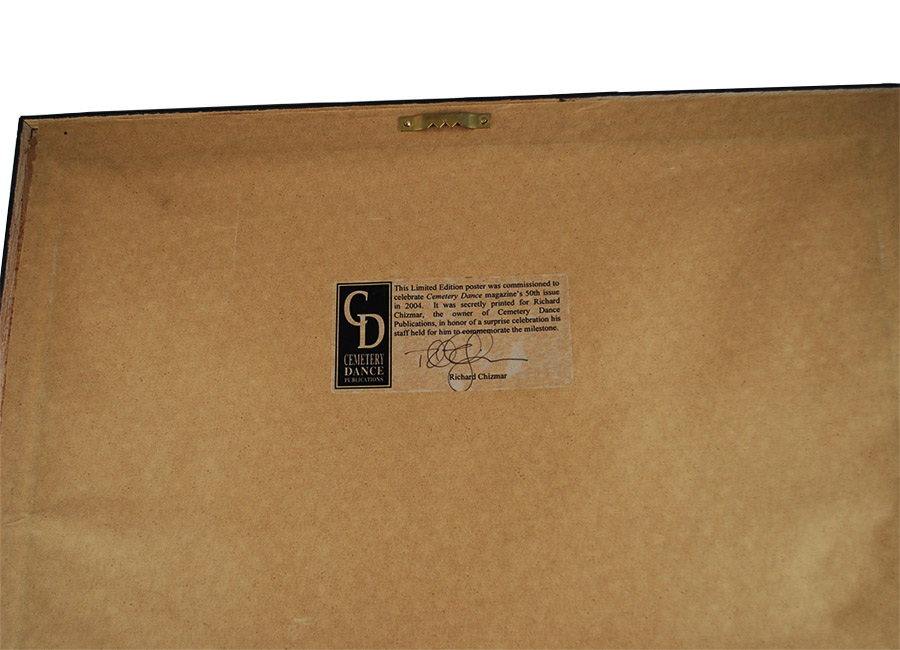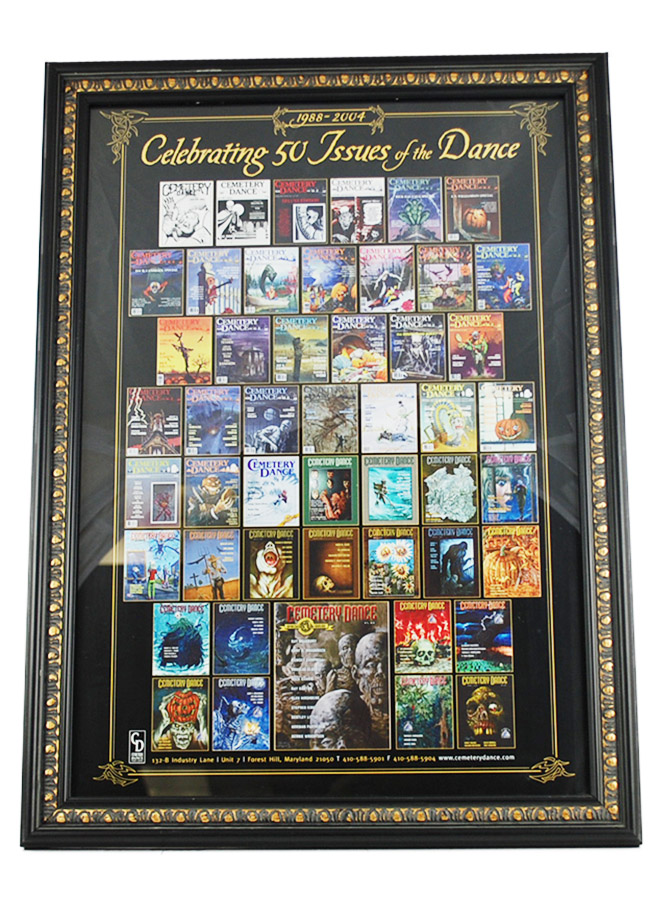 ABOUT BRIAN FREEMAN
Brian Freeman is a #1 bestselling author of psychological thrillers, including the Jonathan Stride and Frost Easton series. His books have been sold in 46 countries and 22 languages. He is widely acclaimed for his "you are there" settings and his complex, engaging characters and twist-filled plots. Brian's novel SPILLED BLOOD won the award for Best Hardcover Novel in the annual Thriller Awards given out by the International Thriller Writers organization, and his fifth novel THE BURYING PLACE was a finalist for the same award. He has been selected as the author to continue Robert Ludlum's Jason Bourne series, with a new Bourne novel due in 2020.
VERY FINE GUARANTEED. Each item is in Very Fine condition without any flaws. There are no markings, writings, or stampings. No attached bookplates or indication of any removed. Each one is a well cared for book, protected from any potential damage. Square and tight spines. Sharp corners that are not bumped. Each volume is a wonderful bright clean copy in slipcase the same.

Publisher:

Cemetery Dance Publications

Edition:

Signed Limited Edition No. 193 of 200

Binding:

Hardcover

Illustrator:

See description for details

Dimensions:

9.0" x 6.0" x 2.0"

Signature Authenticity:

Lifetime Guarantee of Signature Authenticity. Both volume have been personally signed by the authors and artists directly onto the special limitation page. See product description for details. The autographs are not facsimiles, stamps, or auto-pens